A TRIBUTE TO BILLY BREMNER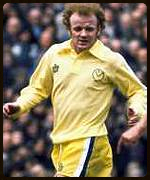 On the 7th of December 1997, the football world was stunned when news broke of Billy Bremner's passing. The captain of Don Revie's great Leeds United sides, and manager himself during the 1980s, was sadly taken from us just two days before his 55th birthday.
Billy was Leeds United. He was Don's eyes and ears on the pitch and his never say die attitude rubbed off on the ten men around him. He was adored by the supporters on the terraces as he steered the club to honours at home and abroad.
Born in Stirling, Billy joined Leeds United in December 1959 and after an uncertain period where the youngster suffered bouts of homesickness, he went on to establish himself as the most successful captain in the clubs history and few would argue, the clubs greatest ever player.
Billy Bremner made his Leeds United debut in a 3-1 win away at Chelsea on the 23rd of January 1960. The flame haired Scot made, in total, 772 starts for Leeds United, plus one appearance as a substitute. The last, was at home to Newcastle United on the 18th of September 1976.
He is second, only to Jack Charlton in the appearance charts and only Peter Lorimer, John Charles, Allan Clarke and Tom Jennings have scored more than Billy's total of 115 goals.
Between 1964 and 1975, Leeds United enjoyed its most successful era as Don Revie turned an average Second Division side into one which was feared across Europe and following the terrible injury to Bobby Collins, against Torino, Billy Bremner was made the captain of the crew.
After promotion in 1964, the Whites won League titles in 1969 and 1974. The FA Cup was lifted in 1972, the League Cup in 1968 along with the Fairs Cup, which was won again in 1971. Leeds won the Charity Shield in 1969. For a decade, the club was never out of the top four and on countless occasions were losing finalists.
On a personal level, Billy was voted Footballer of the Year in 1970 and he is enrolled in both the English and Scottish Football Hall of Fame.
Trevor Cherry, himself a Leeds United legend, spoke to me about a man who he looked up to. A man who he shared a dressing room with and a man who was a great friend:
"Billy was infectious. He was the life and soul of the party and his enthusiasm rubbed off on all those around him.
"We had no 'big-time Charlie's' at Leeds. Every member of the playing staff was treated the same and when I arrived from Huddersfield Town, Billy took me under his wing. The place was full of internationals, household names and there was no better midfield pairing than Billy and Johnny Giles, they could have played in any side, anywhere in the world.
"Whenever we suffered a defeat, Billy would roll his sleeves up and go again and that mentality ran through the squad. He was the best and he demanded the best.
"I will always remember the Charity Shield against Liverpool in 1974 when Billy was sent off along with Kevin Keegan. After removing their shirts and leaving the field, they shared a cup of tea in the Leeds dressing room and talked about what had just happened. There was a mutual respect and the pair got on well.
"Another incident I recall came about in the treatment room at Elland Road. I was in there doing some exercises and the physio, Bob English, had a busy day with lads coming in who had suffered knocks.
"Bob always put Billy to the front of the queue as he had a tendency to muck about and wind Bob up. He asked Bob for a strapping on his ankle and he duly obliged, taking great care in applying the strapping correctly.
"Once he had finished he asked Billy how it felt to which he replied, "That's smashing Bob, but it's on the wrong foot!". I don't have to give you a clue about the language Bob came out with."
After a glittering career in West Yorkshire, Billy moved on to Hull City in 1976 before taking up the post of player-manager at Doncaster Rovers where he stayed until returning to Elland Road in October 1985 following the sacking of Eddie Gray.
Billy's ambition was to return his beloved club to the top flight and he came so close in 1987 before his dream was shattered in a 2-1 Play Off Final replay defeat against Charlton Athletic.
It has been said to me by several of Billy's players that he never got over that defeat and just a few weeks into the 1988-89 season he was relieved of his duties by the Leeds United board of Directors.
In 2012, a poll resulted in the publication of "All White - Leeds United's 100 Greatest Players". Not surprisingly, Billy was voted the greatest and as Allan Clarke once said, "They don't make players like Billy Bremner anymore."
One thing is for sure, with his statue at Elland Road, and the fact he is immortalised in song, Billy Bremner will never be forgotten. His fighting spirit and will to win will always be appreciated by those who were lucky enough to play alongside him and those who watched from the terraces. Stories about Billy will continue to be told.
All we ask of the current Leeds squad and any player who joins the club in the future is that they show the same determination and they will not go far wrong.
Rest in peace Billy and thanks for the memories.