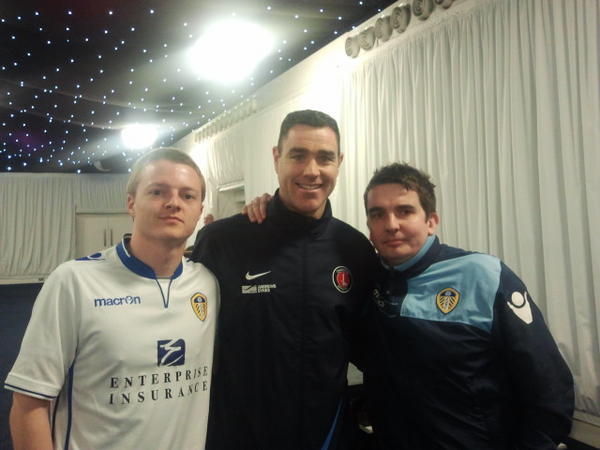 Shaun Powley (left) and myself with 2010 promotion winner and all round top bloke, Andy Hughes
About me
I was born in Yorkshire in 1973, so I am proud to say that Leeds United have won two league titles in my lifetime. My father took me to Elland Road at an early age and the likes of Arthur Graham and Carl Harris were my heroes. Much of the 1980s were spent dreaming of a return to the 'big time' whilst idolising John Sheridan, Ian Baird, Ian Snodin and manager Billy Bremner.
I retain special memories of the 1986/87 season, despite the eventual failings but nothing can eclipse the campaign of 1989/90 when Sgt Wilko took us back to the old first division. The title win of 1991/92 was taken for granted I suppose, I thought the success would continue. It didn't and despite the forays into Europe under David O'Leary we have had little to cheer about.
After an horrendous eight years with Ken Bates steering the ship, we are all looking forward to a new era and dreaming of better times.
In 2010, I set up the Norwich Whites Regional Members Club. We are a very small branch but we do attend every Leeds game, home and away. If you wish to travel with us, please email me.