SEASON STATISTICS: 1972-73
FA CUP & EUROPEAN CUP WINNERS CUP FINALISTS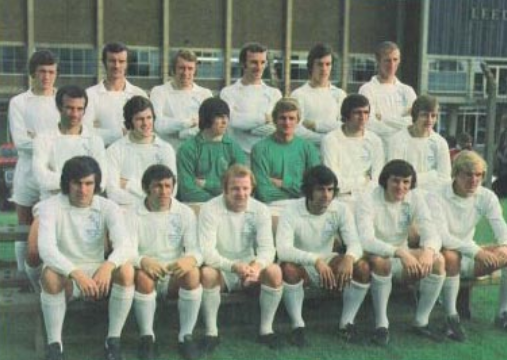 Back Row: Trevor Cherry, Paul Madeley, Mick Jones, Roy Ellam, Joe Jordan, Jack Charlton.
Middle Row: Paul Reaney, Chris Galvin, David Harvey, Gary Sprake, Norman Hunter, Allan Clarke.
Front Row: Peter Lorimer, Johnny Giles, Billy Bremner, Mick Bates, Eddie Gray, Terry Yorath.
SATURDAY 12th AUGUST 1972
CHELSEA 4
Osgood 46', Cooke 59', Garland 68', 85'
Bonetti, Harris, McCreadie, Hollins, Dempsey, Webb, Garland, Kember, Osgood, Hudson, Cooke
Unused sub: Houseman

T. Reynolds
DIVISION ONE
LEEDS UNITED 0
Harvey✙25', Reaney, Cherry, Bremner, Ellam, Madeley, Lorimer, Bates, Jones (Yorath 24'), Giles, E. Gray
Note: When David Harvey left the field, Peter Lorimer took over in goal and Leeds played on with ten men.
Attendance: 51,102
TUESDAY 15th AUGUST 1972
SHEFFIELD UNITED 0
McAllister, Goulding, Hemsley, Mackenzie, Colquhoun, Hockey, Woodward, Salmons, Dearden, Eddy, Scullion (Reece xx')

unknown
DIVISION ONE
LEEDS UNITED 2
Colquhoun own goal xx', Giles penalty xx'
Harvey, Reaney, Cherry, Bremner, Charlton, Madeley, Lorimer, Bates, Jordan, Giles, E. Gray
Unused sub: Yorath
Attendance: 40,159
SATURDAY 19th AUGUST 1972
LEEDS UNITED 2
Clarke 29', Giles penalty 82'
Harvey, Reaney, Madeley, Bremner, Charlton, Hunter, Lorimer, Clarke, Jordan, Giles, Bates
Unused sub: Cherry
Referee: C. Thomas
DIVISION ONE
WEST BROMWICH ALBION 0
Smith, Nisbet, Wilson, Cantello, Wile, Robertson, T. Brown, A. Brown, Gould, Suggett, Hartford
Unused sub: Merrick
Attendance: 36,555
WEDNESDAY 23rd AUGUST 1972
LEEDS UNITED 3
Jordan 17', 52', Giles penalty 37'
Harvey, Reaney (Cherry 76'), Madeley, Bremner, Charlton, Hunter, Lorimer, Clarke, Jordan, Giles, E. Gray
Referee: K Burns
DIVISION ONE
IPSWICH TOWN 3
Hamilton 30', Beattie 43', Belfitt 68'
Best, Mills, Beattie, Collard, Hunter, Jefferson, Hamilton, Viljoen, Belfitt, Whymark, Miller
Unused sub: unknown
Attendance: 32,461
SATURDAY 26th AUGUST 1972
TOTTENHAM HOTSPUR 0
Jennings, Evans, Knowles, Pratt, England, Beal, Gilzean, Perryman, Chivers, Peters, Coates (Pearce 60')
Referee: P. Walters
DIVISION ONE
LEEDS UNITED 0
Harvey, Madeley, Cherry, Bremner, Charlton, Hunter, Lorimer, Clarke, Jordan, Giles, E. Gray
Unused sub: Yorath
Attendance: 41,191
WEDNESDAY 30th AUGUST 1972
LEEDS UNITED 1
Bremner 90'
Harvey, Reaney (Yorath xx'), Cherry, Bremner, Charlton, Hunter, Lorimer, Bates, Jordan, Giles, Madeley
Referee: unknown
DIVISION ONE
SOUTHAMPTON 0
Martin, McCarthy, Burns, Fisher, McGrath, Steele, Stokes, Channon, Davies, O'Neil, Paine
Unused sub: unknown
Attendance: 31,401
SATURDAY 2nd SEPTEMBER 1972
LEEDS UNITED 2
Jordan 6', Charlton 26'
Harvey, Reaney, Cherry, Bremner, Charlton, Hunter, Lorimer, Clarke, Jordan, Giles, E. Gray
Unused sub: Yorath
Referee: W. Castle
DIVISION ONE
NORWICH CITY 0
Keelan, Payne, Butler, Stringer, Forbes, Briggs, Livermore, Bone, Cross, Paddon, Anderson (Hubbard 75')
Attendance: 34,261
WEDNESDAY 6th SEPTEMBER 1972
LEEDS UNITED 4
Lorimer 47', 77', Jones 60', Cherry 65'
Harvey, Reaney, Cherry, Bremner, Charlton, Hunter, Lorimer, Bates, Jordan, E. Gray, Galvin (Jones 46')
Referee: D. Wallace
LEAGUE CUP 2nd ROUND
BURNLEY 0
Stevenson, Docherty, Newton, Dobson (Nulty 82'), Waldron, Thomson, Thomas, Casper, Fletcher, Collins, James
Attendance: 20,857
SATURDAY 9th SEPTEMBER 1972
STOKE CITY 2
Hurst 63', Conroy 81'
Banks, Marsh, Pejic, Skeels, Stevenson, Bloor, Robertson, Mahoney, Ritchie, Hurst, Conroy
Unused sub: unknown
Referee: unknown
DIVISION ONE
LEEDS UNITED 2
Lorimer 33', Clarke 55'
Harvey, Madeley, Cherry, Bremner, Charlton, Hunter, Lorimer, Clarke, Jordan, Giles, E. Gray
Unused sub: Reaney
Attendance: 26,705
WEDNESDAY 13th SEPTEMBER 1972
ANKARAGUCU 1
Yalman penalty 50'
Tohumcu, Hotlar (Atkan 51'), Diber, Toriglu, Yalman, Goncluer, Yilmaz, Yalcintas, Atacan, Coscun, Mesci
Unused subs: unknown
Referee: K. Ghemigean
EUROPEAN CUP WINNERS CUP 1st ROUND, 1st LEG
LEEDS UNITED 1
Jordan 44'
Harvey, Reaney, Cherry, Bremner, Ellam, Hunter, Lorimer, Galvin (Yorath 44'), Jordan, Giles, Madeley
Unused subs: Shaw, E. Gray, Bates, F. Gray
Attendance: 20,000
SATURDAY 16th SEPTEMBER 1972
LEEDS UNITED 3
Clarke 48', Jones 57', Bates 68'
Harvey, Madeley, Cherry, Bremner, Charlton, Hunter, Lorimer, Clarke, Jones (Jordan xx'), Giles, Bates
Referee: T. Dawes
DIVISION ONE
LEICESTER CITY 1
Glover 26'
Shilton, Whitworth, Rofe, Sjoberg, Cross, Weller, Farrrington, Sammels, Birchenall, Glover, Worthington
Unused sub: Woollett
Attendance: 33,930
SATURDAY 23rd SEPTEMBER 1972
NEWCASTLE UNITED 3
Smith 1', Tudor 7', Macdonald 60'
McFaul, Craig, Clark, Gibb, Howard, Young, Barrowclough, Smith, Macdonald (Hodgson 68'), Tudor, Hibbitt
Referee: K. Wynn
DIVISION ONE
LEEDS UNITED 2
Clarke 2', Jones 8'
Harvey, Reaney, Cherry, Bremner, Charlton, Hunter, Lorimer, Clarke (Jordan 40'), Jones, Giles, Bates
Attendance: 38,962
WEDNESDAY 27th SEPTEMBER 1972
LEEDS UNITED 1
Jones 68'
Leeds United won 2-1 on aggregate
Harvey, Reaney, Cherry, Bremner, Ellam, Hunter, Lorimer, Clarke, Jones, Giles, Bates
Unused subs: Sprake, Jordan, Yorath, F. Gray, Galvin
Referee: K. Ohmsen
EUROPEAN CUP WINNERS CUP 1st ROUND, 2nd LEG
ANKARAGUCU 0
Tohumcu, Hotlar, Diber, Toriglu, Yalma, Atkan, Yalcintas, Yilmaz (Gonculer 50'), Behzat, Coscun, Mesci
Unused subs: Soysal, Atacan, Akyel
Attendance: 22,411
SATURDAY 30th SEPTEMBER 1972
LEEDS UNITED 1
Jones 30'
Harvey, Madeley, Cherry, Bremner, Charlton, Hunter, Lorimer, Clarke, Jones, Giles, Bates
Unused sub: Reaney
Referee: M. Sinclair
DIVISION ONE
LIVERPOOL 2
Lloyd 40' Boersma 65'
Clemence, Lawler, Lindsay, Storton, Lloyd, Hughes, Keegan, Cormack, Heighway, Boersma, Callaghan
Unused sub: Thompson
Attendance: 46,468
WEDNESDAY 4th OCTOBER 1972
ASTON VILLA 1
B. Rioch 68'
Cumbes, Gidman, Aitken, B. Rioch, Nicholl, Ross, Hamilton, McMahon, Lochhead, Vowden, Evans
Unused sub: Little
Referee: T. Oliver
LEAGUE CUP 3rd ROUND
LEEDS UNITED 1
Charlton 5'
Harvey, Madeley, Cherry, Bremner, Charlton, Hunter, Lorimer, Clarke, Jones, Bates, Yorath
Unused sub: Jordan
Attendance: 46,185
SATURDAY 7th OCTOBER 1972
LEEDS UNITED 5
Giles 3', 27', Clarke 37', Bremner 63',
Lorimer 88'
Harvey, Madeley, Cherry, Bremner, Charlton, Hunter, Lorimer, Clarke, Jones, Giles (Bates 51'), E. Gray
Referee: H. New
DIVISION ONE
DERBY COUNTY 0
Boulton, Robson, Nish, Durban, McFarland, Todd, Daniel, Gemmill, O'Hare, Hector, Hinton
Unused sub: Powell
Attendance: 29,706
WEDNESDAY 11th OCTOBER 1972
LEEDS UNITED 2
Nicholl own goal 30', Jones 35'
Harvey, Madeley, Cherry, Bremner, Charlton (Yorath 46'), Hunter, Lorimer, Clarke, Jones, Bates, E. Gray
Referee: P. Partridge
LEAGUE CUP 3rd ROUND REPLAY
ASTON VILLA 0
Cumbes, Gidman, Aitken, B. Rioch, Nicholl, Ross, Hamilton, McMahon, Lochhead, Vowden (Graydon 67'), Evans
Attendance: 28,894
SATURDAY 14th OCTOBER 1972
EVERTON 1
Whittle 86'
Lawson, Wright, Newton, Kendall, Kenyon, Hurst, Johnson, Bernard, Royle, Harvey (Whittle 58'), Connolly
Referee: K. Walker
DIVISION ONE
LEEDS UNITED 2
Jones 27', Jordan 82'
Harvey, Madeley, Cherry, Bremner, Charlton, Hunter, Lorimer, Jordan, Jones, Bates, E. Gray
Unused sub: Yorath
Attendance: 47,821
SATURDAY 21st OCTOBER 1972
LEEDS UNITED 1
Charlton 60'
Harvey, Madeley, Cherry, Bremner, Charlton, Hunter, Lorimer, Clarke, Jones (Jordan 46'), Giles, E. Gray
Referee: H. Davey
DIVISION ONE
COVENTRY CITY 1
Carr 56'
Glazier, Coop, Cattlin, Smith, Barry, Parker, Mortimer, Alderson, Stein, Carr, Hutchison
Unused sub: McGuire
Attendance: 36,240
WEDNESDAY 25th OCTOBER 1972
CARL ZEISS JENA 0
Blochwitz, Hoppe, Strempel, Weise (Rock xx'), Kurbjuweit, Irmscher, Goebel, Schlutter, P. Ducke, Scheitler, Vogel (Schumann xx')
Unused subs: unknown
Referee: L. Van der Kroft
EUROPEAN CUP WINNERS CUP 2nd ROUND, 1st LEG
LEEDS UNITED 0
Harvey, Madeley, Cherry, Bremner, Charlton, Hunter, Lorimer, Clarke, Jordan, Bates, E. Gray
Unused subs: Sprake, Ellam, Yorath, Galvin, Reaney
Attendance: 18,000
SATURDAY 28th OCTOBER 1972
WOLVERHAMPTON WANDERERS 0
Parkes, Shaw, McAlle, Bailey, Munro, Jefferson, Hegan (Sunderland 63'), McCalliog, Richards, Eastoe, Kindon
Referee: D. Laing
DIVISION ONE
LEEDS UNITED 2
E. Gray 17', Lorimer 31'
Harvey, Madeley, Cherry, Bremner, Ellam, Hunter, Lorimer, Clarke, Yorath, Bates, E. Gray
Unused sub: Reaney
Attendance: 33,731
TUESDAY 31st OCTOBER 1972
LIVERPOOL 2
Keegan 31', Toshack 80'
Clemence, Lawler, Lindsay, Smith, Lloyd, Hughes, Keegan, Cormack, Heighway, Toshack, Callaghan
Unused sub: Boersma
Referee: B. Homewood
LEAGUE CUP 4th ROUND
LEEDS UNITED 2
Jones 45', Lorimer 58'
Harvey, Madeley, Cherry, Bremner, Ellam, Hunter, Lorimer, Clarke, Jones, Bates, E. Gray
Unused sub: Yorath
Attendance: 44,609
SATURDAY 4th NOVEMBER 1972
IPSWICH TOWN 2
Madeley own goal 18', Whymark 27'
Best, Mills, Harper, Miller, Hunter, Beattie, Hamilton, Viljoen, Johnson, Whymark (Hill 83'), Lambert
Referee: D. Turner
DIVISION ONE
LEEDS UNITED 2
Charlton 10', Lorimer 60'
Harvey, Madeley, Cherry, Bremner, Charlton, Hunter, Lorimer, Clarke, Jones, Bates, E. Gray
Unused sub: Yorath
Attendance: 27,566
WEDNESDAY 8th NOVEMBER 1972
LEEDS UNITED 2
Cherry 55', Jones 64'
Leeds United won 2-0 on aggregate
Harvey, Reaney, Cherry, Bremner, Charlton, Hunter, Lorimer, Clarke, Jones, Bates (Giles 79'), Yorath
Unused subs: Sprake, Jordan, Ellam, Galvin
Referee: C. Lo Bello
SATURDAY 11th NOVEMBER 1972
LEEDS UNITED 2
Clarke xx', xx'
Harvey, Reaney, Cherry, Bremner, Charlton, Hunter, Lorimer, Clarke, Jones, Giles, E. Gray (Bates xx')
Referee: unknown
EUROPEAN CUP WINNERS CUP 2nd ROUND, 2nd LEG
CARL ZEISS JENA 0
Blochwitz, Hoppe, Rockl, Weise, Kurbjuweit, Strempel, Schlutter, Goebel, P. Ducke (Scheitler xx'), Irmscher, Vogel
Unused subs: unknown
Attendance: 26,855
DIVISION ONE
SHEFFIELD UNITED 1
Staniforth xx'
McAllister (Ogden 65'), Badger, Hemsley, Mackenzie, Colquhoun, Hockey, Woodward, Staniforth, Dearden, Currie, Ford
Note: When Tom McAllister went off injured, Alan Woodward took over in goal
Attendance: 31,600
SATURDAY 18th NOVEMBER 1972
CRYSTAL PALACE 2
Craven 8', 43'
Jackson, Mulligan, T. Taylor, Phillip, Bell, Blyth, Hughes, Payne, Craven, Cooke, Rogers
Unused sub: unknown
Referee: R. Matthewson
DIVISION ONE
LEEDS UNITED 2
Jones 55', Giles 69'
Harvey, Reaney, Cherry, Bremner, Ellam, Hunter, Lorimer, Clarke, Jones, Giles, Bates (Yorath xx')
Attendance: 30,107
WEDNESDAY 22nd NOVEMBER 1972
LEEDS UNITED 0
Harvey, Reaney, Cherry, Bremner, Charlton, Hunter, Lorimer, Clarke, Jones, Giles (Jordan 72'), Madeley
Missed penalty: Giles (hit the bar 63')
Referee: B. Homewood
LEAGUE CUP 4th ROUND REPLAY
LIVERPOOL 1
Keegan 90'
Clemence, Lawler, Lindsay, Smith, Lloyd, Hughes, Keegan, Cormack, Heighway, Toshack, Callaghan
Unused sub: Hall
Attendance: 34,856
SATURDAY 25th NOVEMBER 1972
LEEDS UNITED 3
Cherry 67', Lorimer 88', Clarke 90'
Harvey, Reaney, Cherry, Bremner, Madeley, Hunter, Lorimer, Clarke, Jones, Bates, Yorath
Unused sub: F. Gray
Referee: D. Smith
DIVISION ONE
MANCHESTER CITY 0
Corrigan, Book, Donachie, Doyle, Barrett, Jeffries, Summerbee, Bell, Marsh, Lee, Towers
Unused sub: Carrodus
Attendance: 39,879
SATURDAY 2nd DECEMBER 1972
ARSENAL 2
Ball penalty 75', Radford 80'
Wilson, Rice, McNab, Storey, Blockley, Simpson, Armstrong, Ball, Radford, Kennedy, Kelly
Unused sub: unknown
Referee: C. Thomas
DIVISION ONE
LEEDS UNITED 1
Lorimer penalty 18'
Harvey, Reaney, Cherry, Bremner, Madeley, Hunter, Lorimer, Clarke, Jones (Jordan xx'), Bates, Yorath
Attendance: 39,108
SATURDAY 9th DECEMBER 1972
LEEDS UNITED 1
Jones 32'
Harvey, Reaney, Cherry, Bremner, Madeley, Hunter, Lorimer, Clarke, Jones, Bates, Yorath
Unused sub: Jordan
Referee: A. Morrissey
DIVISION ONE
WEST HAM UNITED 0
Ferguson, McDowell, Charles, Bonds, T. Taylor, Moore, Ayris (Boyce xx'), Best, Holland, Brooking, Robson
Attendance: 30,270
SATURDAY 16th DECEMBER 1972
LEEDS UNITED 4
Clarke 36', 54', Lorimer 60', Jones 70'
Harvey, Reaney, Cherry, Bremner, Madeley, Yorath, Lorimer, Clarke, Jones, Giles, Bates
Unused sub: Jordan
Referee: N. Burtenshaw
DIVISION ONE
BIRMINGHAM CITY 0
Kelly, Bowker, Want, Pendrey, Hynd, Roberts, Smith, Calderwood, B. Latchford, Hatton, Taylor
Unused sub: Harland
Attendance: 25,285
SATURDAY 23rd DECEMBER 1972
MANCHESTER UNITED 1
MacDougall 25'
Stepney, O'Neil, Dunne, Law (Kidd 46'), Sadler, Buchan, Morgan, MacDougall, Charlton, Davies, Storey-Moore
Referee: B. Daniels
DIVISION ONE
LEEDS UNITED 1
Clarke 89'
Harvey, Reaney, Cherry, Yorath, Charlton, Madeley, Lorimer, Clarke, Jones, Giles, Bates
Unused sub: Jordan
Attendance: 46,382
TUESDAY 26th DECEMBER 1972
LEEDS UNITED 1
Jordan 46'
Harvey, Reaney, Cherry, Yorath, Madeley, Hunter, Lorimer, Clarke, Jones, Giles, Bates (Jordan xx')
Missed penalty: Giles (saved by McFaul, the linesman ruled McFaul had moved so the referee ordered it to be retaken and Giles hit the bar 46' - Jordan scored from the rebound)
Referee: R. Lee
DIVISION ONE
NEWCASTLE UNITED 0
McFaul, Craig, Clark, Nattrass, Howard, Moncur, Barrowclough, Smith, Macdonald, Tudor, Hibbitt
Unused sub: unknown
Attendance: 45,486
SATURDAY 6th JANUARY 1973
LEEDS UNITED 2
Jones 15', Lorimer penalty 36',
Harvey, Reaney, Cherry, Bremner, Madeley, Hunter (Yorath xx'), Lorimer, Clarke, Jones, Giles, Bates
Referee: K. Burns
DIVISION ONE
TOTTENHAM HOTSPUR 1
Gilzean 73'
Jennings, Evans, Knowles, Pratt, England, Naylor, Gilzean, Perryman, Chivers, Peters, Pearce
Unused sub: Coates
Attendance: 32,404
SATURDAY 13th JANUARY 1973
NORWICH CITY 1
Cross 42'
Keelan, Butler, Black, Stringer, Forbes, Briggs, Howard, Bone, Cross, Paddon, Anderson
Unused sub: O'Donnell
Referee: G. Hill
FA CUP 3rd ROUND
LEEDS UNITED 1
Lorimer 18'
Harvey, Reaney, Cherry, Bremner, Madeley, Hunter, Lorimer, Clarke, Jones, Giles, Bates
Unused sub: Yorath
Attendance: 32,310
WEDNESDAY 17th JANUARY 1973
LEEDS UNITED 1
Giles 69'
Harvey, Reaney, Cherry, Bremner, Madeley, Hunter, Lorimer, Clarke, Jones, Giles, Bates
Unused sub: Yorath
Referee: G. Hill
FA CUP 3rd ROUND REPLAY
NORWICH CITY 1
Cross 40'
After Extra Time
Keelan, Butler, Black, Stringer, Forbes, Briggs, Howard, Bone (Cheesley 70'), Cross, Paddon, Anderson
Attendance: 36,087
SATURDAY 20th JANUARY 1973
NORWICH CITY 1
Cross 84'
Keelan, Payne, Butler, Stringer, Forbes, Briggs (O'Donnell 67'), Livermore, Howard, Cross, Paddon, Anderson
Referee: E. Wallace
DIVISION ONE
LEEDS UNITED 2
Jordan 21', Clarke 35'
Harvey, Reaney, Cherry, Bremner, Madeley, Hunter, Lorimer, Clarke, Jordan, Giles, Bates
Unused sub: Yorath
Attendance: 24,447
SATURDAY 27th JANUARY 1973
LEEDS UNITED 1
Clarke 57'
Harvey, Reaney, Cherry, Bremner, Madeley, Hunter, Lorimer, Clarke, Jordan (Yorath xx'), Giles, Bates
Referee: unknown
DIVISION ONE
STOKE CITY 0
Farmer, Lees, Pejic▮87', Mahoney, Bloor, Skeels, Robertson, Greenhoff, Ritchie, Eastham (Jump xx'), Conroy
Attendance: 33,487
MONDAY 29th JANUARY 1973
LEEDS UNITED 5
Clarke 2', 14', 20', Jones 37', Lorimer 71'
Harvey, Reaney, Cherry, Bremner, Madeley, Hunter, Lorimer, Clarke (Yorath 76'), Jones, Giles, Bates
Referee: R. Matthewson
FA CUP 3rd ROUND 2nd REPLAY
played at Villa Park
NORWICH CITY 0
Keelan, Payne, Butler, Stringer, Forbes, Howard, Livermore, Bone, Cross, Paddon, Anderson
Unused sub: O'Donnell
Attendance: 33,225
SATURDAY 3rd FEBRUARY 1973
LEEDS UNITED 2
Clarke 62', Bates 68'
Harvey, Reaney, Cherry, Yorath, Madeley, Hunter, Lorimer, Clarke, Jones, Giles, Bates
Unused sub: F. Gray
Referee: R. Kirkpatrick
FA CUP 4th ROUND
PLYMOUTH ARGYLE 1
Rickard 66'
Furnell, Provan, Sullivan, Hore, Saxton, Hague, Machin, Rickard, Hinch, Welsh, Latcham
Unused sub: Dowling
Attendance: 38,374
SATURDAY 10th FEBRUARY 1973
LEICESTER CITY 2
Birchenall 22', 56'
Shilton, Whitworth, Rofe, Woollett, Marley, Cross, Farrington, Birchenall, Weller, Worthington, Glover
Unused sub: Sammels
Referee: A. Hart
DIVISION ONE
LEEDS UNITED 0
Harvey, Reaney, Cherry, Yorath, Madeley, Hunter, Lorimer, Clarke, Jones, Giles, Bates (F. Gray 76')
Attendance: 18,442
SATURDAY 17th FEBRUARY 1973
LEEDS UNITED 1
Jones 26'
Harvey, Reaney, Cherry, Bremner, Madeley, Hunter, Lorimer (E. Gray 77'), Clarke, Jones, Giles, Bates
Referee: E. Jolly
DIVISION ONE
CHELSEA 1
Osgood 57'
Phillips, Locke, Harris, Hollins, Hinton, Kember, Garland, Hudson, Osgood, Garner, Houseman
Unused sub: Boyle
Attendance: 41,781
SATURDAY 24th FEBRUARY 1973
LEEDS UNITED 2
Clarke 28', 31'
Harvey, Reaney, Cherry, Bremner, Madeley, Hunter, Lorimer, Clarke, Jones, Giles, E. Gray
Unused sub: McQueen
Referee: N. Burtenshaw
FA CUP 5th ROUND
WEST BROMWICH ALBION 0
Latchford, Nisbet (A. Brown 66'), Wilson, Cantello, Wile, Robertson, Merrick, T. Brown, Astle, Hartford, Johnston
Attendance: 39,229
SATURDAY 3rd MARCH 1973
DERBY COUNTY 2
Durban 25', Hector 55'
Boulton, Powell, Nish, O'Hare, McFarland, Todd, McGovern, Gemmill, Davies, Hector, Durban
Unused sub: Daniel
Referee: R. Challis
DIVISION ONE
LEEDS UNITED 3
Lorimer penalty 43', penalty 67', Clarke 71'
Harvey, Reaney (Bates 50'), Cherry, Bremner, Madeley, Hunter, Lorimer, Clarke, Jones, Giles, McQueen
Attendance: 38,100
WEDNESDAY 7th MARCH 1973
LEEDS UNITED 5
Giles 15', Clarke 25', Lorimer 33', 56',
Jordan 65'
Harvey, Reaney, Cherry, Bremner, McQueen (Yorath 83'), Hunter, Lorimer, Clarke, Jordan, Giles, Madeley
Unused subs: Sprake, E. Gray, Bates, Ellam
Referee: B. Smejkal
EUROPEAN CUP WINNERS CUP 3rd ROUND, 1st LEG
RAPID BUCHAREST 0
Raducanu, Pop, Grigorias, Codrea, Stelian, Musat, Nasturescu (Naom xx'), Savu, Neagu, Florin, E. Dumitriu
Unused subs: unknown
Attendance: 25,702
SATURDAY 10th MARCH 1973
LEEDS UNITED 2
Clarke 6', Lorimer 50'
Harvey, Madeley, Cherry, Bremner, McQueen, Hunter, Lorimer, Clarke, Jordan, Giles, E. Gray
Unused sub: Reaney
Referee: P. Partridge
DIVISION ONE
EVERTON 1
Lyons 44'
Lawson, Wright, Styles, Hurst, Kenyon, Harvey (Darracott 22'), Jones, Kendall, Belfitt, Lyons, Connolly
Attendance: 39,663
SATURDAY 17th MARCH 1973
DERBY COUNTY 0
Boulton, Webster, Nish, O'Hare, McFarland, Todd, McGovern, Gemmill, Davies, Hector, Powell (Durban 72')
Referee: H. New
FA CUP 6th ROUND
LEEDS UNITED 1
Lorimer 29'
Harvey, Reaney, Cherry, Bremner (Bates 58'), Madeley, Hunter, Lorimer, Clarke, Jones, Giles, E. Gray
Attendance: 38,350
WEDNESDAY 21st MARCH 1973
RAPID BUCHAREST 1
D. Dumitriu 62'
Raducanu, Pop, Grigorias, Codrea, Stelian, Musat, Nasturescu, Savu, Neagu, E. Dumitriu (D. Dumitriu xx'), Petreanu
Unused subs: unknown
Referee: O. Dahlberg
EUROPEAN CUP WINNERS CUP 3rd ROUND, 2nd LEG
LEEDS UNITED 3
Bates 1', Jones 23', Jordan 75'
Leeds United won 8-1 on aggregate
Harvey, Reaney, E. Gray, Madeley, McQueen, Hunter, Lorimer, Jordan, Jones, Giles (F. Gray 76'), Bates (Yorath 9')
Unused subs: Sprake, Galvin, Ellam
Attendance: 25,000
SATURDAY 24th MARCH 1973
LEEDS UNITED 0
Harvey, Reaney, Madeley, Bremner, McQueen, Hunter (Yorath 74'), Lorimer, Jordan, Jones, Giles, E. Gray
Referee: P. Baldwin
DIVISION ONE
WOLVERHAMPTON WANDERERS 0
Parkes, Taylor, Parkin, Shaw, Munro (Kindon 89'), McAlle, Powell, Daley, Richards, Dougan, Wagstaffe
Attendance: 39,078
WEDNESDAY 28th MARCH 1973
WEST BROMWICH ALBION 1
Shaw 74'
Osborne, Cantello, Wilson, T. Brown, Wile, Robertson, Merrick, Shaw, Astle, Hartford, Johnston
Unused sub: A. Brown
Referee: T. Oliver
DIVISION ONE
LEEDS UNITED 1
Clarke 34'
Harvey, Reaney, Cherry, Bremner, McQueen, Madeley, Lorimer, Clarke, Jones, Giles, E. Gray (Jordan 66')
Attendance: 33,057
SATURDAY 31st MARCH 1973
MANCHESTER CITY 1
Towers 82'
Healey, Book, Donachie, Doyle, Booth, Oakes, Summerbee, Bell, Marsh, Lee, Towers
Unused sub: Carrodus
Referee: J. Taylor
DIVISION ONE
LEEDS UNITED 0
Harvey, Reaney, Cherry, Bremner, McQueen, Madeley, Lorimer, Clarke, Jones, Giles, Yorath (Jordan xx')
Attendance: 35,772
MONDAY 2nd APRIL 1973
COVENTRY CITY 0
Ramsbottom, Coop, Cattlin, McGuire, Barry, Dugdale, Green, Alderson, Stein, Carr, Hutchison
Unused sub: Smith
Referee: H. New
DIVISION ONE
LEEDS UNITED 1
Reaney 40'
Harvey, Reaney, Cherry, Bremner, Charlton, Madeley, Lorimer, Clarke, Jones, Giles, Yorath
Unused sub: Jordan
Attendance: 24,383
SATURDAY 7th APRIL 1973
WOLVERHAMPTON WANDERERS 0
Parkes, Taylor, Parkin, Shaw, Munro, McAlle, Powell, Hibbitt (Bailey 73'), Richards, Dougan, Wagstaffe
Referee: P. Patridge
FA CUP SEMI FINAL
played at Maine Road
LEEDS UNITED 1
Bremner 68'
Harvey, Reaney, Cherry, Bremner, Charlton (Jordan 32'), Yorath, Lorimer, Clarke, Jones, Giles, Madeley
Attendance: 52,505
WEDNESDAY 11th APRIL 1973
LEEDS UNITED 1
Clarke 21'
Harvey, Reaney, Cherry, Bremner, Yorath, Hunter, Lorimer, Clarke▮72', Jones, Giles, Bates (Jordan 65')
Unused subs: Sprake, F. Gray, Galvin, Ellam
Referee: G. Emsberger
EUROPEAN CUP WINNERS CUP SEMI FINAL, 1st LEG
HAJDUK SPLIT 0
Vukcevic, Dzoni, Boljat, Holcer, Peruzovic, Hlevnjac, Boskovic, Jovanic, Jerkovic, Surjak
Unused subs: unknown
Attendance: 32,051
SATURDAY 14th APRIL 1973
WEST HAM UNITED 1
Holland 90'
Ferguson (Lutton 73'), McDowell, Lampard, Bonds, Lock, Moore, Best, Holland, MacDougall, Brooking, Robson
Note: When Bobby Ferguson left the field injured, Clyde Best took over in goal
Referee: N. Burtenshaw
DIVISION ONE
LEEDS UNITED 1
Clarke 83'
Harvey, Reaney, Cherry, Bremner, Yorath, Hunter, Lorimer, Clarke, Jones, Giles, Bates (Jordan xx')
Attendance: 24,383
WEDNESDAY 18th APRIL 1973
LEEDS UNITED 0
Harvey, Reaney, Cherry, Bremner, McQueen, Yorath, Lorimer, Clarke, Jones (Jordan xx'), Giles, Bates
Referee: unknown
DIVISION ONE
MANCHESTER UNITED 1
Anderson 73'
Stepney, Young, James, Graham, Holton, Buchan, Morgan, Anderson (Fletcher 75'), Charlton, Macari, Martin
Attendance: 45,450
SATURDAY 21st APRIL 1973
LEEDS UNITED 4
Bremner 6', F. Gray 26', Lorimer 38', Clarke 76'
Harvey, Madeley, Cherry, Bremner (Jordan 84'), Ellam, Yorath, Lorimer, Clarke, Jones, Giles, F. Gray
Referee: J. Williams
DIVISION ONE
CRYSTAL PALACE 0
Jackson, Taylor, Roffey, Mulligan, Blyth, Hinshelwood (Payne 49'), Possee, Cooke, Whittle, Phillip, Rogers
Attendance: 31,173
MONDAY 23rd APRIL 1973
LIVERPOOL 2
Cormack 47', Keegan 85'
Clemence, Lawler, Thompson, Smith, Lloyd, Hughes, Keegan, Cormack, Hall, Heighway, Callaghan
Unused sub: unknown
Referee: G. Hill
DIVISION ONE
LEEDS UNITED 0
Harvey, Reaney, Cherry, Bremner, Ellam, Hunter, Lorimer, Clarke, Jordan, Yorath, Madeley
Unused sub: Jones
Attendance: 55,738
WEDNESDAY 25th APRIL 1973
HAJDUK SPLIT 0
Sirkovic, Dzoni, Boljat (Peruzovic xx'), Boskovic, Holcer, Buljan, Hlevnjak, Jerkovic, Nadoveza, Jovanovic (Muzinic xx'), Surjak
Unused subs: unknown
Referee: R. Helies
EUROPEAN CUP WINNERS CUP SEMI FINAL, 2nd LEG
LEEDS UNITED 0
Leeds United won 1-0 on aggregate
Harvey, Reaney, Cherry, Bremner, Yorath, Hunter, Lorimer, Jones, Jordan, Giles, Madeley
Unused subs: Sprake, Galvin, Ellam, F. Gray, Jordan
Attendance: 30,000
SATURDAY 28th APRIL 1973
SOUTHAMPTON 3
O'Neil 47', Stokes 83', Channon 89'
Martin, Kirkup, Mills, Talkes (Fisher xx'), Bennett, Walker, Paine, Channon, Gilchrist, O'Neil, Stokes
Referee: unknown
DIVISION ONE
LEEDS UNITED 1
Hunter 70'
Harvey, Cherry✙xx', Hampton, Bremner, Charlton (Ellam xx'), Hunter, Bates, Clarke, Jordan, E. Gray, F. Gray
Attendance: 24,108
MONDAY 30th APRIL 1973
BIRMINGHAM CITY 2
Francis 29', Burns 51'
D. Latchford, Martin, Pendrey, Page, Hynd, Roberts, Campbell, Francis, B. Latchford, Burns, Hope (Hendrie 73')
Referee: E. Wallace
DIVISION ONE
LEEDS UNITED 1
Jordan 9'
Sprake, Galvin, Hampton, Yorath, Ellam (McGinley 49'), F. Gray, Liddell, Lorimer, Jordan, Mann, Bates
Attendance: 34,449
SATURDAY 5th MAY 1973
LEEDS UNITED 0
Harvey, Reaney, Cherry, Bremner, Madeley, Hunter, Lorimer, Clarke, Jones, Giles, E. Gray (Yorath 75')
Referee: K. Burns
FA CUP FINAL
played at Wembley
SUNDERLAND 1
Porterfield 32'
Montgomery, Malone, Guthrie, Horswill, Watson, Pitt, Kerr, Porterfield, Halom, Hughes, Tueart
Unused sub: Young
Attendance: 100,000
WEDNESDAY 9th MAY 1973
LEEDS UNITED 6
Lorimer penalty 22', 30', 65', Bremner 78',
Jordan 80', 82'
Harvey, Reaney, Cherry, Bremner, Yorath, Hunter, Lorimer, Clarke (Jones 32'), Jordan, Giles, Madeley
Referee: R. Matthewson
DIVISION ONE
ARSENAL 1
Armstrong 50'
Wilson, Batson, McNab, Storey, Blockley, Simpson, Armstrong, Ball, Radford, Kennedy, Hornsby (Price xx')
Attendance: 25,088
WEDNESDAY 16th MAY 1973
AC MILAN 1
Chiarugi 4'
Vecchi, Sabadini, Zignoli, Anquilletti, Turone, Rosato (Dolci 59'), Sogliano▮89', Benetti, Bigon, Rivera, Chiarugi
Unused subs: Belli, Casone, Magherini, Golin
Referee: C. Michas
EUROPEAN CUP WINNERS CUP FINAL
played at the Kaftanzoglio Stadium, Salonika, Greece
LEEDS UNITED 0
Harvey, Reaney, Cherry, Bates, Yorath, Hunter▮89', Lorimer, Jordan, Jones, F. Gray (McQueen 54'), Madeley
Unused subs: Stewart, Galvin, Mann
Attendance: 40,154
P

W

D

L

F

A

PTS

1
Liverpool

42

25

10

7

72

42

60

2
Arsenal

42

23

11

8

57

43

57

3
LEEDS UNITED

42

21

11

10

71

45

53

4
Ipswich Town

42

17

14

11

55

45

48

5
Wolverhampton Wanderers

42

18

11

13

66

54

47

6
West Ham United

42

17

12

13

67

53

46

7
Derby County

42

19

8

15

56

54

46

8
Tottenham Hotspur

42

16

13

13

58

48

45

9
Newcastle United

42

16

13

13

60

51

45

10
Birmingham City

42

15

12

15

53

54

42

11
Manchester City

42

15

11

16

57

60

41

12
Chelsea

42

13

14

15

49

51

40

13
Southampton

42

11

18

13

47

52

40

14
Sheffield United

42

15

10

17

51

59

40

15
Stoke City

42

14

10

18

61

56

38

16
Leicester City

42

10

17

15

40

46

37

17
Everton

42

13

11

18

41

49

37

18
Manchester United

42

12

13

17

44

60

37

19
Coventry City

42

13

9

20

40

55

35

⇩

Norwich City

42

11

10

21

36

63

32

⇩

Crystal Palace

42

9

12

21

41

58

30

⇩

West Bromwich Albion

42

9

10

23

38

62

28
SATURDAY 29th JULY 1972
BRADFORD PARK AVENUE 1
Goalscorer unknown xx'
Team line up unknown

unknown
FRIENDLY
LEEDS UNITED 1
Liddell 89'
Team line up unknown
Attendance: TBC
MONDAY 31st JULY 1972
LEEDS UNITED 3
Giles xx', own goal xx', Jordan xx'
Team line up unknown

unknown
FRIENDLY
DONCASTER ROVERS 0
Team line up unknown
Attendance: TBC