A TRIBUTE TO JIMMY ARMFIELD OBE (1935-2018)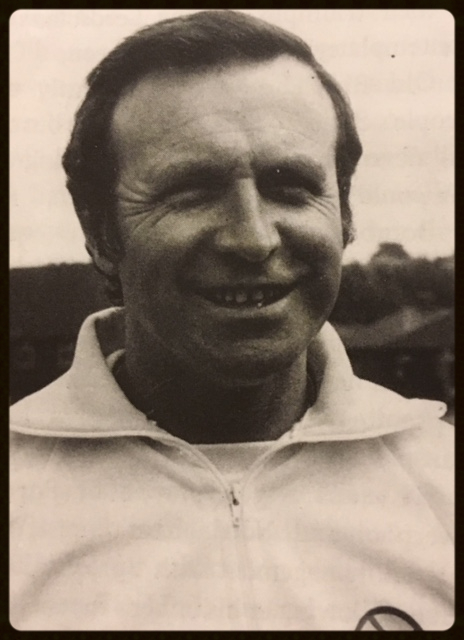 The football world was shocked this morning (Monday the 22nd of January, 2018), when news broke of the passing of James Christopher Armfield OBE.
'Jimmy' Armfield was a one club man as a player, serving Blackpool with distinction. As an attacking full-back, he made a club record 627 appearances for 'The Tangerines' over 17 years and was a non-playing member of Alf Ramsey's England squad that conquered the world in the summer of '66. He won a total of 43 England caps and had the honour of captaining his country on several occasions.
After retiring as a player, Armfield took over as manager of Bolton Wanderers and in 1973 he masterminded a promotion winning campaign by taking his charges up to the Second Division. His achievement did not go unnoticed and the Leeds United board, desperately searching for stability after the disastrous reign of Brian Clough, brought him to Elland Road in October 1974.
Unfazed by the challenge of attempting to replicate the success that Don Revie had brought to West Yorkshire, Armfield, a generally quiet, pipe smoking character, was welcomed by the playing staff and set about the job in hand.
Leeds, under Clough, endured a poor start to the season and the champions of England had fallen way behind in the title race. Armfield understood this and made the European Cup his priority.
The Whites had already negotiated the First Round stage by dispatching the Swiss champions, FC Zurich courtesy of a 5-3 aggregate win. Under Armfield the run continued in style by seeing off Ujpest Dosza and Anderlecht before a Semi-Final date with the Johan Cruyff inspired, Spanish giants, Barcelona.
Elland Road welcomed over 50,000 expectant supporters and they were sent home in an ecstatic mood when Allan Clarke's goal, twelve minutes from time, gave Leeds a 2-1 win and a slender lead to take to the Nou Camp for the second leg.
Despite Gordon McQueen seeing red in Barcelona, a typical thunderbolt from Peter Lorimer gave Leeds a 1-1 draw and a date in the Parc de Prince against Bayern Munich.
As they say, the rest is history. Unfortunately, the dubious display by French referee, Michel Kitabdjian, robbed Jimmy Armfield and Leeds United of the greatest club prize of them all amid some chaotic scenes on the terraces.
In the aftermath of Paris, UEFA hit Leeds hard and the subsequent ban ensured that Jimmy Armfield never managed the club again in European competition.
Leeds United was about to be rebuilt. One by one, the legendary side that gave the club a glorious decade, either moved on to pastures new or retired.
Jimmy Armfield brought in the likes of Arthur Graham, Paul Hart, Tony Currie, Ray Hankin and Brian Flynn whilst rejuvenating Eddie Gray's career but despite reaching the FA Cup Semi Final in 1977 and the League Cup Semi-Final in 1978, the successes the club had become accustomed to, could not be repeated.
Armfield paid the price when the board dismissed him in the summer of 1978.
This afternoon, two players who owed a great deal to Jimmy Armfield, kindly gave me a few words about their former manager.
Striker, David McNiven, a proven goalscorer at youth and reserve level was handed his debut by Armfield in a League Cup tie against Notts County in October 1975:
"Jimmy was a wonderful man who brought stability to the club but he never got the credit he deserved.
"The truth was that the great side was ageing and Don Revie, a man who was very loyal to his players, didn't fancy breaking the team up and he went on to take the England job.
"The task was taken on by Jimmy and although he was highly regarded by the players, we quickly realised that he had a tough side to him and we knew that there was a line that we didn't cross.
"As he proved when he gave me my debut, he was not afraid to play the youngsters. He spent a lot of time watching the youth team and he was keen to see us progress. Despite the fact that I had a stinker on my debut, he continued to encourage me and I will never forget the influence he had on me."
One of Jimmy Armfield's last signings for Leeds United was Paul Hart. Armfield returned to Blackpool to sign the commanding central defender and Hart told me:
"I had a tough time when I first joined Leeds but Jimmy stood by me and showed faith in my ability. Unfortunately, I only played under him for a few months before he was relieved of his duties.
"He created a relaxed atmosphere, he was a top manager who I have the greatest respect for. Jimmy was a gentleman and I enjoyed his company immensely. Football has lost a true great."
Upon leaving Elland Road, Jimmy Armfield embarked on a career in the media and was a popular match summariser on BBC Radio. His voice was recognised by everyone who loved football and his knowledge of the game was unrivalled.
Rest in peace, Jimmy Armfield OBE.