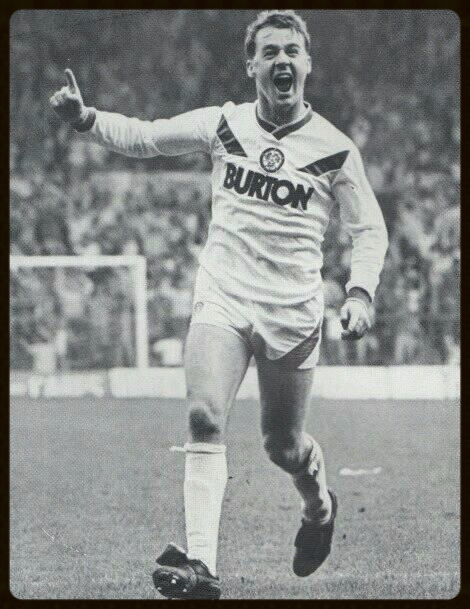 During a long period of mediocre football at Elland Road, at a time when attendances were the lowest for many a year and violence on the terraces was common-place, one man offered hope, one man stood head and shoulders above everyone else. That man was John Joseph Sheridan, a Mancunian midfield maestro.
Born in 1964, 'Shez' signed for Leeds in March 1982 after previously been on the books of Manchester City and was handed his league debut by Eddie Gray on 20th November 1982, in a goalless draw at home to Middlesbrough.
John kept his place in the side that season, making 27 league appearances and scoring two league goals for Gray's young pretenders who would finish the season in eighth place, some 10 points off promotion. He also made two appearances in the FA Cup, finding the net in a 3-0 demolition of Preston North End.
Much was expected of Sheridan the following season but his progress was halted in a rare Leeds win at Oakwell. John suffered a broken leg following a challenge by Stuart Gray. That was late October, it was also the end of John's season.
He returned the following year to play in all 46 of United's competitive games, scoring six goals. The stand out performance came in a 4-1 home win over Crystal Palace when Shez ran the show, scoring a brace and making another for Ian Baird.
Leeds had started the season with four wins on the bounce but a poor run of just one win in the next seven seriously dampened the early season promise and it wasn't until mid-March that any sort of consistency would return. Leeds finished in seventh place.
This video was uploaded to You tube by Simon Cranston.
The 1985-86 season was largely one to forget, Eddie Gray was sacked and replaced by Billy Bremner. John, despite suffering from niggling injuries and suspensions during the course of the season, showed the new manager what he was capable of, partnering the highly rated and sought after Ian Snodin in midfield.
Leeds suffered a terrible season and for long parts of it, relegation to the Third Division was a strong possibility. Crowds at Elland Road fell below the 10,000 mark and several young players, who would go on to carve out great careers, were sold by Bremner. Thankfully Sheridan survived the cull as King Billy set out to stamp his own mark on the club.
A campaign was to follow which is looked back on by Leeds fans with mixed emotions. Once again, like on many occasions when Bremner captained 'Super Leeds' in the halcyon days under Don Revie, in 1986-87 Leeds were the glorious failures. John Sheridan had helped put Leeds back on the map.
Sheridan only missed two league games and quite frankly, he ran riot. His full potential was realised in the second half of the season after Snodin had been sold, at a handsome profit, to Everton.
Saying that, there were some exquisite moments of quality during the first half of the campaign, notably against Derby County - the eventual champions.
Derby came to Elland Road in late November. Shez had already got five goals to his name and in the ninth minute Leeds won a free kick on the edge of the box in front of the South Stand.
The ball was rolled to John and in one breathtaking movement he flicked it up and volleyed it past a stunned Derby goalkeeper. Elland Road went wild, not since the flamboyant Tony Currie in the 1978-79 season had such skill been witnessed. Leeds went on to win that game 2-0 and Shez's goal is still widely and fondly remembered to this day.
Another world class goal followed in the next home game, watched by just over 12,000 fans. Sheridan challenged the Brighton full-back on the Leeds left, advanced, cut inside and beat two men before hammering a stunning shot into the centre of the net from 25 yards. He ran to the Kop milking the applause. For the second successive home game, Elland Road had witnessed a genius at work. Should similar goals be scored this weekend by an England international, plying his trade at the top of the Premier League, Sky Sports would be replaying them every five minutes. They were that good and and at the time no one at Leeds would have had the audacity to attempt such strikes on goal, never mind find the net.
The 'Sheridan Dictates' culture was in full swing and rumours were rife of a big money move out of Elland Road.
Leeds, and Shez, had a fantastic time in the second half of the season. In the league, the Whites suffered defeat on only four occasions and Billy's men took the FA Cup by storm, reaching the semi-finals before being beaten by Coventry in a pulsating clash at Hillsborough.
A crowd of just under 25,000 saw a superb 3-2 win over Ipswich Town. Sheridan fired in a quality strike before his second half free kick paved the way for Brendan Ormsby to score the deciding goal.
Birmingham City were the next to suffer as Shez fired in a stunning free kick to set Leeds on the way to a 4-0 win and the play offs, in their first year, were firmly in sight.
Leeds confirmed a fourth place finish, and a place in the inaugural play-off lottery with another 3-2 home win, this time against West Bromwich Albion and John stroked home a penalty.
After seeing off Oldham Athletic over two legs, Leeds faced first division side Charlton Athletic in the final, another two legged affair. After both games were won 1-0 by the home side a replay took place at St Andrews, Birmingham. The game was stalemate at 0-0 and in the ninth minute of extra time Leeds were awarded a free-kick. Sheridan stood over the ball, 25 yards from goal before delivering an absolutely world class strike past Bob Bolder. The Leeds fans, making up the majority of the 18,000 crowd went ballistic. A return to the first division was in sight until an unlikely Charlton hero, Peter Shirtliff, struck two late goals to deny Leeds. It was heart-breaking.
On a personal level, Shez had another fantastic season the following year although Leeds, once again, failed to live up to expectation. He scored 12 league goals in 36 appearances but United finished the season in seventh place.
The 1988-89 campaign would be John's last at Elland Road. A bad start to the season saw Billy Bremner relieved of his duties and replaced by Howard Wilkinson.
Wilko revolution had begun and Shez played in 33 league games. His last competitive appearance in a Leeds shirt came in a low key 1-0 win over bottom club Walsall on the 1st of May. A game remembered for the antics of Mark Aizlewood who, after scoring the winner, flicked the bird at fans on the Kop who had barracked him throughout the afternoon.
John Sheridan was sold to Nottingham Forest but the move didn't work out and he was soon on his way to Sheffield Wednesday where he won a promotion and scored a Wembley winner in the League Cup final against Manchester United.
Anybody who saw Shez play for Leeds will never forget how he lit up Elland Road on many a Saturday afternoon and Tuesday night, majestically strolling across the pitch displaying his talents. There were very few in the Leeds side at the time that were on a level anywhere near Sheridan's. He was an hero to everybody and without doubt, the finest player never to play for Leeds in the top flight.
In a recent poll, John was voted the 38th greatest ever Leeds player. Should a project similar to Jon Howe's 100 Greatest ever be conducted again and broken down into decades, Sheridan would be number one in the 1980s - without doubt.
John Sheridan started 261 games for Leeds in all competitions. He made six appearances from the bench and scored 52 goals.
Thanks for the memories Shez, once Leeds, always Leeds.