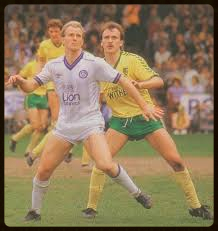 Despite that fact that he had scored a hat-trick for Manchester United against Leeds in March 1979, Andy Ritchie would go on to become an extremely popular player at Elland Road following his move from Brighton & Hove Albion four years later.
Ritchie was playing in the top flight for the south-coast club but had no hesitation in stepping down a division to join the Whites:
"Jimmy Melia, the Brighton manager, had been leaving me out of the side here and there despite the fact that I thought I'd been playing well. One Monday morning, after training, he called me over and told me that he needed to see me back at the ground.
"We trained at Peacehaven Football Club at the time and Peacehaven is where I lived. I was only two minutes from home but he insisted we met back at the Goldstone. When I arrived, he called me into his office and handed me the telephone. Eddie Gray was on the other end and after a brief conversation, I agreed to travel up to Leeds for talks.
"Melia had walked out of the room whilst I was chatting to Eddie but when he came back in and I told him I was going up there, he advised me to take my boots. The fact he said that made it obvious that he did not want me coming back."
The move that had been agreed by the two clubs would see the Leeds-born striker, Terry Connor go in the opposite direction:
"I flew up from Gatwick and at the time the departure lounge and arrivals were together. I boarded the plane to Leeds which Terry had got off and we had a brief chat in the airport. Terry, being a Leeds lad, wasn't keen and I advised him that if he didn't fancy it and I didn't fancy it then the move wouldn't happen."
Once in LS11 and after speaking to Eddie, Andy's mind was soon made up:
"He was fantastic. He sold the club to me and the challenge excited me. There was a good mixture of youth and experience at Leeds and I wanted to be a part of that."
In signing for Leeds, Andy gave up the chance of a Wembley appearance as his two former clubs would go on to do battle in the FA Cup Final, but it's something that he's never regretted:
"The fact that Brighton was going well in the cup would have never stopped me from going elsewhere. I had played in the cup run including the Quarter Final against Norwich City but how things were at the time, there was no guarantee I would play in the Semi's. I needed to be playing week in, week out and that was the most important thing."
Ritchie soon endeared himself to the Ellland Road faithful when on his debut, against Crystal Palace, he scored a 59th minute equaliser in a game Leeds would go on to win 2-1 with a last minute penalty scored by Frankie Gray:
"As a striker at a new club, it's imperative that you get off to a flier and I managed to do that. It's always nice to score on your debut and it lifts a weight of expectation but at the same time it can increase pressure as people expect a goal every week.
"It was brilliant to play alongside people like Frankie and Eddie Gray, David Harvey, Arthur Graham and Paul Hart. Players with vast amounts of experience and they helped the younger lads like Aidan Butterworth, John Sheridan and Neil Aspin.
"Kevin Hird was also at the club, I thought 'Hirdy' was much underrated. He would work tirelessly and he was one of those players that you were glad was on your side. He was like a little terrier snapping at people's ankles and years later when I joined Oldham, Mike Milligan reminded me of Kevin.
Andy scored three goals in the 10 games he played at the end of the 1982/83 season but the following season, he hit double figures in all competitions and one particular goal sticks in his memory:
"Sheffield Wednesday came to Elland Road at the end of March. They were chasing promotion and the game was shown on Match of the Day. They took the lead in the 80th minute through Gary Bannister but straight from the kick off I managed to equalise.
"Scott Sellars, who was a fantastic player, broke down the left and put a cross over. The ball skimmed my head and hit my arm before it ended up in the back of the net. I thought the referee was going to disallow it but he let it stand. Martin Hodge, the Wednesday goalkeeper, went berserk and chased me back to the halfway line, calling me all the names under the sun. Even now when I bump into Martin he laughs and mentions that goal."
The Owls, managed by a certain Howard Wilkinson, would go on to achieve promotion whilst Leeds would reflect on a largely disappointing term:
"There were high expectations at the club, there always has been and there still is. To be honest that spurred me on but I thought some of the younger, local lads carried that burden and inconsistency amongst the squad was often a problem.
"We had a decent squad, although we lost Shez through a broken leg, there were young lads like Denis Irwin, Tommy Wright, Mark Gavin, Scott Sellars and Neil Aspin who had established themselves. We then had players like Gary Hamson, Martin Dickinson, Peter Barnes and Peter Lorimer.
"There was also a lad called John Donnelly who could play a bit but the problem with John was that he drank Leeds dry in between games."
In terms of goals, Andy's most productive season in a Leeds shirt was in 1984/85 when he struck up a lethal partnership with Tommy Wright, despite not being involved in the first five league games as he recovered from an ankle injury suffered towards the end of the previous season, away at Swansea:
"The medical staff informed me that the damage to the tendons was so bad, I would have made a quicker and better recovery if I had broken the ankle.
"I fought my way back to fitness in the reserves and managed to score six in a 7-0 win over Grimsby Town. I should have had seven but the referee disallowed an over-head kick as he claimed my foot was high!"
Twice that year, Andy scored hat-tricks in the first team. The first came in a 6-0 thrashing of Oldham Athletic in what was only his second start of the season:
"I obviously enjoyed those. The Oldham one was nice as I'd just got back in the side. I benefited from a fantastic gesture by Peter Lorimer who handed me the ball when we were awarded a penalty and that gave me the chance to complete my treble. The other hat-trick came against Wimbledon in a 5-2 win."
Leeds travelled to Birmingham City for the final day of the season with very faint hopes of promotion. It was a day to forget and the trouble that occurred has been well documented:
"The atmosphere was horrible all afternoon. I was substitute that day and during the game the home fans were throwing objects at the dugout.
"With about ten minutes left, Birmingham's centre forward, Dave Geddis smashed Neil Aspin as they challenged for the ball. Aspo went down and Eddie told me to go and warm up. I turned to Eddie and politely told him what to do. There was no way I was running up and down that touchline, the atmosphere was pure evil!
"I attempted to do some stretches in this cramped dugout and all the time I was praying that Aspo would get to his feet. He didn't and I had to go on. I've never forgiven him (or Dave Geddis) for that, haha!"
That would be Eddie's last full season as Leeds manager, he was sacked the following October and replaced by Billy Bremner:
"Billy was a good guy although he had his favourites. He loved Bairdy and in one particular team meeting after we had been beaten on the Saturday, Billy dished out some real bollockings. However, when he turned to Ian, he praised him saying that he'd covered every blade of grass on the pitch. I nicknamed Bairdy the 'Hover Mower' after that.
The 1986/87 season would prove to be Andy's last at the club. Complicated contract talks had failed to come to fruition and he ended up seeing his days out on a week to week contract:
"It was a great season despite the disappointments we suffered in the FA Cup and the Play Offs. It was Billy's dream to manage Leeds to promotion and I don't think he ever got over that defeat against Charlton.
"We had some good strikers at the club, Ian Baird, Keith Edwards, John Pearson and a young Bob Taylor was starting to emerge. Despite that fact that Billy had brought a few wingers in, he played me on the right and although it wasn't my preferred position I was happy to play my part."
Ritchie's ability as a winger was evident during the FA Cup Semi-Final. With the clock ticking down, he beat two men, on the right hand side, before delivering a pin point cross for Edwards to head home an equaliser:
"We were devastated that day but it was typical of my luck in the competition. All throughout my career it was never very kind to me."
The summer of 1987 would see Andy Ritchie leave Elland Road and join up with ex-colleagues, Tommy Wright, Denis Irwin and Andy Linighan at Oldham Athletic:
"The contract talks didn't go well and in the end the final contract that was offered to me was on less money than the previous ones I'd been offered. I didn't have an agent at the time and I sent letters to every club in the Second Division informing them of my situation.
However, original interest in the forward's services came from France:
"Brest were interested in signing me but whilst I waited for the nod to go over and speak to them, Joe Royle contacted me and asked me to join Oldham, which I did and the move gave me the stability of a long term contract which I never had at Leeds.
"Who knows, had we got promoted then the club may have been in a position to offer me a better deal but we didn't go up and I had to look after my best interests."
Andy Ritchie is proud of the fact that he made 159 appearances and scored 44 goals in a Leeds shirt. He looks back fondly on his time at Elland Road and like us all; he despairs at the clubs current plight.
Having played with the types of players he has spoken about, Ritchie had no hesitation in telling me that the best he played with was John Sheridan:
"What a player John was. He was class, outstanding. He would turn his man and without looking up he knew where to put his pass. It was like he possessed a sixth sense.
"When I managed Oldham, I signed Shez who was in the twilight of his career and he won't mind me telling you that he was knackered. However, he was still the best player at the club."
Thank you to Andy Ritchie for his time and giving me the opportunity to write this article.