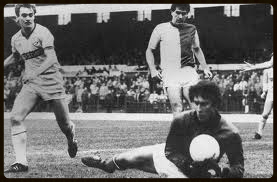 Scottish midfielder Andy Watson arrived at Elland Road in June 1983 from Aberdeen for a modest fee of £60,000.
Born in Aberdeen in September 1959, Andy joined his hometown club following a spell in junior football with Sunnyside. Whilst at Pittordrie he picked up winners medals in the Scottish Cup and the European Cup Winners Cup at a time when Alex Ferguson's side proved to be more than a match for the Old Firm giants from Glasgow. On a personal level, the midfielder played his way into the Scotland under 23 squad earning four caps.
Watson was on the bench for the Cup Winners Cup final win over Real Madrid in Gothenburg and it was soon after that he heard of interest in his services:
"Out of the blue, Leeds United manager Eddie Gray came in for me and I was informed of his approach by Alex Ferguson. I had enjoyed my time with the Dons but it was alright sitting on the bench and collecting winner's medals but I wasn't playing football on a regular basis and to me that was the most important thing.
"It was an honour that a man of Eddie's calibre wanted to sign me and I duly travelled down to West Yorkshire to see what the club had to offer. The class of the man shone through and rather than showing me around the place, having the conversations and then sticking me in a hotel, Eddie invited to me to stay at his house. A deal was soon thrashed out and I was more than happy to sign."
Leeds United was very much in a transitional period. After suffering relegation from the top flight in 1982 under Allan Clarke, Eddie Gray was given the thankless task of rebuilding a club, which had fallen on hard times, with a shoestring budget.
The new season got underway in the blazing sunshine at home to Newcastle United but Andy's debut didn't quite go to plan:
"I couldn't wait to get started and we ran out onto the Elland Road pitch into an unbelievable atmosphere, the ground was full and the place was bouncing.
"Unfortunately, we lost the game 1-0 with John Anderson scoring the only goal of the game. Newcastle's side included Kevin Keegan who was inspirational for them that afternoon and although we were pleased with our performance, we were obviously disappointed not to get something from the game, especially as the visitors ended up with Chris Waddle between the sticks following an injury to goalkeeper Kevin Carr."
Leeds only had to wait two days to get their season up and running as Brighton & Hove Albion visited Elland Road. This time the outcome was a favourable one as the Whites ran out 3-2 winners. The game provided an added bonus for the new boy:
"We won the game and got three points on the board which was the main thing but I will always remember putting us 1-0 up when I managed to run onto a through ball and flick it past the goalkeeper as he came charging out."
More goals followed in wins over Cambridge United and Portsmouth. In January he notched the winner at home to Fulham and bagged two more the following week as Leeds gained revenge on Shrewsbury Town, following a 5-1 hammering at Gay Meadow, with a comfortable 3-0 win at Elland Road. The following month he scored in the reverse fixture at Portsmouth which saw Leeds win a thrilling encounter 3-2 and that goal proved to be Andy's last in a Leeds shirt.
In his first, and only, full season at the club Watson made 36 league and cup appearances, of which one was as a substitute, and he helped himself to seven goals from midfield despite missing six weeks of the season due to medial ligament trouble.
The following campaign saw Andy start the first seven games but he lost his place in the starting line up after a 3-1 defeat away to Crystal Palace on the 29th of September and in December he returned north of the border to sign for Heart of Midlothian.
"I had come from Aberdeen, where I wasn't playing as much as I would have liked, and I soon realised that I was back in the same position at Leeds. A footballer's career is a short one and as I said, I just wanted to play every week."
Andy remained at Hearts until the summer of 1987 when he moved across the capital city to sign for bitter rivals Hibernian where he once again teamed up with former Leeds striker George McCluskey.
"My time at Leeds United was fantastic and to have represented such a fantastic club on 43 occasions and score seven goals is something I will always be proud of. But in truth, the Leeds fans never really saw the best of me. Looking back I could have adapted myself better and showed a little more patience but what happened can't be changed.
"We had a side with a good mix of youth and experience. David Harvey, Peter Lorimer and Frankie Gray had returned to the club after playing their part in the heady days under Don Revie. Eddie was still registered as a player and he made the odd appearance. Along with seasoned professionals like Peter Barnes and Kenny Burns, they helped develop the raw talents of the younger players such as Scott Sellars, John Sheridan, Denis Irwin and Neil Aspin.
"Everywhere we travelled the fans were with us in their numbers, the support was phenomenal but with that came huge expectation. It had been less than ten years since Leeds had played in the European Cup Final and we desperately wanted to get the club back to the top flight but it wasn't to be.
"Away from home, we were a soft touch on too many occasions but on our day we could match anyone in the division.
"People don't realise what it means to play for Leeds United unless they are involved around the place. It is a unique club and in the Championship, they are every club's cup-final. Leeds is the team that the others want to beat."
After retiring from playing, Andy joined the coaching staff at Hibernian but moved onto Motherwell to become a member of Alex McLeish's backroom team. Andy followed McLeish in a return to Hibernian and then to Rangers, before their involvement with the Scottish national side. The pair finished up at Birmingham City before Andy moved to Notts County.
"We had great success; we won countless trophies at Rangers and reached the last 16 of the Champions League before winning the League Cup with Birmingham after beating Arsenal on a day when we were massive underdogs."
Currently, Andy lives in Birmingham and is not attached to a club but spends his time in coaching education and undertaking match analysis for Scotland manager Gordon Strachan.
"I have no real regrets about my playing career and I was privileged to play for four great clubs but when people ask me about who I played for, the main two I talk about are Aberdeen and Leeds United."
Thank you to Andy Watson for giving me his time and the opportunity to write this article.