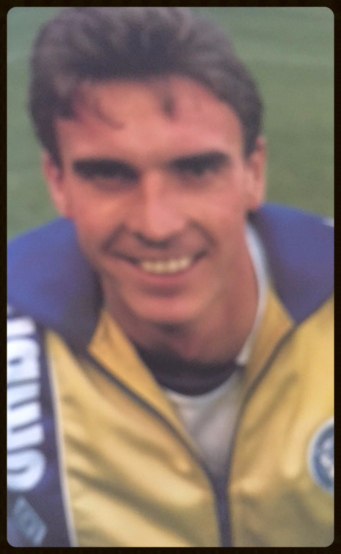 Andy Williams, a versatile, hard working figure, would go on to play a vital part in the first half of Leeds United's glorious 1989-90 Second Division title winning campaign after injury to John Hendrie gave him his chance in the first team at Elland Road.
Born in the Midlands and an avid West Bromwich Albion supporter, Williams was a relatively late starter to the professional game after signing for Coventry City at the age of 23.
He played a handful of games in the top flight for the Sky Blues before moving to South Yorkshire and Rotherham United:
"I played at Rotherham under the Leeds United legend Norman Hunter and Norman would entertain us with stories of the great Don Revie side that he was a vital part of for so many years."
Having knowledge of Leeds United certainly helped when, in November 1988, Williams found himself on the move to Elland Road:
"I was looking to leave Rotherham as the style of play had changed and it didn't really suit me. Hull City, managed by Eddie Gray, had come in for me and I was due to sign for them on the Wednesday morning. That was, until I was informed of Leeds United's interest.
"I travelled to Elland Road instead and met Howard Wilkinson in the afternoon. He was wrapped in a towel after a training session, having a shave whilst discussing my potential move to the club. It was a pretty surreal situation.
"The man spoke well and impressed me with his vision on where Leeds United would go under his management. He asked me how many goals I would score for him from midfield and trying to make the right impression, I told him ten.
"He replied, 'Ok, I was thinking eight but for every goal you score over ten, I'll give you a bonus'. I thought, 'Bloody hell, I've done myself out of some money!'
"Seriously, I signed for Leeds the following morning and it was a great honour. Even though they had endured a difficult start, they were slowly beginning to climb away from the foot of the Second Division. The place was overwhelming and I began to understand the magnitude of the club."
The midfield man was thrown straight into the squad and ironically his Leeds debut would be made against his boyhood favourites, West Bromwich Albion:
"I started the game on the bench with John Pearson but was handed my chance when Glyn Snodin had to leave the field with an injury. Neil Aspin switched to left back and I went to right back but at half time the gaffer changed things round and I played the second half in midfield.
"We won the game 2-1 thanks to goals from Mark Aizlewood and Ian Baird and I was thrilled to make my debut and experience Elland Road for the first time.
"All my family, who are Baggies fans, were in the ground and that day it was very much a case of divided loyalties."
Andy Williams was very much part of the Leeds squad for the remainder of the season. He made 18 league appearances although 11 came from the bench and he had the thrill of scoring the winner at Elland Road when Leeds beat Brighton & Hove Albion 1-0 on the 15th of April 1989.
However, his season would come to a slightly premature end when he suffered a fractured cheekbone after being kicked in the face at home to Walsall:
"That was the game that is remembered for the actions of Mark Aizlewood. I'm not sure why Mark came in for the stick that he did but it's fair to say that the lads were stunned by what he did after scoring what turned out to be the winning goal.
"I don't know what the mood was like in the dressing room afterwards as I had been taken to hospital due the facial injury."
Andy looks back on that first season with an understandable sense of satisfaction:
"I'd enjoyed a couple of good seasons at Rotherham United but it was still a huge step to make when I moved to Leeds. I soon settled in, got my head down, worked hard and I felt part of the set up."
That summer, the club changed beyond recognition and Sgt Wilko's Barmy Army was on the march to rejoin English football's elite:
"I knew I had a battle on my hands to get a regular place in the starting line up but after three consecutive substitute appearances, I got my chance when John Hendrie suffered a complicated injury."
Leeds were beginning to hit top gear after a slow start to the season and the part that Andy Williams played in the run up to the Christmas period should not be underestimated:
"I was enjoying a prolonged run in the team and I managed to score a couple of goals. I particularly enjoyed getting the winner against Watford at Elland Road when I slid in to score at the Kop end.
"We had completely outplayed Watford but found ourselves a goal down but we showed the character needed to fight back and win the game 2-1.
"Every game was a huge occasion. We were the team that everybody wanted to beat and I will never forget a night game at Fratton Park.
"We were coasting. We had established a 3-1 lead and Vinnie was milking it. He shouted over to me, 'Willo, the manager has asked me to do a holding job...holding my win bonus'.
"The Pompey lads heard him and were far from amused. They scored twice in the final minute to draw 3-3 and when Guy Whittingham equalised their lads all ran to Vinnie to ask him where his win bonus was."
Unfortunately for Andy, just as John Hendrie was getting back to fitness he suffered an injury of his own and it was so serious that it all but ended his season:
"I had a problem with my groin and developed an abscess. Within a week I had lost a stone in weight and needed an operation.
"By the end of the season I was playing again in the reserves and was hoping to be involved at Bournemouth on the final day until I suffered a bizarre injury which ruled me out.
"We were enjoying a light hearted training session and were playing a game of speed cricket. I'd got myself out and passed the bat to Vinnie. The ball was bowled to him and he swung the bat but connected with my face. It was a freak accident but one which ensured I would not be involved on the trip to the south coast for the vital fixture."
The unlucky midfielder sat at home in his garden, nursing his wounds, listening to the commentary on the radio as his team mates sealed the championship and a long awaited return to the top flight:
"Howard had signalled his intentions towards the end of his first season when he signed Gordon Strachan. He had set his stall out and he knew exactly what was required to get the job done and win promotion.
"Some say that Howard is dour, that's their opinion but what I know is that his management style was second to none. He was very effective and his attention to detail was extraordinary.
"He would watch endless videos of the opposition and he pinpointed their weaknesses and ways that we could exploit them. We wouldn't see him on the training ground until the Thursday, he would set the reserves up in the way that the next opponents would set up and organise the first team, telling them what he wanted from them on the Saturday."
Having had a brief taste of top flight action with Coventry, Andy Williams was relishing the prospect of playing again at that level for Leeds United but his path to the first team was blocked by the emergence of Gary Speed:
"Speedo got his chance during the promotion season due to injuries to John (Hendrie) and me. He was a fantastic young player who excelled in the side and became part of the famous 'Strachan, Batty, McAllister, Speed' midfield."
Andy was restricted to 12 appearances in what proved to be his final full season in the white of Leeds United and he admits that he still regrets the failure in the two cup Semi-Finals that season:
"We lost to Everton in the semis of the Zenith Data Systems Cup and to Manchester United in the League Cup at the same stage. They were bitter pills to swallow and it's a regret that I never played at Wembley during my career."
Williams' time at Elland Road came to an end in February 1992. Chances in the first team at Leeds were restricted to a couple of appearances in the League Cup:
"I needed to be playing regular football. I went out on loan to Port Vale but that loan spell was cut short by Leeds and I returned to Elland Road to play in an F.A. Cup tie against Manchester United."
That game would be Andy's last and the following month, after a loan spell at Notts County, he signed permanently for Neil Warnock's side:
"I'd left a club at the top of the league to sign for a club at the bottom but like I said, it was important that I was playing games of football.
"I loved my time at Leeds United and I treasure the championship medal which I won in 1990. It provides great memories of an unbelievable season and I am proud of the part that I played in the clubs success.
"It was an honour to play in front of the Leeds fans and wherever we went, they followed. Their passion could never be questioned and after each game my Father would comment on how fanatical they were."
Thank you to Andy Williams for his time and giving me the opportunity to write this article.