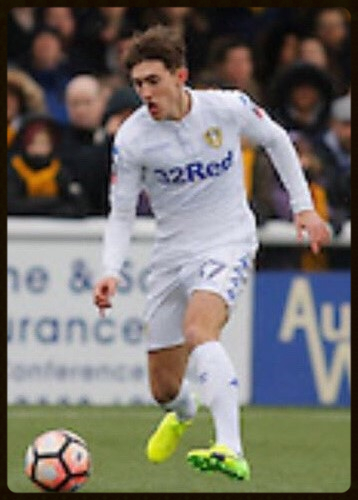 Billy Whitehouse's career in the Leeds United first team lasted only 73 minutes in a game that supporters are all too glad to forget.
The versatile player was signed in the summer of 2016 in a surprise move from Doncaster Rovers and despite having played for the Rovers' first team, Whitehouse joined up with the Leeds u-23 Development squad:
"A new manager had arrived at Doncaster and it was clear that I didn't form part of his plans so when Jason Blunt offered me the chance to train at Thorp Arch, it was one that I couldn't turn down."
The youngster impressed the coaching staff at Leeds and subsequently signed the one year deal he was offered but was realistic about his chances:
"Some of the younger lads spent much of pre-season with the first team, the likes of Eoghan Stokes, Alex Purver and Ronaldo Vieira (who would go on to be a regular in the first team) gained valuable experience during the summer.
"As the season unfolded, I was playing a right wing-back role and was enjoying my football. Realistically, with players like Luke Ayling, Gaetano Berardi and Lewie Coyle in front of me, my chances of first team football were pretty slim but in reality, it was all about my development and I tried to get my head down, train hard and impress the coaching staff in the games."
Whitehouse acknowledges that the environment in the under 23s is very different to the first team and he was seen as a senior member of that squad with several youngsters looking to him for advice:
"The difference between the first team and the 23s is huge. Although the games provide a good grounding, there isn't the pressure and it doesn't prepare you for dealing with the disappointment of suffering defeats in the senior squad."
After impressing in the second string, Whitehouse was all set to join up with the first team at the start of January when Leeds' FA Cup campaign got underway at Cambridge United:
"Although an injury had set me back six weeks, I had been training with the seniors and Garry Monk was eager to have me in the squad for the third round but I wasn't quite ready which was disappointing."
Leeds came through the tie, played on a Monday night with the BT Sport cameras looking for an upset. It looked likely with the League Two side taking a first half lead before Leeds fought back to triumph 2-1 and set up a fourth round tie away at Sutton United, again in front of the cameras.
"I was nearing fitness as the Sutton game approached and on the Thursday, Jason (Blunt) informed me that I would be joining up with the first team.
"James Beattie was brilliant with me and once I knew I would be travelling with the squad, he ensured that my feet were kept firmly on the ground. I don't normally get nervous but I did on that occasion and Beattie was constantly reassuring me in an attempt to keep me calm."
The team arrived at Gander Green Lane and once Garry Monk provided the team sheet, there were a couple of surprises on it, the inclusion of Billy Whitehouse, wearing the number 37 shirt, in the starting line up was one of those:
"I honestly did not expect to start but I was handed my debut along with Paul McKay with another youngster, Jack Vann, being named on the bench."
The TV cameras got their wish as National League Sutton claimed a fully deserved 1-0 victory and Billy's debut was curtailed in the 73rd minute when he was replaced by Kemar Roofe:
"I admit that I didn't do myself justice in a tough game. Sutton never let us settle into the game and at the final whistle; we just wanted to get away from the place.
"It was difficult being thrown in at the deep end in the circumstances and looking back, we could've done with a bit more experience in the starting line up. The fact we had lost was extremely hard to take and it was difficult to find any positives, both from an individual and a collective point of view."
After the cup defeat, Leeds won only six of 18 league games as dreams of the play-offs were extinguished but despite that poor run of form, Whitehouse was never recalled into the first team:
"Garry Monk strengthened his squad in January and the arrivals of Alfonso Pedraza and Mo Barrow killed off any slim chances I had of playing in the Championship although I continued to train with the first team.
"The end of the season soon came and it was clear that I wouldn't be getting a new deal. I felt, that at almost 21 years of age, I was too old to continue playing Development League football – I needed to kick on and get some first team games under my belt which was not really going to happen at Elland Road. I had to be realistic about the situation.
"I had helped a lot of the scholars throughout the season and the Academy management, Adam Underwood and Jason Blunt, appreciated that and although it was difficult to leave Leeds United, it was something I had to do.
"Despite what happened at Sutton, I am proud to be able to say that I played for Leeds United, I had a good season and I have nothing but praise for the club and everyone involved.
"It's been a long road for the supporters since relegation from the Premier League but I sense that the tide has turned and I am sure that the club will be back in the top flight next season. Mr Radrizzani has done some brilliant things already and from speaking to some of my old team mates, especially Conor Shaughnessy, I know how well the club is being run.
"It is frightening how good some of those academy kids are and the future is looking bright."
When I asked Billy which first team players were the biggest influences on him, he was quick to bestow praise on the Northern Ireland international wide man, Stuart Dallas:
"I looked up to Stuart, he is a true professional and a great guy. He does the right things at the right times, works incredibly hard and strives to be the best he can. He was always offering me advice and I will always respect him for that.
"Another player I admired was Kalvin Phillips, another one who works hard and remains very level-headed. He's a true role model for the younger players.
After leaving Leeds United, Billy spent time with Port Vale in pre-season and although he impressed, and received a lot of help from ex-Leeds player Danny Pugh, he didn't feel it would be the right move for him:
"Danny was fantastic and I enjoyed my brief time at Vale Park but from there I joined Alfreton Town on a non-contract basis but in all honesty I wanted to be playing at a higher level and hopefully soon, the right move will materialise.
"I will always be grateful for the season I had at Leeds United and I do miss the players and the buzz of the place, training each day was a pleasure, the facilities are world class and there are some fantastic people behind the scenes."
Thank you to Billy Whitehouse for giving me his time and the opportunity to write this article.