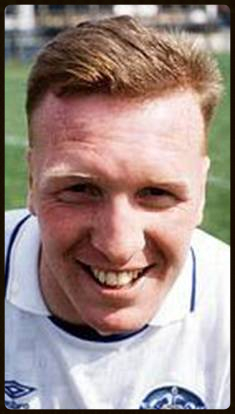 When speaking to Brendon Ormsby I could sense the pride in his voice when he reminded me that he was made captain of Leeds United by the clubs greatest ever player, Billy Bremner.
Brendon was born in Birmingham in 1960 and joined Aston Villa straight from school. He signed professional forms with Villa in October 1978 having won eight caps for England schoolboys.
After captaining the England youth team in 1979, Ormsby suffered a broken ankle which forced him to sit out the whole of the 1980/81 season. It was the season Villa were crowned champions of England.
The following campaign Aston Villa were England's representatives in the European Cup, a trophy they would lift at the end of a glorious cup run but despite Brendon playing in three games in the run to the final, he was omitted from the 16 man squad that faced Bayern Munich:
"I was gutted, absolutely gutted. I was 17th man and just missed out on a place on the bench."
During Brendon's time at Villa Park he became great friends with goalkeeper Mervyn Day and it was Day who informed Ormsby of Leeds' interest in him in 1986:
"I had played over 100 games for Villa but I wasn't a regular in the first team. Merv had told me that Billy Bremner was keen on signing me and he'd watched me play for Villa's second string. I thought any chance of a move had gone when I heard that Billy had signed David Rennie from Leicester City but thankfully he wanted me aswell and the move eventually happened."
Brendon Ormsby saw it as a massive compliment that a legend like Billy Bremner wanted to sign him:
"It is a great feeling when you know that someone like Billy sees you good enough to play in his team and despite Leeds being in the second division, I never saw the move as a backwards step. In fact, I would have walked to Elland Road from the Midlands.
"I was very excited and once the medical was completed I had no doubts that this was the right move for me. I stayed with Merv until things settled down and I couldn't wait to get started."
Leeds had lost four of the previous five games and faced Huddersfield Town at Elland on the 8thMarch 1986, Brendon was handed his debut alongside Rennie at centre back and he made an immediate impact:
"I scored the first goal at the South Stand end, we won the game 2-0 with Ian Snodin getting the second goal. There was less than 15,000 in Elland Road that day but the atmosphere was superb and although the main thing was to win the game, I was over the moon with the goal."
Brendon stayed in the side and Leeds were much improved, for large parts of a season in which relegation to the third division had looked a distinct possibility but three straight wins at the start of April staved off any fears.
The following season was one that would live long in the memory and for Brendon in particular it was a genuine case of 'ups and downs':
"It was a great season although initially we struggled to get going. It was the season I was made captain when Snod (Ian Snodin) was sold to Everton. Billy was given the money and brought in Mark Aizlewood, John Pearson and Micky Adams. We went on a great cup run and that galvanised us, we climbed the table and ended up in the play offs."
Early on in the season, Leeds won consecutive home league games 3-0 against Hull City and Crystal Palace and Brendon scored in both games. His third goal of the season came on February the 21stwhen First Division side Queens Park Rangers arrived at Elland Road in the fifth round of the F.A Cup:
"The place was bouncing, there were over 30,000 inside and thousands locked out. People were sitting on the roof of the chippy across the road trying to get a view of the game. Bairdy put us 1-0 up but QPR got a fortunate equaliser when Dave Rennie put through his own net.
A replay was looking likely on QPR's artificial surface at Loftus Road when we got a corner late on, Shez put the ball over and Big Bird (John Pearson) managed to get a flick on at the near post, I was on the end of it and put a header past David Seaman to send us into the quarter finals."
There is an iconic image of Brendon hanging on to the fence at the Kop end celebrating the goal with the jubilant fans, Elland Road hadn't seen anything like this since the 1970s and Brendon admits it was one of his finest moments in football.
Brendon, along with Ian Baird would miss the quarter final at Wigan through suspension but after a 2-0 Leeds win, they were back for the semi final and Ormsby lead the team out at Hillsborough against First Division Coventry City.
Leeds battled valiantly on the day but the game will be remembered for Brendon not seeing the ball out of play. Every fan around at the time knows what happened and due to the fact Brendon gets reminded of it every day, I am not going to dwell on the matter.
The focus then was on the league and just six days after the semi final, Ormsby scored the winner in a 3-2 win against play off chasing Ipswich Town:
"We felt unbeatable at Elland Road during the second half of that season and due to our success inthe cup, we were left with a fixture backlog. We didn't moan, we just simply got on with it. The lads would rather play than train."
Leeds qualified for the play offs, it was the first season they had been introduced and they faced Oldham Athletic in what was the most common fixture in England that season with the sides meeting on no fewer than six occasions:
"We scored late on at Elland Road to win the game 1-0 and went to Boundary Park for the second leg the following Sunday."
The Latics, already one 1-0 up on the day scored a second in the final minute and Leeds looked down and out:
"We didn't think there was any time left, I immediately thought that I would be going on holiday but straight from the restart Keith Edwards scored. We came through extra time unscathed and had won on away goals. The scenes were unbelievable; we were two games from returning to the First Division."
For the second time in the season, Brendon would score a priceless winner in front of over 30,000 at Elland Road when his goal against Charlton in the second leg of the play off final ensured the tie would finish 1-1 on aggregate:
"Bob Taylor tried to claim the goal, he would do, he was a striker, but hey, that was mine. I'm definitely having that one!"
The final at St Andrews, the home of Birmingham City, would prove to be Brendon Ormsby's lowest point in football:
"I challenged Garth Crooks but my foot just sank into the pitch, the pain was horrendous. My knee twisted and the cruciate and medial ligaments snapped. A lump immediately came up on my knee cap and Alan Sutton tried to push the lump back in, I ran up and down the sideline but my knee locked, I had no chance.
"The knee was bandaged up and I sat in the stands for the second half. I was told not to move but when Shez scored the free kick, I jumped up and the pain was incredible."
The injury would all but signal the end of Brendon's career at Leeds, his knee was looked at by a specialist who informed Brendon and the club that he would be sidelined for three months; it proved to be 16 months:
"By the time I was fit, Howard Wilkinson was manager and times were changing. I played one game for Wilko which was my last for Leeds, a 3-3 draw at Shrewsbury in May 1989."
In the summer of 1989 Brendon joined up with Billy Bremner at Doncaster before spending time at Scarborough and Wigan.
"I didn't want to stop playing. That is my advice for any player out there, carry on playing for as long as you can."
Brendon's next move was to Southern Ireland:
"I got a call to go over to Ireland and I thought it was a wind up. I was appointed player/manager at Waterford but I made the mistake of socialising with the players. I probably didn't do things the right way and I was sacked at the end of my first season there."
These days Brendon is a familiar face at Elland Road on matchday in his role on the corporate entertainment staff, something he thoroughly enjoys:
"I had a spell managing Pontefract Colliery but resigned last season. I enjoy my role at Leeds and I like being around Elland Road on matchday, chatting to the fans but I wish they would talk more about Queens Park Rangers than Coventry City!
"But seriously, as I drive to Elland Road and come off the M621, I see the huge East Stand with the club crest and it fills me with pride to be able to say that I played for and captained Leeds United."
Thank you to Brendon Ormsby for giving me his time and the opportunity to write this article.