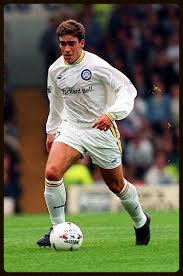 After taking over in the September of the previous season, George Graham halted the slide at Elland Road by working from the back. He managed The Whites for all but five of the 38 league games in 1996-97 and although they only managed to score 23 goals under his leadership they would only concede 28 – his target of avoiding relegation had been achieved and in the summer of 1997 he started to add a bit of flair to his hard working squad.
One of those players that Graham signed was Bruno Ribeiro who arrived from Vitoria Setubal for a modest fee of half a million pounds. Very few people knew anything about the Portuguese midfielder but it didn't take long for him to get the attention of the Elland Road faithful.
Bruno had other options that summer but he was never going to turn down the opportunity to sign for Leeds United:
"I had never been to England but I knew all about Leeds United and its traditions. A massive football club with a fantastic support and there was no chance I would let this opportunity pass me by. I couldn't wait to get started."
Ribeiro arrived in England, unable to speak the language. He looks back at that period in his life and admits that the people in and around the club helped to make the transition very smooth:
"I settled in quickly. It was a case of having too. I had to adapt, learn the language, get used to new food and knuckle down in training. The staff were fantastic and I quickly made some good mates and although the training was much more intense to what I experienced back home, I enjoyed it.
"I struck up a good friendship with David Hopkin although I struggled to understand his accent and he spoke too fast. Jimmy Floyd Hasselbaink had also arrived from Portugal and we got on well. We are good friends to this day and although Jimmy is still in England, managing at Queens Park Rangers, we see a lot of each other."
After impressing in pre-season training and catching the eye of the management in the friendlies, the new signing was named in the starting line up for the season's opener against Arsenal, who would go on to be Champions:
"I remember my debut like it was yesterday, it was a very special afternoon. The weather was red hot but that was to my advantage, I was used to the heat and I never tired.
"Elland Road was almost full with 38,000 in there. The noise was incredible and talking about it makes the hairs on my neck stand up. I lasted 82 minutes before being substituted and we were pleased with a point after Jimmy (Hasselbaink) had equalised just before half-time."
Leeds and Bruno would go one better just four days later in a Yorkshire Derby at Hillsborough:
"My first away game with Leeds and I managed to grab my first goal to help us beat Sheffield Wednesday 3-1. I was very proud to score for Leeds United in the Premier League and I often, to this day, watch clips of that goal on YouTube.
"I set up the first goal when Robert Molenaar flicked on my corner for Rod Wallace to score before I made it 2-0 with a shot from a Gary Kelly cross. The feeling was unbelievable and my confidence was growing.
"All the players were happy for me and I said at the time that the goal was for the players, the staff and the fans - they had all made me feel welcome."
Bruno featured in 29 of the 38 Premier League games and he found himself playing in two emotionally charged games in the build up to Christmas:
"When Billy Bremner passed away the whole City was in mourning and understandably so. Billy had lead the great Leeds sides of the 60s and 70s and the players knew what he meant to everyone associated with Leeds United.
"The weekend after Billy died, we went to Chelsea and earned a 0-0 draw despite having Alfie Haaland and Gary Kelly sent off before half-time. It was hard enough at Chelsea with 11 players, let alone nine, and that draw felt like a win. The fans were amazing that afternoon; they helped us through that game."
A week later when Bolton Wanderers came to West Yorkshire, Elland Road paid its respects to the clubs greatest ever player and it was Ribeiro who put smiles on faces with the opening goal in a 2-0 win:
"Everyone in the stadium felt sad that day, it was very emotional but when I scored it made me happy because the fans were happy."
Leeds United's season was a complete contrast to the previous one, the goals were flowing and some classic games were witnessed as qualification to the UEFA Cup was sealed with a fifth place finish:
"To qualify for Europe was fantastic. We had belief and everybody pulled together and worked hard for each other and we would fight for everything."
The following campaign saw George Graham leave the club to return to London and Bruno only featured in 10 league games under the new manager, David O'Leary:
"I was sent off in the UEFA Cup against Roma, for two bookings, and that didn't help my situation. It was a real low point but that's football and in the main I was still enjoying my time at the club. I scored against Wimbledon and then Portsmouth in the FA Cup but that would prove to be my final goal for Leeds."
Bruno left Elland Road for Sheffield United in October 1999 and although he didn't want to leave, he felt he had to for the sake of his career:
"David was taking Leeds to the next level and although I had the option to stay I needed to be playing. It hurt to say goodbye but life had to go on.
"Leeds taught me a lot and my experiences there made me a better person. Training was intense, we had a winning mentality and I try to implement these things into my coaching.
"The club was, and still is, huge. I watch Leeds on television although the current situation saddens me because the supporters deserve better."
I asked Bruno who he regarded as the best player he played with during his time at the club but he was quick to point out:
"We had so many great players. Nigel Martyn was incredible, Jimmy' s goals, Batty, Lee Bowyer, Ian Harte's free kicks...so many names to choose from.
"The most memorable thing about Leeds United and my time there was the fans. They were fantastic to me and I will never forget them drinking beer and singing 'Marching On Together'
Thank you to Bruno Ribeiro for his time and giving me the opportunity to write this article.