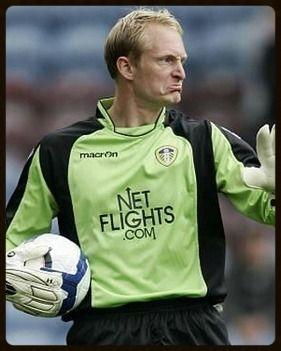 Casper Ankergren joined Leeds United in January 2007 and left in the summer of 2010. During that time, he witnessed the most turbulent period of the clubs history, a Wembley disappointment, the incredible highs of January 3rd and promotion back to the second tier.
When the Danish custodian made his debut on the 10 February 2007, he became the fourth 'keeper that Leeds had used that season as Dennis Wise desperately sought a winning formula. United recorded a 2-1 win, over Crystal Palace, that day and Casper immediately felt at home:
"I had been playing at Brondby and had just signed a new three year contract. However, I had no idea that the club were about to sign Stephan Andersen from Charlton for a sizeable fee. It was clear they wanted Andersen as number one and I wasn't too happy about the situation.
"Whilst away with the national 'B' team, in Italy, I took a call from my agent who told me that Leeds United had expressed an interest and I instantly told him that I wanted to talk to them."
Ankergren admits that the fact that Leeds were struggling at the wrong end of the Championship was irrelevant. he knew the size and potential of the club and wanted to help them climb the table:
"I signed initially on loan, with the mindset that things would improve and we would be safe. I will always remember my debut, the atmosphere was fantastic, I made a couple of important saves, we picked up three valuable points and the fans gave me a warm welcome."
Relegation to League One was unthinkable but was fast becoming a possibility. Leeds were doing reasonably well at Elland Road but it was a different story on the road:
"We could not win away, that was a real problem for the team and although I tried to put the fears to the back of my mind, it was difficult. We had some good results at home, where we picked up points, but there is no doubt that the away form cost us."
One of those home wins came over Luton Town, courtesy of Richard Cresswell's goal but Ankergren ensured the points were in the bag when he saved a Dean Morgan penalty with four minutes left of a tense afternoon:
"I had also saved a penalty away at Cardiff City but unfortunately we still lost the game. There were a few minutes, plus stoppage time to go so against Luton so I had to stay focused as they were down there with us, so the win was vital."
Unfortunately, it was all to no avail as a 1-1 draw at home to Ipswich Town all but condemned Leeds to the drop. Relegation was confirmed days later when Ken Bates placed the club into administration and the authorities immediately imposed a ten point deduction:
"There were staff at the club, behind the scenes, who were made redundant and as players we had to take some responsibility. I looked in the mirror and asked my myself if I had done enough. It was a terrible time and although Wise had informed me he wanted me to return the following season, I feared that the matter may be taken out of my hands due to the financial problems the club was embroiled in."
Ankergren's parent club received interest for his services from Norway but he made it clear he wanted to return to West Yorkshire, even though the Football League had hammered Leeds with another points deduction from the start of the season:
"Brondby handled the situation well, I got my wish and returned to Leeds. Wise had assembled a group of players who wanted to be at the club and the 15 point deduction galvanised us. We knew we had a mountain to climb but as a group, we bought into the gaffers ideas, the fans stuck by us and we set about our task."
A late Tresor Kandol goal gave Leeds a 2-1 win at Tranmere Rovers on the opening day. A late flurry of goals ensured a 4-1 home win over Southend United. Jermaine Beckford scored a last minute winner to beat Nottingham Forest. Kandol scored the only goal of the game to see off Luton Town and after the deadly duo had scored a goal each in a 2-0 home win over Hartlepool United, Leeds had played five, won five, were on zero points and the rest of the league began to take take notice:
"It was a fantastic time. The fans were incredible and there were plenty of extremely special moments. We never gave up, late goals became the norm as we picked up win after win to climb the table but we suffered a blow when Gus left to go to Tottenham Hotspur."
Form dipped over Christmas with one win in five games and the players were reeling when Wise followed Poyet out of the door to take up a role at Newcastle United:
"It was a massive disappointment for me personally. Wisey is a good man, he had given me the chance to play in England and I will always be grateful to him."
Gary McAllister was installed as manager and steered the club to the end of season play-offs. Had the points deduction not been imposed, promotion would have been won weeks before the regular season had finished but it all ended in major disappointment:
"I don't know why but we never turned up at Wembley, against Doncaster Rovers. It was a strange feeling which let me flat, and it took a long time to get over that. We came so near, yet so far."
Ankergren admits that the following season, 2008-09, was one he did not particularly enjoy:
"It appeared that McAllister didn't know his best team. I was in the side one week then the next he would pick Dave Lucas. Goalkeepers need games to stay sharp and focused and the thought of being dropped played on me and I did not perform to the standards I expected from myself.
"McAllister had been an outstanding midfielder but he was a League One manager with a League One squad. I think he expected too much from a group who didn't have the ability that he had been blessed with as a player.
"The atmosphere was not great around the club and I thought that McAllister made some very strange decisions. Mansour Assoumani was brought in, none of us knew where he had come from and he was straight into the first team. As quick as he came in, he was gone and I have no idea where he ended up."
"Although I did not have any real issues with the manager, I have to be honest and say that I was not too disappointed when he was sacked and Simon Grayson was brought in."
Grayson's reign started on Boxing Day 2008 and he brought Ankergren back into his team to play Leicester City. Leeds, who had fallen into mid-table, produced title winning form for the rest of the season to earn a place in the play offs but it was an all too familiar story as Millwall prevailed in a two legged semi-final:
"Looking back, could we handle the favourites tag? It was another horrible feeling but we were all determined to come back for pre-season training and go one better."
During the summer, Ankergren had injury problems and although Dave Lucas had gone, Grayson brought in Shane Higgs and after some impressive displays, it was Higgs who started the season:
"Shane had performed well in the friendlies. He carried that form into the season and the team was winning so I had no complaints. I had to bide my time, train well and wait for my chance."
That chance came when Higgs suffered an injury away at MK Dons, Casper replaced him after 62 minutes as Leeds won the game 1-0 to continue their impressive start to the campaign:
"I started the next two games despite the fact that Frank Fielding had been brought in. I never let the team down but Grayson brought Higgs straight back in for the home game against Norwich City, which was hard to take.
"It was clear that he had brought back too early when he went off injured after only 17 minutes. I was back in but I always felt that Simon Grayson never truly fancied me as a goalkeeper.
"I believed in my ability and wanted to play for Leeds United, I had a chat with the manager and put my cards on the table. I retained the jersey, fighting off competition from Fielding and Dave Martin, who had both been brought in on loan and Alan Martin who was also at the club."
As the promotion bandwagon gathered pace, Leeds had the welcome distraction of the FA Cup and after beating Oldham Athletic and Kettering Town, following a replay, Grayson's men landed a plum draw, at Old Trafford, in the Third Round:
"I had a terrible night's sleep before the night before the game and I have to admit that sitting on the coach, I was not looking forward to it. We were a League One outfit playing away at a team at the top end of the Premier League, full of international footballers, and the thought of being battered was hard to take in.
"However, we had a game plan and the lads executed it to perfection. I didn't have too much to do in the first half and we went in 1-0 up thanks to Jermaine Beckford.
"Paddy Kisnorbo, Richard Naylor, Jason Crowe and Andy Hughes were outstanding at the back. The whole team were superb and Robert Snodgrass hit the bar in the closing stages.
"I looked at the scoreboard and the clock was on 90 minutes, I knew we just had to see 'Fergie time' out and we had done it. The fans helped us over the line, I couldn't believe how much it meant to them.
"I would be lying if I said we didn't enjoy ourselves that night. I had some friends over from Denmark and we met up in Leeds, with all the lads, for a celebration."
Ankergren remained between the sticks until the later stages of the season when, following a mistake in a home defeat to Millwall, he was dropped for the tense promotion run-in. In typical Leeds fashion, promotion was eventually won, the hard way, on the most unbelievable of afternoons at Elland Road:
"We stuttered but got over the line. It would have been horrendous to end up in the play offs, so we were determined to achieve automatic promotion.
"Bristol Rovers stood in our way and despite a moment of madness from Max Gradel, the lads did the business. I was sat on the bench but I knew I had played my part over the 46 games and I enjoyed every minute of the celebrations.
"I remember sitting with Paul Dickov in the dressing room having a beer and reflecting on what we had achieved. We went over to the Centenary Pavilion for the end of season dinner and on to a nightclub, It was a great night but deep down I knew that I had played my last game for the club as my contract was up."
During the summer, Leeds signed Kasper Schmeichel and whilst on holiday, Ankergren got the news he was expecting:
"Simon Grayson called me whilst I was in Italy to tell me that there was no deal on the table and I was free to find a new club. I thoroughly enjoyed my time at Elland Road and the memories of the 2009-10 season will stay with me forever.
"It's fair to say, I saw it all at Leeds. It was a pleasure to share a dressing room with players of real ability. David Healy was clinical, Jonny Howson was a promising young player, as was Fabian Delph who has gone on to have a great career and play for England.
"Luciano Becchio was a top guy and although Jermaine Beckford wasn't the hardest worker, he was lethal and scored for fun. Paddy Kisnorbo was a class act and a real leader of men. There were also great lads like Alan Thompson, Ben Parker and Hughesy. In addition, I can never forget Stix Lockwood, a great guy who really looked after me."
Thank you to Casper Ankergren for giving me his time and the opportunity to write this article.