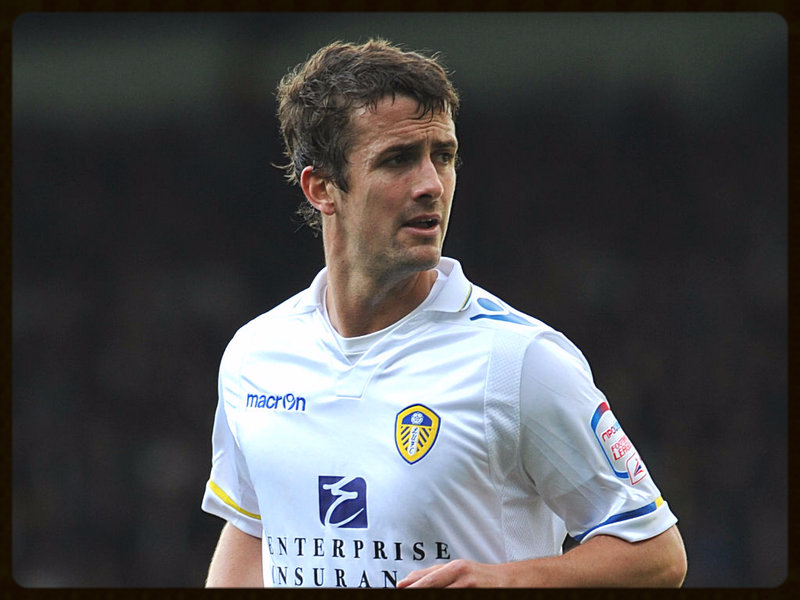 Following the traumatic end to life among English football's elite, manager Kevin Blackwell had an almighty job on his hands to pull a squad together during the summer of 2004.
The financial meltdown suffered by Leeds United had seen the majority of players from the relegation season either sold or released and seemingly every day during the summer, a player would leave or a player would sign.
Much was made of the transition that the Whites were going through and one players eventual destination angered tens of thousands of supporters who had acclaimed him since he made a dream goal scoring debut, as substitute, at Anfield in November 1998.
Alan Smith had to be sold. A desperate club needed the cash but nobody really believed he would join the the red half of a city across the Pennine's.
Amid the disbelief and anger created by the transfer, Danny Pugh a Manchester United youngster, who was part of the deal, entered Elland Road almost unnoticed but the move initially came as a surprise:
"I was watching Sky Sports News and the breaking news ticker rolled across the foot of the screen informing the viewers of the deal to take Alan Smith to Old Trafford. It continued and stated that I was part of the deal and was in Leeds having a medical, but the truth was, I was sat in my front room."
The medical did eventually happen and the Cheadle-Hulme born youngster was more than happy to make the move to West Yorkshire:
"I never spoke to Alan Smith or anyone else about Leeds United prior to signing. I knew all about the problems the club was experiencing but I saw it as a massive opportunity to play first team football.
"Admittedly, it was strange at first. Everyday a new signing or a trialist would turn up for training but the lads understood the situation and we just wanted to work hard and get on with it."
Despite the uncertainty around the place, Pugh soon settled into life at Leeds and remains eternally grateful to the players who helped him feel at home:
"The football club was basically starting again but to be fair to the manager, he brought in a good group of players and the atmosphere in training was excellent.
"Gary Kelly was brilliant with me. He was a huge personality around the club and he played a massive part in helping me get a feel for the place.
"Paul Butler had been signed and Blackwell made him captain. Butler was an influential figure, especially to the younger lads, as was David Healy when he came into the club at the end of October."
On the 7th August 2004, Danny Pugh made his Leeds debut in a 1-0 home win over Derby County and he will never forget the day:
"So many players made their debuts that day. The atmosphere was unreal, there were just over 30,000 inside Elland Road and when Frazer Richardson scored, what turned out to be the winner, the noise was incredible. It's a great stadium and a superb place to play football.
"The Leeds fans stuck with us throughout the season but on the odd occasion when things weren't quite going to plan, the players could feel the pressure."
Due to the upheaval, many pundits predicted a season of struggle for Kevin Blackwell's side and some even suggested that relegation to the third tier was on the cards but the new signing thought otherwise:
"We had a good squad but it would have been a huge ask to make the play offs. Although the comings and goings continued throughout the season, we knew we had enough quality to avoid becoming tangled in a relegation scrap."
Danny Pugh hit the ground running in a white shirt. He opened his account for the club in his second appearance with a goal in a defeat away at Gillingham and by the middle of October he had six goals to his name, which included a brace away at Crewe Alexandra in a 2-2 draw.
Unfortunately, the highs of playing and scoring soon turned into the lows of not being involved as by the start of the 2005-06 campaign, he was truly out of the picture:
"In my first season, I featured in 42 games in all competitions but in my second season I only featured in 15 and 14 of those were as substitute."
It wasn't until the final day of the season that Pugh started in the first team and that was in a 2-0 defeat away at Preston North End. The club Leeds would face, and beat, in the play-offs and the club Danny would join that summer:
"It was a frustrating time and despite working hard in training and having a few conversations with Blackwell, I barely played and I knew it was time to move on. My contract was up and I was in limbo but Preston came in for me and I signed."
After one full season at Deepdale, Pugh joined Stoke City on loan and the deal would eventually be made permanent:
"I enjoyed my time at Stoke and in 2007-08, we achieved promotion to the Premier League but as the club kicked on, I wasn't a regular and I needed to be playing football."
After a return to Deepdale in a loan deal in November 2010, the versatile player returned to the Brittania Stadium but under a year later, he would be on the move again:
"I got the chance to return to Leeds, on loan, and play under Simon Grayson. Despite people telling me that you should never go back, I couldn't turn the opportunity down.
"There were some familiar faces around the place. The ladies in the canteen and the office had remained and Jonny Howson, an apprentice in my first spell, was a first team regular.
"It was fantastic to be back and I was thrilled to score the winner against Portsmouth on my second home debut for the club."
The loan deal was made permanent when the January transfer window opened but soon after, the man who brought him in was sacked:
"I was sorry to see Simon go but the Chairman and the Directors had made their decision. The manager had a good squad of players at his disposal but admittedly, although we had some great attacking options, we weren't sold enough at the back."
After Neil Redfearn was placed in temporary charge, Neil Warnock was brought in and every player was starting afresh:
"I'd never experienced Warnock before and I tried to get my head down, work hard, impress him and be selected for the team. I featured on a regular basis until the end of the season but in the summer he brought his own players in and I found myself out of the picture."
Warnock considered Pugh surplus to requirements and he was allowed to leave and join Sheffield Wednesday in a loan deal:
"I started a couple of games for Leeds in the 2012-13 season but after thinking I had done enough, the manager would leave me out the following week so although I was disappointed to leave, as I said before, I had to be playing games."
By the time Danny returned to Elland Road, Warnock had departed and had been replaced by Brian McDermott:
"I had a good run in the side under Brian and it was good to be involved but football soon changes. Once Massimo Cellino came in, there was a lot of uncertainty.
"I knew I was out of contract that summer but unfortunately, the manager didn't know his own situation so he was unable to offer me a new deal.
"The new owner was always around the training ground but in all honesty, although I never really had any dealings with him, it was a difficult few months and I ended up signing for Coventry City that summer."
Danny's first spell at Leeds started in August 2004 with a home game against Derby and his second spell finished in May 2014 with a home game against the same opposition.
This season, he returned to Leeds with his new club, Port Vale in the Carabao Cup:
"Playing in League Two means you rarely get the opportunity to play at grounds like Elland Road, so it was nice to go back but obviously we were disappointed to lose the game like we did. It proved that night that Leeds has some decent players and I honestly believe, they have a real chance this season.
Pugh reflects on his spells at Leeds with genuine satisfaction and some of the memories will remain with him forever:
"I have to respect Kevin Blackwell as he gave me my first real taste of first team football and the start to my Leeds career was very special. My first league goal away at Gillingham was a magic moment, personally, as were the two goals at Crewe.
"It was a pleasure to play alongside Gary Kelly, even though he was approaching the end of his long career and lads like David Healy, Eddie Lewis and Robert Snodgrass were fantastic players"
Thank you to Danny Pugh for giving me his time and the opportunity to write this article.