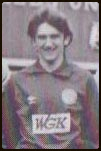 Goalkeeper Darrel Rose retains special memories of his time at Elland Road after joining on schoolboy forms at the tender age of 14.
The youngster, who's Father and Grandfather both played between the sticks, was brought up in Huddersfield and represented Huddersfield, West Yorkshire and Yorkshire Boys before being invited for trials for the national schoolboy team:
"It was a great experience having trials for the national side but unfortunately I fell at the final hurdle. The selectors wanted two keepers and I got down to the final three. The two who got in were Kevin Pressman and a lad called Trevor Lake who was on West Ham United's books."
Rose's huge potential was widely acknowledged and clubs were queuing up to sign the young custodian:
"I had trials at West Bromwich Albion, Manchester United, Barnsley, Huddersfield Town and Leeds United. They were all keen to sign me but I chose Leeds and that was mainly down to the manager, Eddie Gray.
"Eddie was fantastic. He made me feel very welcome and he took the time to get to know all the young players who were associated with the club.
"My mind was made up and I signed a two year contract on schoolboy forms on the 10th of November 1982 after watching Leeds play Huddersfield Town in the League Cup third round at Elland Road."
Later that season, Darrel was a member of a young Leeds squad that flew to Italy to take part in a tournament in Italy:
"I had to gain special permission from the Headmaster at school. Thankfully he granted that permission and what a superb time we had.
"Scott Sellars, Denis Irwin, Tommy Wright, Peter Swan, Terry Phelan, Nigel Thompson and Roger Eli were all part of a squad which spent a week in Italy and we returned as tournament winners.
"We won both group games against AC Milan and Bari before seeing off Fiorentina in the Semi-Finals and then getting the better of Roma in the Final.
"It was a fantastic achievement and the club acknowledged that by putting a photograph of us on the cover of the programme for a first team game against Fulham."
However, just before the final, Rose remembers the youngsters being brought down to earth with a bang:
"We turned up for the game thinking we were the cream of the crop in our official Leeds United Umbro tracksuits but that was before we saw the Roma lads who were all dressed in very expensive Armani suits!
"The memories from that week in Italy will stay me forever as will playing against Newcastle United and a certain Paul Gascoigne in the FA Youth Cup."
Rose would experience further trips abroad for youth tournaments, one to Yugoslavia and another return to Italy but on those occasions the young Leeds sides would not progress from the group stages although vital experience was being gained.
At the end of his two year contract, Darrel was offered, and signed, a two year apprenticeship and he recalls returning to the club for pre-season duties and training in the summer of 1984:
"We reported back a month before the pro's as we had to do all the jobs expected of us. We had to paint various parts of the ground and ensure that the place was spotlessly clean in readiness for the big kick-off.
"I must admit, I got a shock when the actual training got underway. I thought I was fit but I was wrong!
"The coaching staff ran us into the ground and I would finish the sessions feeling sick. It was incredibly tough and very high standards were set."
Despite this, Darrel was thoroughly enjoying an experience that many a young lad dreams about:
"I was in digs in Beeston, initially with Neil Aspin and Mark Gavin. They were both great lads and we all got on extremely well. However, Neil was the tightest footballer you'd ever come across, he didn't like spending money.
"A young midfielder by the name of David Batty was starting his career and on the training ground, size and reputation meant nothing, Batts would kick anything that moved.
"Darren Sheridan, John's younger brother, was also on the books and everywhere he went, he would be up to no good. All the lads would fall foul of Daz's antics and you would check your shorts before putting them on as he would often smear the insides of them in deep heat."
"There were also some real good lads amongst the first team squad and although we were looked after, we were kept in check. We had to ensure that the first team's boots and kits were always spotless and if ever they weren't up to standard, Gary Hamson and Peter Lorimer would open the door of the dressing room and hurl the items back in for you to clean again."
A few ex-players have told me about the 'court' system that was in place during their time at Elland Road and for Darrel it was no different:
"There was one of the youth team, I'm sure it was Stevie Scholes, who'd upset a member of the first team. He was summoned to court and his punishment was to have boot polish smeared all over his balls followed by Vaseline which meant he struggled to wash the polish off."
Rose admits that life on the training field got a touch easier when Mervyn Day arrived at the club from Aston Villa:
"Merv was brilliant, my game came on leaps and bounds when he arrived and he managed to change the way a few things were done on the training ground and the 'keepers would go off and do their own routines rather than just have the outfield players' leather footballs at us.
"On a regular basis we would have to run around the perimeter of the Elland Road pitch eight or nine times in 13 minutes. It was tough, but no problem to players like Terry Phelan – Terry was like lightning. Merv couldn't understand why the goalkeepers had to complete it in the same amount of time as the other players so he had a word with the staff and we were given two additional minutes."
During his time on the books, Rose found himself third choice, largely behind Day and Trevor Swinburne but this meant he got plenty of reserve team football:
"The club couldn't afford any injuries to Trevor who was second choice, just in case Merv got a knock so I was the regular reserve goalkeeper,
"It was fantastic playing on grounds like Maine Road, Goodison Park, Roker Park and St James Park but my favourite venue was Villa Park, I remember running out onto a pitch that resembled a carpet, it was immaculate."
As Darrel's final year was coming to an end he was assured by Mervyn Day that he would be offered a new deal:
"I'd played around 30 reserves games and Merv told me I was nailed on for a new deal but as time ticked away, I was left wondering what the future would hold."
Eventually, the third choice 'keeper was called in and given the news that every young footballer dreads:
"Billy Bremner had replaced Eddie as manager and his assistant, Dave Bentley, told me that I would not be offered a new deal on the basis that I wasn't quite tall enough for a goalkeeper. This was bemusing when soon after, the club signed Ronnie Sinclair who was shorter than me.
"I joined Frank Barlow's Scunthorpe United for 12 months and played a few games before a short spell at Notts County. After leaving Meadow Lane I played on the non-league circuit for Goole Town, Bradley Rangers and Ossett Albion.
"The closest I got to the first team at Leeds was being on the bench for a few games in the Yorkshire & Humberside Cup but I was never in the reckoning to make a league appearance.
"I look back on my time at Leeds with good memories. Peter Barnes was a lad I got on well with and I have all the time in the world for Eddie Gray and his assistant Jimmy Lumsden. One particular memory I have is saving a penalty at Maine Road even though we had a very young side out and got hammered that night.
"I get to Elland Road on the odd occasion but with my son, Thomas, playing for Yorkshire Amateurs, I try to get to watch him most weeks."
Thank you to Darrel Rose for his time and giving me the opportunity to write this article.