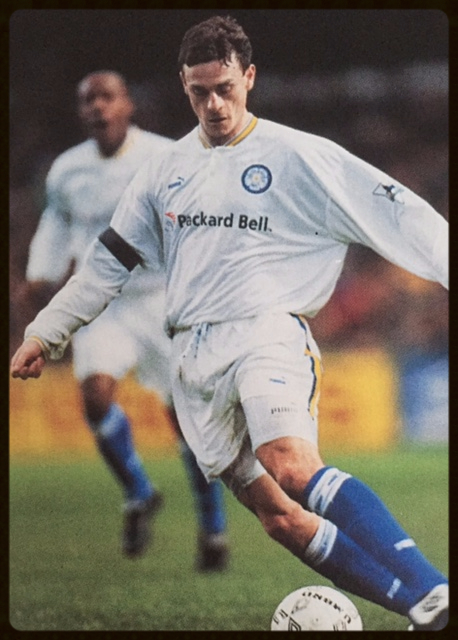 After signing in 1991, Tony Dorigo, when fit, had been the automatic choice for the left back spot at Leeds United. However, that all changed at the end of the 1996-97 season.
Manager George Graham made his first summer signing within 48 hours of the curtain coming down on a campaign which had offered very little entertainment but George had delivered his promise that the club would not be relegated.
The man brought in to replace Dorigo was the Glasgow Rangers and Scotland international full-back David Robertson who had been part of the Rangers side that had knocked Howard Wilkinson's Leeds out of the European Cup in 1992:
"I had played for over 12 years in the Scottish League with Aberdeen and Rangers and wanted a fresh challenge. It was time for me to play at different stadiums, against different players and Leeds United offered me that opportunity.
"George had tried to sign me a few seasons earlier when he was in charge at Arsenal and although I came to close to joining Torino in Italy and had offers from Spain, it was Leeds who I decided to join. I knew that stepping into Tony Dorigo's shoes would be a hard act to follow and I must admit that I was surprised he was surplus to requirements.
"The gaffer sold Leeds United to me but I already knew of its traditions. Some great Scottish players had graced Elland Road during the past, players like Eddie Gray, Peter Lorimer, Billy Bremner and Gordon Strachan. I was aware of the size of the club and I was excited about the future despite a knee problem being diagnosed during my medical."
Robertson was informed by the medics that he had no anterior cruciate ligament but due to the fact that nobody had been previously aware of the problem and it had not affected him at any point during his career, the move was completed:
"It was strange and all of a sudden I developed a slight limp. The diagnosis had got inside my head and I look back and wish I hadn't been informed about it."
Despite this, the new man was settling in well and enjoying life in his new surroundings:
"All the lads who had signed that summer were staying at Oulton Hall and we all got on very well. There was Jimmy Floyd Hasselbaink, Bruno Ribeiro, Alfie Haaland and David Hopkin. Other than Jimmy, we all had young families and we helped each other settle in.
"Pre season training was tough but enjoyable and I was really looking forward to the season's opener against Arsenal."
However, when the season got underway, the full back admits he started to find life tougher than expected:
"I had played an attacking full back role at Ibrox but all of a sudden George wanted me to play a more defensive role. This is something I struggled to adapt to and it took a while for the Leeds fans to see the best of me.
"In those early games I received a bit of stick from the supporters and that did get to me. No matter whether we won, drew or lost, I would look at the player ratings in the press and they always seemed to read: Martyn...8, Kelly...8, Robertson...5..."
Leeds had been involved in some bizarre games early that season. A 4-3 win at Blackburn Rovers, in front of the Sky TV cameras, lives long in the memory as does a 4-1 mauling of Newcastle United at Elland Road, but there were three matches that Robertson will never forget:
"We beat Manchester United 1-0 thanks to a header from David Wetherall. I had witnessed and played in so many Old Firm derbies but the noise inside Elland Road that afternoon was incredible. We had a lot of fire in our bellies that day and we knew what it meant to Leeds fans everywhere when the final whistle was blown. After an inconsistent start to the season, we started to believe in ourselves and play with no fear.
"There is no doubt that a special type of atmosphere is created at Elland Road and another fabulous occasion was at home to Derby County when we recovered from 3-0 down to win 4-3 courtesy of a last minute Lee Bowyer goal.
"After about half an hour we went three down when a penalty, which I had conceded, was scored but thankfully we got in at half time having pulled two goals back.
"The lads didn't want the first half to end and the two quick goals we scored obviously changed the mood that George was in. Had we gone in 3-0 down, he would have ranted and raved and we would have probably lost 5-0 but there was so much positivity amongst the players that we knew we would complete the job and win the game.
"The other game that will always stay with me was the 0-0 draw at Stamford Bridge. George had instructed us to go man for man on Chelsea and we really got stuck into them.
"The referee had sent off Alfie Haaland and Gary Kelly before half time and during the interval, George set us up in two banks of four and told us to hoof the ball deep into their half, sit back and defend for our lives. He knew they wouldn't score and they didn't although we were lucky that we weren't reduced to eight men when I nailed Dan Petrescu. The referee told me that if it wasn't for the fact he had already sent two off, I would've been having an early bath."
Robertson was beginning to find his feet and he put in, what he describes as his finest performance in a Leeds shirt, in a 3-1 win over West Ham United at Elland Road:
"I was enjoying my football and really starting to show the fans what I was capable of. We had a real togetherness in the squad and a desire to keep winning. Despite the fact that George was a negative type of guy, he really turned Leeds around. It was a good place to be and we had many laughs.
"I remember one morning on the training ground when George had a few of the lads practising a free kick routine. No matter how many times they tried, the ball didn't end up in the net once. Shots were being fired in all sorts of directions and the gaffer had seen enough.
"He joined in the routine and at the first attempt he bent the ball with his right foot straight into the top corner. He glared at all around him and shouted, "And that's my swinger", before walking away."
Unfortunately disaster was just around the corner when, during an away game at Leicester City in February 1998, Robertson would suffer a career ending injury:
"I went up for a header and when I landed my knee gave way. My season was all but finished although I was named on the bench for the final few games of the season, I knew I had a long battle ahead of me to get fit and back in the side."
After a series of operations Robertson underwent knee reconstruction which would ensure he was a permanent fixture in the treatment room for the next 12 months and his Leeds career was as good as over:
"George had resigned and moved on to manage Tottenham Hotspur, David O'Leary had taken over and Ian Harte had made the left back spot his own.
"Danny Granville was waiting in the wings and O'Leary wanted me out. I wasn't fit enough to play in the reserves and as much as I tried to return to fitness, I knew deep down that my time at Leeds was up.
"When my contract at Leeds was up at the end of the 2001 season, Dave Bassett invited me over to Barnsley and although I played a few games for their second team, it was evident that my knee would not stand up to the demands of competitive Second Division football. Eventually, the surgeons told me enough was enough and I had little choice but to call time on my playing career.
"There were some real good people at the club, in particular Eddie Gray who was fantastic with the younger lads like Stephen McPhail and Jonathan Woodgate and I really missed being around the place."
"As I said, I will never forget the noise when we beat Man United at home. I will also never forget, in one game, seeing Hoppy (David Hopkin) running towards me, having just scored. His mouth was wide open with no teeth in it. That was a truly frightening sight, believe me!"
When asked to reflect on who he thought was the best player at the club during the season he played, Robertson admits he can look no further than the man who scored 22 goals in all competitions:
"Jimmy Floyd Hasselbaink was incredible. So confident, so talented and nothing fazed him. He thought he would score every game and even when he left Leeds to join Atletico Madrid, he finished as the league's top scorer in a side that got relegated."
David Robertson admits that he wishes he had moved south earlier in his career and although the move to Leeds United didn't turn out how he had hoped he retains fond memories of his time in West Yorkshire:
"I was glad that I experienced Leeds and the Premier League and I just hope that one day the club can return to the top flight and put all the recent problems behind them."
Thank you to David Robertson for his time and giving me the opportunity to write this article.