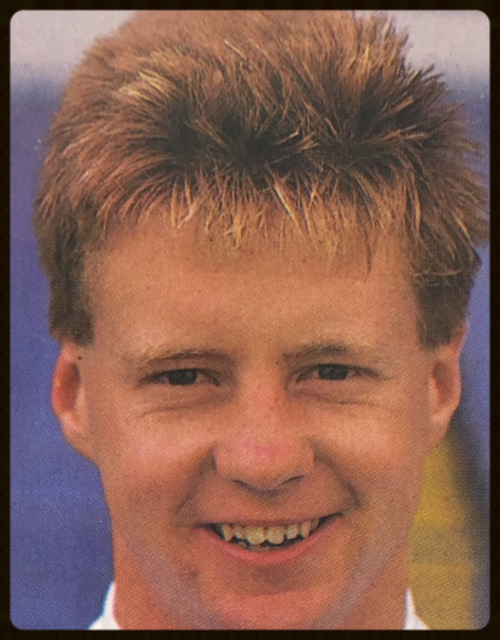 During his time at Elland Road, left sided player Dylan Kerr found it very difficult to break into the first team and made just nine starts before moving on to Reading in the summer of 1993.
Kerr started out at Sheffield Wednesday, under the management of Howard Wilkinson. After completing his YTS he signed a one year professional contract but with Wednesday legend Nigel Worthington and Wayne Jacobs ahead of him in the pecking order he was released:
"It was disappointing to leave Hillsborough but I rolled my sleeves up and got on with it. After trials at Rotherham United, Doncaster Rovers, Oldham Athletic and Birmingham City, I ended up signing for a team called Arcadia Shepherds in South Africa.
"The deal was arranged via a teammate of Mick Henningan's and I spent three years out there which was a fantastic experience."
The season in South Africa would end in November and start again in January. During this period Kerr would come back to the United Kingdom and train with Sheffield Wednesday to keep himself in good shape:
"By the time I was approaching my third year in South Africa, Howard had moved to Leeds United so I contacted him and asked if I could train at Leeds, to which he agreed. There was something of an injury crisis at Elland Road which presented me with the opportunity to play for the reserves.
"I was preparing to fly back to South Africa on a Monday morning and at the end of the previous week I had a chat with Howard and asked him what the situation was. Did he want me to stay – to which he said 'no'. He advised me to go back and continue to enjoy my football out there and gave me his best wishes and as always, I thanked him for letting me train with the squad.
"On the Friday afternoon I received a phone call from Frickley Athletic asking if I could play for them on the Saturday in a non-league fixture against Droylsden. They offered me £50 appearance money and I thought 'why not'.
"We won the game 6-2, I scored twice and set the other four up. Little did I know that the match report appeared in the 'Green 'Un', a sports newspaper which was distributed around South Yorkshire on a Saturday night. Mick Hennigan had read the report and immediately contacted me.
"He asked me what the hell I was doing playing in that game. I didn't get where he was coming from until he told me that Howard had changed his mind and he wanted me back at Elland Road."
All the necessaries were done between Leeds and Arcadia Shepherds and in December 1988 a delighted Dylan Kerr signed a three year deal at Elland Road:
"I am a Leeds fan; I hardly missed a home game as a kid. My father would stand me on a milk crate near the front of the Kop and I would have walked to Elland Road to sign that contract. I was ecstatic."
Dylan set about trying to impress the manager and coaching staff but he knew he would have to bide his time with the experienced Glynn Snodin occupying the left back slot. Mike Whitlow was also at the club along with Micky Adams who had fallen out of favour:
"I was patient and got my head down in training and worked hard whilst giving my all in the reserves. My chance came when I was named in the squad for the home game against Brighton & Hove Albion but the call came out of the blue.
"I was visiting my Grandma on the Friday night when my Mother telephoned to say that Howard Wilkinson had rung and he would be ringing back in 15 minutes. I ran home and sure enough he called back. It was to tell me that I was in the squad the following day as Snod wasn't fit."
Dylan started the game on the bench but was handed his debut after 78 minutes when he came on to replace Mike Whitlow:
"I had been itching to get on and it was a dream come true when I finally did. My Father and friends were in the crowd to witness my big moment.
"Wilko had given me a chance and I was desperate to repay him. I started the following week away at Chelsea and I couldn't have wished to be at a better club."
The summer of 1989 saw a huge turnover of players at Elland Road as Howard Wilkinson planned his promotion push and Dylan knew he faced a battle to get into the squad despite his breakthrough the previous season:
"That summer was crazy, it seemed that every day a player would sign or a player would leave. The signing of Vinnie Jones was the one that got people talking. Nobody would have touched Vinnie with a barge pole but Wilko saw something in him and with Gordon Strachan's calming influence, Vinnie excelled during his season at the club. He joined as Vinnie Jones – the man with a terrible reputation and left as Vinnie Jones – the footballer.
"There were some fantastic left sided players in the squad. Jim Beglin had arrived from Liverpool, John Hendrie had joined from Newcastle United, Micky Whitlow was there, as was Glynn Snodin although he was out for a prolonged spell with glandular fever and then Gary Speed was emerging from the youth team and reserves."
Dylan again had to be patient but his call up to the first team squad came at the end of November when he was named as substitute for a Zenith Data Systems Cup tie at Barnsley:
"I was doing alright and my game was improving. I was named as substitute for a few games and when Micky Whitlow came off injured in the league game at Barnsley, I replaced him and started the next two games at home to Oldham Athletic on New Year's Day and then Ipswich Town in the FA Cup."
With Whitlow back in the side, Dylan sat out the win at Blackburn Rovers but was on the bench for the following game against Stoke City before starting at Swindon Town:
"It went horribly wrong for me that day. Wilkinson was aware of the threat that Swindon's David Kerslake posed going forward and he told me to stop him from getting into attacking areas and getting crosses in.
"We went in at half time level at 1-1 but just five minutes into the second half, Kerslake received the ball from a thrown in deep inside our half. He looked like he was going to cross the ball and I jumped up to block it. However, he took a step inside, got his cross in and Steve Foley scored.
"Minutes later Wilko took me off and brought Gary Speed on. In the dressing room after the game (Leeds lost 3-2) he went berserk and absolutely slaughtered me.
"I only made two further substitute appearances that season and I had been taught a valuable lesson."
After featuring as a substitute in the 3-2 win over West Ham, Kerr would make just one substitute appearance, in the Zenith Data Systems Cup at Wolves, in the next two seasons:
"Players like Simon Grayson, Neil Parsley and I could not get in the side. We had two of the best full-backs in the country in Mel Sterland and Tony Dorigo and our chances were limited. We weren't bad players; we just weren't as good as the lads that had possession of the first team shirts.
"The gaffer saw me as left back and even though I preferred to play left midfield, I had Gary Speed in my way, it was virtually impossible.
"I didn't moan but I was always knocking on the Gaffers door. I got on with it and was enjoying football in the reserves just praying that somehow I would get a chance but it didn't really come. I was captain of the reserves which included some top class players and due to the work ethic that Wilkinson demanded, it was very intense. He expected us to perform to the highest standard and God help you if you didn't. Vince Hilaire could vouch for that as could ALL the players."
After spells on loan at Doncaster Rovers and Blackpool, Dylan looked all set for a move on the March deadline day in 1993:
"Howard had accepted bids for me from Cambridge United and Stockport County. I had decided to go to Cambridge but on the day I was due to travel down there Wilkinson called the move off as Dorigo had suffered an injury and I made my Premiership debut on the 6th of April away at Sheffield United.
"I conceded a penalty in that game but thankfully big Brian Deane saw his spot kick saved by John Lukic. However, we lost 2-1 and the away day hoodoo continued.
Dylan left Leeds United that summer and joined Reading in a move that Gordon Strachan had a hand in:
"The wee man was best mates with Mark McGhee who was the Reading manager and although I could have stayed at Leeds, 'Strach' told me that I needed to be playing and that a move away would be the best thing for me.
"It hurt to leave Leeds but he was right. Would I have liked to play more? Of course I would. Would I have loved to score a goal or two for Leeds? Of course I would, but I needed to be playing week in, week out.
"I had England's number one left back to compete with who hardly ever got injured or suspended. I couldn't even kick him in training as he was too fast!
"The best thing about my time at the club was that we had no big time players, no ego's and we had respect from everyone inside the club. I believe that Howard created a family, similar to what Don Revie had done and the players and the fans came together."
After spending three years and winning promotion with Reading, Kerr joined Kilmarnock before playing for a host of clubs in England and Scotland at various levels of the lower pyramid. He then found himself out in Vietnam where he enjoyed a successful coaching career.
Dylan Kerr is back in England, working with Mike Whitlow at Burton Albion and he is determined to make the most of his Vietnam experience back home.
Thank you to Dylan Kerr for his time and giving me the opportunity to write this article.