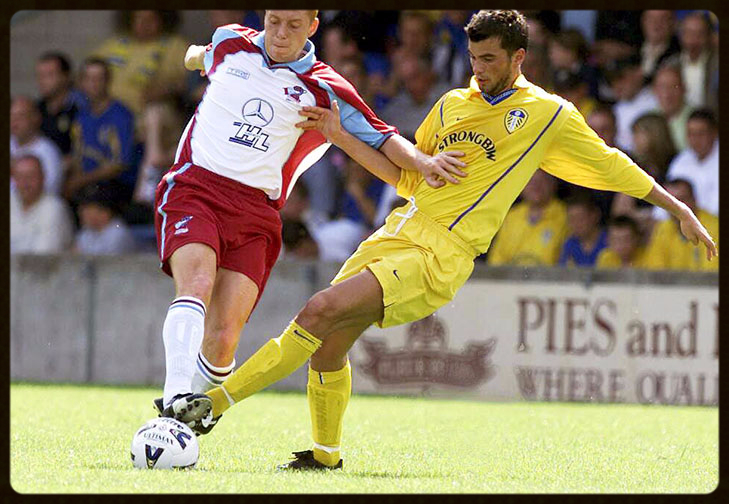 As a youngster in a star-studded squad of players, Gareth Evans' time in the Leeds United first team was limited to approximately 50 minutes which included him playing his part in a very memorable night in Munich.
Evans, a left sided versatile player joined Leeds United at the age of 9 but things could have panned out so differently:
"I was released at ten years old but when Eddie Beaglehole took over what is now known as the academy, he invited me back. I didn't want to go in all honesty but my Father persuaded me to do so."
Football was very much part of Gareth's childhood and he enjoyed playing for Beeston juniors before joining Rothwell and a lifelong friendship began to develop with Alan Smith:
"We were best mates from the age of 11, Alan was Alan and even at that age he had a fiery temper. He was a great lad but would soon throw his toys out of his pram if things weren't going his way."
Gareth's progression in the years to follow was quite remarkable and at the age of 15 he was an important part of a young Leeds United squad which would go on to win the FA Youth Cup at the expense of Crystal Palace in 1997:
"I played in every round up until the Final and the away leg at Selhurst Park. I was at school that day to take a Spanish exam but I managed to get a lift down to London with some supporters in the afternoon and I was named on the bench."
Leeds lifted the trophy courtesy of a 3-1 aggregate win but the players came away from Selhurst Park without their medals:
"An error was made by the FA and the wrong winners medals were handed over to us. The ones we were presented with were FA County Cup winners' medals and it wasn't until a later date that the correct ones were delivered to Elland Road."
That season, the Leeds juniors had done the double by also winning the Northern Intermediate League and the experience was one that Gareth Evans will never forget:
"It was incredible to be playing on Elland Road in competitive games at the age of 15. We had a fantastic young squad and so many would go on to play for the first team at the highest level."
After natural progression into the reserves, Evans admits he turned from a boy into a man:
"It was ultra competitive, proper men's football and a far cry from reserve team football these days. The games were used for different reasons back then and it didn't matter how big a name you were, you could have been involved. It was tough, physical and I thoroughly enjoyed it."
After impressing in the second string, the youngster found himself involved in the first team squad as the 2000-01 season got underway:
"The squad was decimated by injuries and suspension at the start of the season and luckily I got my chance."
Leeds United's campaign started on the 9th of August with a Champions League qualifier at home to TSV 1860 Munich and Evans was named on the bench along with other youngsters Tony Hackworth and Jamie McMaster, then ten days later he retained his place in the match day squad for the Premier League opener against Everton:
"It was a truly amazing time. Elland Road was packed to the rafters and baking in the sunshine. Leeds raced into a two-nil lead after 37 minutes and I sat there taking it all in. I was a local lad from Belle Isle, just happy to be involved."
Four days later, Gareth would make his Leeds United debut on a never-to-be-forgotten evening in Munich:
"We won the first leg 2-1 and a threadbare squad travelled to Germany. The players had called a team meeting to discuss the bonus situation should we finish the job and qualify for the group stages of the tournament.
"I was a young kid on small wages and I was in awe over the amounts of money which were being discussed. They were unreal and although I won't disclose them, it was important for me on a personal level that we qualified.
"We knew we would be under pressure from the first whistle. They had a good side and in addition to the injury crisis we were further hampered by the fact that Olivier Dacourt and Eirik Bakke had been sent off in the first leg and were unavailable through suspension..
"It was like the Alamo for the first half hour but the lads were fantastic and held out. Smithy scored in the first minute of the second half and that goal knocked the stuffing out of the hosts."
With 17 minutes to go, Gareth got the nod from David O'Leary to replace Matthew Jones. However, he entered the field after receiving a bollocking from Eddie Gray:
"I won't forget that in a hurry. Eddie was a great bloke, a real legend, but he wasn't a man you wanted to upset. O'Leary, who I didn't have a lot time for, told me I was going on. However, I wasn't ready and didn't have my shin pads on. Eddie let rip and his words were ringing in my ears as I crossed the white line!"
Leeds won the game with that solitary Alan Smith goal and a 3-1 aggregate win ensured they would take their place in Europe's showpiece club tournament:
"It was a brilliant occasion with the Leeds fans certainly enjoying it. They were everywhere before the game, singing and drinking in the streets and they created a special atmosphere inside the ground."
The players flew straight home after the game and Gareth was soon back on the pitch:
"I was playing the following night for the reserves in a fixture against Blackburn Rovers at York City's Bootham Crescent. I was still on a high and set up three goals in a 4-2 win."
Evans admits that that's how it was for him at the time, on the first team bench one day, playing for the reserves the next:
"You couldn't afford to relax. The coaching staff had very high standards and they demanded one hundred and ten per cent at all times.
"The squad would be split on the training ground. A core of 20 or so would train on one pitch with O'Leary and Eddie whilst the rest would be training on another pitch with Roy Aitken.
"Eddie was a really nice guy. He kept me going by telling me I would get my chance but with Ian Harte a permanent fixture at left back it was always going to be difficult for me but as I said, I didn't have a lot of time for David O'Leary. I thought he was a lucky manager. He benefited from a fantastic crop of young players and he was given money to burn. The way he treated players that weren't in the side wasn't great and I feel he was soon found out when he managed Aston Villa.
"I always remember him going mental during a pre-season tour in Sweden. We went over there for three games in July 2000 just after Mark Viduka had joined the club.
"We were staying in a little village near Gothenburg and each morning we would walk to the training ground from the hotel. We had to cross a river and the bridge was supported with concrete pillows which had holes drilled through them.
"One morning, Gary Kelly suggested that the players should put their heads through the holes and we all started messing around, doing so. Unfortunately for Viduka, who'd only signed a few days before, he got his head stuck and we all fell about laughing whilst O'Leary came running over shouting and swearing, he wasn't impressed to say the least."
Despite being a permanent fixture on the bench during the early part of the season, Gareth made just one further appearance – in the Premier League against Manchester City and he admits that his career didn't kick on as he would've liked:
The following year, as my contract was coming to an end, Leeds had offered me another year but my relationship with O'Leary wasn't great and I wanted to be playing first team football.
"My agent was Scott McGarvey, the ex Manchester United player and he recommended me to Lou McCari who was the manager of Huddersfield Town. I played for them in a trial game against Bradford City, did well and signed the following day.
"I had been at Leeds United a long time and I retain some fantastic memories of the place. I came across some real characters, made some amazing friends and played alongside some world class players.
"Going back to Mark Viduka, I remember watching him on the training ground when he arrived from Celtic and the things he was capable of were incredible. He was a great player and a great guy.
"The most naturally gifted player I played alongside was Stephen McPhail. He never gave the ball away and he almost played the game in slow motion. Football appeared so easy to him, he always seemed relaxed and he was technically brilliant."
Thank you to Gareth Evans for his time and giving me the opportunity to write this article.
UPDATE: The story concerning Mark Viduka was discussed by James Brown on Talk Sport's Warm Up show on Saturday the 13th of June:
You can listen here (go to 24:44)