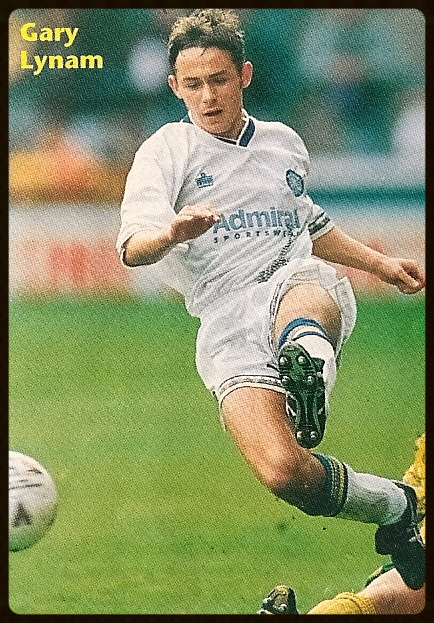 Gary Lynam, a left sided player, spent two years on the books at Elland Road but found all roads to the first team blocked by some fantastic players.
Gary was playing Sunday league football in his hometown of Rotherham when he came to the attention of Leeds United:
"I played one morning in a game refereed by Leeds coach Dick Bate, we won 8-3 and I bagged all eight goals.
"Leeds' scouts would watch me on a regular basis from that moment and during the course of the season I scored 47 goals. The next thing I knew, I had been invited to Leeds for trials.
"Members of my family and a lot of my friends are Leeds fans and it was a dream come true to be given an opportunity at such a fantastic club."
Howard Wilkinson's side had been crowned Champions of England the previous season and the structure of the game had changed with the introduction of the Premier League.
Gary acknowledges that he was overawed at first and also admits he was a confidence player and sometimes needed an arm around him. He often found that arm came from Mick Hennigan:
"Mick is a legend, he was a big influence on me, he really looked after all the younger lads and I had a different relationship with him than I did with Paul Hart.
"The second year apprentices included people like Mark Tinkler, Noel Whelan, Jamie Forrester, Andy Couzens and Kevin Sharp.
"I lived in digs with Paul Pettinger and Rob Bowman, they were all great lads and we had some fantastic times."
Gary made his Leeds United debut in the Northern Intermediate League on the 6th of August 1992 at home to Hull City. The fixture was brought forward 48 hours to allow the Leeds youngsters to watch the first team in action in the Charity Shield at Wembley. The game finished in a 1-3 defeat.
It didn't take Gary long to make the step up to the reserves when he lined up in a young side that faced an experienced Nottingham Forest team in January 1993, the youngsters put on a brave show but went down 3-0 with Gary Bannister amongst the Forest scorers.
A home game against Hartlepool saw Gary claim his first Leeds goal for the juniors when he struck from 15 yards. It was the fourth goal in a convincing 5-0 win, Mathew Smithard and a Jamie Forrester hat-trick completed the rout. Another goal followed in the next game, this time against Scunthorpe as Leeds ran out 7-0 winners:
"In my first season I was lucky enough to play in both legs of the FA Youth Cup Semi-Final against Norwich City. We went a goal down in the first leg but equalised when Mathew Smithard headed home my cross and we went on to win 4-1.
"In the second leg at home, I was taken out by Ade Akinbiyi and suffered ankle ligament damage which denied me any chance of playing in the final.
"It was disappointing but deep down I knew that I was only in the team for the semis as Kevin Sharp had been on first team duty and he would be back for the final. However, I did join in with the lads for the celebrations after they had won the cup by beating Manchester United in both legs.
"In all I played about ten times for the reserves and I will always remember playing away at Anfield in the Central League. The Leeds side that night included players like Chris Fairclough, David Rocastle, Steve Hodge, Imre Varadi, Ray Wallace and Carl Shutt. I found myself marking Mark Walters and for the first twenty minutes of the game I was star-struck.
"Don Hutchison and Ronny Rosenthal also lined up for the opposition and I was asking myself, 'What are you doing here?'
"I soon settled into the game and hit Walters with a tasty challenge; he got to his feet and went for me. Luckily enough 'Rocky' Rocastle and Fairclough were not far away and they stood my corner. They always looked after the younger lads and I have to say that David Rocastle was different class.
"We won that night, 4-1 and I look back on that game as the most memorable 90 minutes of my time at the club.
"In my first year I was Rod Wallace's boot boy and then in my second year I cleaned David Batty's. Both of them were good to me and I would often be given a new pair of boots or trainers and they would give us £50 at Christmas time.
"I can still remember Batts being hauled off the training ground to be told he was on his way to Blackburn Rovers."
"There were no 'Big Time Charlie's' at the club although Gordon Strachan and Gary McAllister didn't have a lot to do with us. What happened in the first team dressing stayed there, we would never find out too much as to what was going on."
Paul Hart called me in one day and informed me that I was being released and afterwards I spoke to Mick Hennigan who informed me that I had been unlucky."
After his release, Gary had a trial at Mansfield Town but the way they played didn't suit him and nothing materialised. He eventually joined amateur side Denaby where he played alongside Mel Sterland and Imre Varadi in a title winning side.
Gary holds fond memories of his time in LS11 and remembers scoring goals against Sheffield United, which was the winner as Leeds came from 2-0 down to win 3-2 and Rotherham which he enjoyed and he also looks back on a memorable trip overseas:
"We went over to Holland and played Ajax at PSV Eindhoven's ground. The first team at Leeds was going through a bit of a transitional period and a few of the younger lads had stayed back for first team duties.
"The game was shown live on Dutch television and lining up for the opposition was Patrick Kluivert and Clarence Seedorf. Our centre back, Kevin Daly, kicked Kluivert all over the pitch and we ran out 1-0 winners thanks to Dave Connor's last minute goal.
"It was superb to be around the place every day although I sometimes became nervous and would take a while for me to come out of my shell. That was a defining reason that I eventually got released.
"Realistically I was never going to make the first team due to the tremendous players in front of me. Tony Dorigo and Gary Speed were first team regulars and behind them were Dylan Kerr and Kevin Sharp. I was way down the pecking order.
"I went back to Elland Road to watch a game a few seasons after I had been released and I was gutted to see that the training pitches on Fullerton Park had gone, we played our home games on there in the Northern Intermediate League and the place holds some great memories."
Thank you to Gary Lynam for giving me his time and the opportunity to write this article.