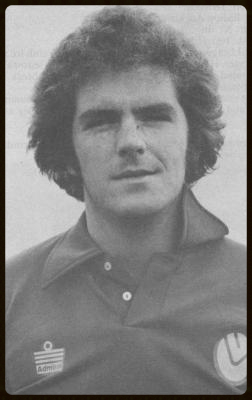 Glan Letheren played for Leeds United on two occasions and Leeds United won both games.
Glan was born in the village of Dafen in Llanelli and at the age of just 15 he was playing in the Welsh league for his hometown club.
His performances were good enough for him to be brought to the attention of a scout, who introduced many young Welshmen to Leeds United:
"Jack Pickard recommended me. He was very well respected and over many years he was responsible for John Charles, Gary Sprake, Terry Yorath, Carl Harris, Byron Stevenson and Gwyn Thomas going to Elland Road.
"I came home from school one day and Don Revie was sat in my father's living room, he spoke to me about going to West Yorkshire. I travelled up there and then played for Leeds in a youth team tournament in France due to the fact that the regular young 'keeper, John Shaw, had been selected for Scotland U18s."
Glan impressed on the tour and subsequently signed a two year deal at Leeds:
"It was a huge shock initially and I admit to being homesick and I wanted to go home. The other Welsh lads helped me settle in eventually although I did travel back on the train on a regular basis."
It was Don Revie who gave Glan his Leeds debut due to a goalkeeping crisis at Elland Road. Glan was the substitute goalkeeper at Elland Road for the 1st leg of a UEFA Cup tie against Hibernian on the 24th of October 1973 and watched from the bench as the game ended in a goalless draw:
"David Harvey played in goal that night but he was injured when we travelled up North for the return leg".
Glan would once again be named on the bench with John Shaw starting the game between the sticks.
"John got injured and at half time Les Cocker instructed me to go out and get warmed up, I would be coming on for my first team debut. There wasn't any time for me to get nervous although Paul Reaney made two headed clearances off my line before I'd even touched the ball. I kept a clean sheet and the game went to penalties after extra time. Pat Stanton missed the first penalty, he put it wide. All the other penalties were scored and we edged through 5-4, Billy Bremner scored our winning spot kick."
It was fairy tale stuff and the young Welshman was an instant hero among the Leeds fans and the subject of much media attention but he was soon brought back down to earth:
"I was back in the youth team on the Saturday, playing in front of five men and a dog against Sheffield United."
By the time Glan was back in the Leeds first team, Don Revie had moved on and Brian Clough had come and gone:
"I never really had a lot to do with Cloughie. I was training with the youth and reserves although he would call me in for afternoon sessions. He would ask me to fire crosses over and he would smash them into the back of the net without speaking to me. It was all very strange in all honesty."
Clough was soon on his way out of Elland Road and replaced by Jimmy Armfield and it was Armfield who handed Glan his league debut:
"We played Ipswich at Elland Road and I was brought in to play as David Stewart was suffering from a groin strain. We won 2-1 thanks to Carl Harris' goal on his debut. I always wind Carl up when I see him and remind him that he stole the headlines from me that afternoon."
The following season, 1975/76, Leeds were preparing to face Manchester United at Elland Road and David Harvey would miss the game:
"Billy Bremner pulled me aside in training and told me that I would be playing. I was overjoyed and telephoned my parents with the news but when the team sheet was pinned to the board, my name wasn't on it. I was gutted."
Glan confronted Armfield who told him that Billy didn't pick the team, he did:
"There was a standing joke at the club that Jimmy's indecision was final!"
Eventually Glan moved out on loan and had spells at Chelsea, Scunthorpe and Notts County, he won caps at under 21 and under 23 level but he could not find his way to the Leeds first team:
"I was gutted when I left Leeds but I had the chance to go to Chesterfield in December 1977 and I wanted first team football. Jimmy Armfield had his own ideas and it was hard to see me getting a chance at Leeds. They had some good goalkeepers and John Lukic was in the youth team, he used to clean my boots."
Glan enjoyed his time at Chesterfield and that was followed by a spell at Swansea where he admits he didn't have the best of times.
He went on to play for Oxford City, Scarborough and Bangor City for whom he played at Wembley in the FA Trophy final.
After retiring from playing Glan Letheren took the route into coaching and soon was involved in the Welsh FA's development plan after earning his UEFA pro licence:
"I was involved with the Wales U-17's with Ian Rush and also managed the Welsh ladies national team. I spent time at Swansea and Exeter as goalkeeping coach and then Micky Adams employed me at Leicester City.
"I was goalkeeping coach for the St Lucia national side and also did some coaching in Haiti and Australia."
Glan also did a bit of scouting, working for Leeds, Manchester United, Southampton and Fulham:
"I recommended young Matthew Jones to Leeds United; he progressed through the ranks, played in the Premier League and was sold to Leicester for a very handsome profit."
These days Glan is self employed, his company 'Top Catch Goalkeeping' is a thriving concern and in addition to coaching British prospects, Glan finds the best young talent from the United States and brings them over to England:
"One young lad Aleks Gogic has signed a two year deal at Reading and Dylan Castenheira joined Bristol City."
Every year Glan hosts an event, 'The Glan Letheren dinner' which raises money to help young sportsmen and women in Wales realise their dreams:
"They are great events, all for a good cause. It all started 20 years ago and Billy Bremner was my first guest speaker. Since then we have attracted names like Jack Charlton, Terry Yorath and more recently Ray Parlour. We recently raised £2,000 to help a young cyclist named Joe Holt pursue a career."
The name Letheren lives on in the world of professional football, Glan's son Kyle is on the books at Kilmarnock having had a spell in England with Barnsley.
Despite only playing twice for Leeds United, Glan looks back fondly at his time at the club and admits although he had to leave for the sake of his career, it was a huge disappointment.
Thanks to Glan Letheren for giving me the time and the opportunity to write this article.