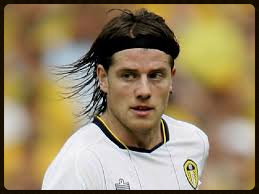 Following the dramatic collapse of Peter Ridsdale's empire, Leeds United were a club in crisis. A heavy defeat at Bolton Wanderers all but confirmed the clubs relegation from the Premier League and one big name after another left Elland Road.
Kevin Blackwell was the man who the directors chose to steer the ship through the murky waters of the Championship. It was a true period of transition. Blackwell used 37 players during the 2004/05 season, 26 of them would make their Leeds United's debuts during the campaign.
One of those players was Icelandic international midfielder Gylfi Einarsson. Born in Reykjavik in 1978, Gylfi began his career in his native country at Fylkir before moving to Lillestrom, where in 2004 he scored 13 goals in 26 games. His displays were earning him recognition:
"Cardiff City invited me over and I spent a few days training with them. I was shown around the club and the City before hearing of Leeds United's interest. It was an easy decision to make, I agreed to move to Leeds, despite Cardiff offering me more money.
"I knew all about Leeds and their proud traditions, there's a massive Leeds following in Iceland and across Scandinavia and I remember watching their games in the Champions League under David O'Leary."
Gylfi would move to Elland Road when his contract with Lillestrom expired and he officially joined Leeds on 1st December 2004, making his debut a month later, on New Years Day, coming on as a 62nd minute substitute for Danny Pugh against Crewe Alexandra:
"It all happened so quickly, the move had gone through and I found myself on the pitch. I had suffered over Christmas with a virus and I wasn't match fit. The game was a bit of a blur, although I remember we lost 2-0 and Paul Butler was sent off late on.
"Playing in the Championship was tough. Everybody looked at Leeds as their cup final, every away game was a sell out and they all wanted to beat us."
After playing in the opening game of the month, Gylfi had to wait until the final game of the month for his next appearance. He found himself in the starting line up against Brighton & Hove Albion at Elland Road. Gylfi made an impact, two minutes before the interval he flicked on David Healy's corner for Clarke Carlisle to put Leeds in front. The game, which marked the start of Ken Bates reign at Leeds, would end in a 1-1 draw:
"It was amazing to start for the first time at Elland Road, there were just over 27,000 in the crowd and the noise was incredible."
The following week, Leeds and Gylfi Einarsson went one better in a lunchtime game at Burnley. A 1-0 win was secured courtesy of the Icelandic's one and only goal for the club:
"I scored with a header after a great cross from Aaron Lennon. It was an amazing feeling to score for Leeds United, especially the winning goal. I was fit, playing well and my confidence was high."
From joining in January to the season finishing in May, Gylfi made eight appearances, two coming from the bench. He was unlucky with injuries which halted his progress and a promising start to his career in England:
"The injuries made it difficult and I was restricted to ten appearances the following season. The club made the play off final and obviously it turned out to be a very disappointing day for everybody connected with Leeds United."
Gylfi's final start for Leeds came in that season, a 2-0 home defeat to Ipswich Town. Richard Cresswell missed a penalty at 1-0 and Einarsson was replaced by Frazer Richardson after 59 minutes.
The injuries restricted Gylfi to three further subsitute appearances that season, the last coming in a televised draw at home to Sheffield United.
During the disastrous 2006/07 season, Gylfi made his last Leeds appearance, coming on as late replacement for Armando Sa in 2-1 win at Hull City:
"I was suffering from a bad hip injury and had an operation in Manchester. The Doctor's advised I should retire from the game, I was 27 years of age. My contract with Leeds was up at the end of that season and despite the advice I received, I moved to Norway where I played for Brann, alongside Eirik Bakke.
"I had played in Norway for Leeds in a friendly against Stavanger. There was massive interest in the game and thousands of fans turned up just for the training sessions.
"There is no doubt that my time at Leeds was ruined by injuries, I thoroughly enjoyed my time at the club until suffering the hip injury and after the operation I felt I was never the same player."
Nowadays, Gylfi's exercise is limited to the gym although he's unable to run or play football. He still has a keen interest in the game and admits that Leeds United's is the first result he looks for.
Having being forced into premature retirement, Gylfi works for Tax Free Worldwide, an international financial services company. He is based in his native Iceland:
"Football careers don't last for ever, I was fortunate to be a professional footballer and you don't realise how lucky you were until you leave the game. Football is still a big part of me but I enjoy my job and at the moment I'm happy doing what I do."
Gylfi has never returned to Leeds since he left but admits he would love to do so as a supporter.
Thank you to Gylfi Einarsson for his time and giving me the opportunity to write this article.