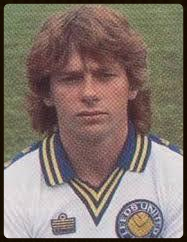 A player, signed by Jimmy Adamson as 'one for the future' found himself in the Leeds United first team just two weeks after signing for the club. It was stuff that dreams were made of for the promising youngster who had arrived from the seaside town of Blackpool.
Born in Hammersmith in June 1959, Jeff Chandler signed his first professional contract with Blackpool in August 1976. His performances for the Tangerines caught the eye and early in the 1979-80 season, he was selected to play for the Republic of Ireland u-21s:
"My long term contract had expired and I was on a week to week contract at Bloomfield Road. Stan Ternant was the manager and he informed me that clubs would be watching me whilst playing for the Republic.
"After the game, Dave Blakey from Leeds United approached me and asked me if I was interested in signing for them. I didn't need asking again, I was absolutely gobsmacked".
Jeff was told to report to Elland Road on the Friday and complete the deal:
"I had no doubts whatsoever. I signed the forms, became a Leeds player and the following day I met the players and sat in the stands watching Leeds play Liverpool, it was a 1-1 draw in which Alan Curtis scored. The atmosphere that day was incredible and I couldn't believe that I would be playing in front of those supporters."
In the Leeds side that day was Brian Greenhoff, who sadly passed away recently at the relatively young age of 60:
"Brian became a good pal. He was living in Rochdale, Brian Flynn was living in Burnley and I was in Blackpool. We would meet up at a services and drive to training in one car.
"He was a fantastic player was Brian and a great lad. His death is tragic and my thoughts go out to his family".
Chandler soon settled into life at Elland Road and in addition to Greenhoff and Flynn, he became good mates with Eddie Gray and Paul Madeley. Also, Paul Hart who he had known from their time together at Blackpool:
"I was a young kid and Eddie and Paul took me under their wing and looked after me. As well as being world class players, they were good blokes. When my mate, Peter Reid was manager at Leeds, I went over there to watch a game and bumped into Eddie. He recognised me straightaway and we chatted like we had played together the day before."
Despite being told he was seen as one for the future, Jeff found himself in the squad for the home game against Manchester City, just two weeks after signing for the club:
"It was a surprise to be involved so soon. I was named as substitute and came on to replace Paul Madeley who was suffering from concussion. It was clear that Paul was struggling and I was sat on the bench thinking, 'Oh my God, I'm going on'.
"The game was 100 miles per hour and totally different from playing in the lower leagues at Blackpool. It took time to adapt to the game and I did my best to get involved. Unfortunately we lost 2-1 and I didn't see much of the ball but it was nice to make my debut."
Jeff was next involved, again as a substitute, when Leeds played Tottenham Hotspur at Elland Road. This time he replaced Brian Greenhoff but again Leeds lost 2-1:
"I must have done ok because the following week I made my first start for Leeds away at Southampton, wearing the number four shirt. We flew down there and I roomed with Paul Hart.
"We won the game 2-1, Alan Curtis scored a world class goal but we were hanging on a bit towards the end and had John Lukic to thank for keeping them out. One particular save from Phil Boyer's header lives long in the memory. Also, that day Eddie Gray was outstanding and it was a privilege to be on the same pitch as him.
"I was back in Blackpool by 10:30pm in time to watch the highlights on Match of the Day in the Tangerine Club opposite Bloomfield Road."
After making his debut in the win at The Dell, Jeff stayed in the side for a home game against Bristol City which Leeds lost 3-1, but he would not feature again until March when he was recalled for the trip to play Tottenham at White Hart Lane:
"To be fair my full debut was probably my best performance for Leeds United. It was a difficult time; the club was in a transitional period and largely struggling. During games we were on the back foot and my strengths were when we had the ball. It was easy for Jimmy to leave me out when things weren't going our way.
"I was recalled to play at Spurs and although we lost I managed to score my first goal for the club. I remember it like it was yesterday, I chipped the goalkeeper, Barry Daines from the edge of the box."
Chandler stayed in the side for the rest of the season; in total he made 17 appearances of which four were as a substitute. He scored two goals; the other was a header in a defeat against West Bromwich Albion at The Hawthorns.
The following season would see the arrival of the Argentinian international Alex Sabella:
"Alex was superb. He could do things with the ball that others could only dream about. I remember we won 3-2 at Norwich City at the start of the season, he was unbelievable that day. Things probably didn't work out for Sabella; we couldn't get the ball to him enough because as a team we were struggling."
Struggle they did and in October Jimmy Adamson was replaced by Allan Clarke:
"Clarke was a legend at Leeds and a great goal scorer who I was looking forward to working with but just before he arrived I went over on my ankle in training on the Friday before we were due to play Manchester United and I was out for six weeks.
"Everybody had a fresh start under Clarke, he told us that he didn't care about names or reputations and he would pick you in the 11 if you were performing well.
"I thought that with him being a young manager, he would maybe favour the younger players and I would have a chance of a decent run in the side but that wasn't to be."
Due to the injured ankle, Chandler had not played any football since Clarke arrived at the club but an injury to Arthur Graham saw Jeff return to action away at Nottingham Forest on the 22nd of October. He admits it was a struggle due to lack of fitness but thought he did reasonably well although Leeds were beaten 2-1:
"The following game, on the Saturday, against Crystal Palace I was dropped and on the Monday I went in to see Clarke to ask him if there was anything I needed to work on in order to get back in the side.
"His response was, "When you've done what I've done in the game come back and see me. Until then turn around and get out!"
"I was astonished and from that day he hardly spoke a word to me. I would turn up for training with the two Brian's and Clarke would say hello to them but totally blank me".
Jeff was back in the side for the cup replay at Coventry, he kept his place for a home defeat against Southampton and the following week was substitute at Leicester:
"I was then picked in the starting line up for a game at Spurs. I played well and we got a point but I was dropped again with no explanation. It was very frustrating."
Jeff Chandler pulled on a Leeds shirt for the final time at home to Wolves on the 21st of March:
"My contract was up at the end of the season and it was obvious that Clarke wasn't going to offer me a new deal. I started the following season in the reserves on a week to week contract before moving to Bolton Wanderers.
"I enjoyed my time there, John McGovern was manager and he told me that I was the best player at the club and should go out and enjoy my football. I did that and scored 37 goals in two seasons."
After leaving Bolton in 1985, Jeff moved to Derby County and after a spell on loan at Mansfield Town he returned to Bolton:
"I finished my career at Cardiff City and didn't have a clue what I would do in life. I had no qualifications from school but tried my hand in advertising and then as a double glazing salesman but to be fair I wasn't much good at either of them.
"I started working in a care home and went back to college and obtained a diploma in counselling."
After working in a team dealing with young offenders in Preston, Jeff now works for Blackpool Council as an Educational Welfare Officer, a job he thoroughly enjoys:
"I offer support to young people who have poor school attendance and help them, along with their family, deal with the problems. It's a totally different world from that as a footballer but I like the work I do now.
"I've been out of the game for 26 years and I don't have many friends who are connected with the game. It is nice to do interviews like this but I don't get too many requests.
"I will always remember two games at Elland Road, Middlesbrough and Manchester United at the end of the 1979-80 season. We won both 2-0 and the atmosphere was fantastic, especially the Manchester United game.
"Things didn't work out with Allan Clarke but he had a management style which didn't suit everybody. For what he achieved as player he goes down as a legend in the game and I don't hold any grudges.
"It is such a long time ago that I played for Leeds and when I watch them on the television it is strange to know that I played for them because so much has changed."
Thank you to Jeff Chandler for giving me his time and the opportunity to write this article.