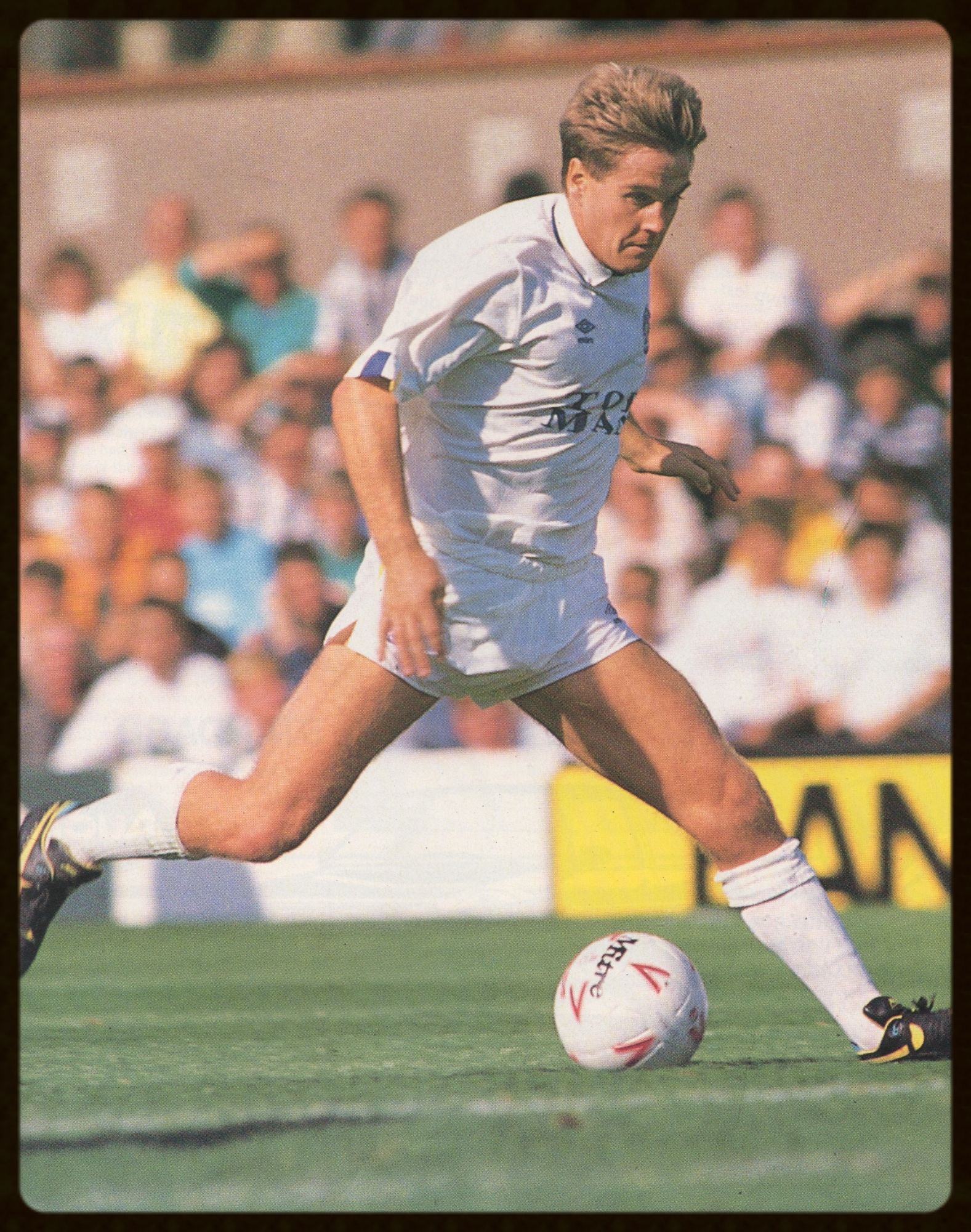 Leeds United fans that followed the club through the mid to late 1980s, continuously saw one name linked with a move to Elland Road. It was almost a weekly event that the journalists would sharpen their pencils to report news of Billy Bremner's 'interest' in Bradford City's scottish winger John Hendrie.
Hendrie was born in Lennoxtown,Scotland in October 1963 and joined Coventry City as an apprentice in June 1980 before turning professional within 12 months.
After a short loan spell at Hereford United, John signed for Bradford in 1984 and played a key role the following season as The Bantams won the old Third Division title. John was a consistent performer season after season and his performances were not going unnoticed.
"There was interest from Leeds United and when Trevor Cherry left Bradford he informed me that Billy Bremner wanted me desperately. However, Terry Dolan came in and I genuinely believed that, with a bit of investment, we had a chance of winning promotion to the top flight.
"Terry played me through the middle and I thoroughly enjoyed that role. At the end of the season I had won the clubs player of the year award, my contract was up, but I decided to stay. The following season, City missed out in the play offs for a place in the old First Division."
During the summer of '88 John held talks with Sheffield Wednesday and Newcastle United but despite the constant talk of a move to Leeds, he didn't speak to Billy or anyone at Elland Road about a move across West Yorkshire:
"I signed for Newcastle in June of 1988 but to be fair my wife never really settled in the north east. It was a different lifestyle from what we had been used to and I ended up only staying there for one season."
At the end of the 1988/89 season Newcastle had suffered relegation to the Second Division and John admits that the club was in turmoil:
"They were skint and didn't have too many players they could sell for a decent amount of cash. The two they had were Dave Beasant and myself. Dave joined Chelsea and I moved to Leeds United.
"I soon realised that there was a massive expectation surrounding the club. Howard Wilkinson had brought in some top drawer signings the previous season in Chris Fairclough and Gordon Strachan and he continued to spend during the summer of 1989.
"We played Anderlecht in a friendly at Elland Road and it's fair to say that things didn't go to plan that afternoon. We lost 5-1 and had big Noel Blake sent off."
The season opener was just around the corner and things failed to improve:
"Ironically, I made my Leeds United debut at St James Park against Newcastle. We were 2-1 up but their winger John Gallacher and centre forward Micky Quinn ran riot in the second half.
"We had a number of debutants that afternoon and you had to feel sympathetic towards Jim Beglin. Injury had robbed Jim of a decent pre-season but he was thrown in when he clearly wasn't ready."
Howard Wilkinson told his troops that the season was a marathon, not a sprint, as he prepared them for the following game against Middlesbrough at Elland Road:
"The atmosphere that night was electric and we got off to a perfect start with a Bobby Davison goal and I flashed a volley just over the bar.
"I'll never forget Vinnie (Jones) coming on for his debut. With the scores level at 1-1, Vinnie entered the field of play like Hulk Hogan. He was pumped up and got us and the crowd going.
"As the clock ticked down Vinnie played the worst through ball ever and Gary Parkinson attempted to play the ball back to the keeper. However, the ball hit a divot and bounced into the back of the net.
"We were obviously ecstatic but the lads were in hysterics when Vinnie tried to claim the goal."
Three successive draws followed the victory over Middlesbrough but John and his colleagues were not too worried:
"There had been so many changes to the playing staff that we knew it would take time for us to click. We also knew that sooner or later we would give somebody a hiding and that was the case on the 23rd of September when Swindon Town were the visitors to Leeds."
A Gordon Strachan hat-trick and another Bobby Davison goal ensured a 4-0 win ,it was up to that point, John Hendrie's finest performance in a Leeds shirt but he would not see the game out:
"I was enjoying myself that afternoon,causing problems and my confidence was high. However, I was stretchered off following a challenge by Jon Gittens. His first touch let him down and as I tried to gain possession he dived in and went over the top on me."
Elland Road was rich in applause for the Scottish winger and he gave the crowd the thumbs up as he was carried to the treatment room whilst Gittens followed him down the tunnel after receiving a red card:
"Over the next few days my leg was constantly in a bucket of ice cold water to get the swelling down. We had a game against Oxford United the following Wednesday and I made myself available to play, perhaps I shouldn't have done, however, I hated missing games."
Leeds won the game 2-1 but in the last minute, John suffered a ruptured thigh:
"All night I had been taking the strain off my right leg which was the leg I'd injured in the clash with Gittens. The extra compensation and pressure on my left leg caused the injury and the pain was incredible. I felt like I had been stabbed in the thigh."
John was out until the middle of December due to complications with the injury.
"I picked up an infection and I was rushed into hospital. I needed an operation to remove the infection, which left a huge hole in my leg. The medics were unable to stitch it up and they had to pack it from the inside. The District Nurse came in three times a day and I had to wait for the flesh to grow from the inside to the outside.
"The lads were flying and I was left frustrated. I had never missed so many games in my career. At Bradford City I played 173 consecutive league games, over four seasons, so this was all new to me."
On his return to the side, against Brighton & Hove Albion, John scored Leeds' second goal in a convincing 3-0 win before being replaced by Gary Speed:
"I'd hardly played any reserve team football but Wilko decided to throw me straight in. I enjoyed the goal and the victory but it's fair to say that adrenalin got me through a few games.
"As I said, I'd never been out for that length of time and it took me a while to get going. I didn't feel sharp, which was understandable after such a lengthy injury."
Leeds suffered (not for the first or last time) a sticky spell over the festive period, drawing two and losing one of the three games. It was almost two defeats but a late John Hendrie goal rescued a point against Oldham Athletic on New Years Day.
John then scored in three of the next four games, including the opener,a rare header from outside the box, in a breath-taking 4-3 win over Hull City:
"We became inconsistent and following the win over Hull, we didn't win any of the next four games. The turning point came on the 10th of March away at Oxford United."
Leeds found themselves 2-0 down and Hendrie entered the fray at half time. His performance in the second half was superb as the Whites battled back to win 4-2:
"Those 45 minutes were probably the best I performed in a Leeds shirt. I had their full-back, Jimmy Phillips, on toast and I was quick to remind him of that afternoon when we ended up as team mates at Middlesbrough!
"I tortured Jimmy in the second half and the win proved to be the catalyst, it gave us all a massive boost as we entered the business end of the season."
The next two games were massive as Leeds collected six points against two sides at the top end of the division; West Ham United and Sunderland:
"I was a substitute that night at Sunderland and it will live long in the memory. Only a handful of Leeds fans were allowed in the ground and it was a very intimidating atmosphere. Being an ex-Newcastle player, the Sunderland fans absolutely slaughtered me and whilst I was warming up, one of their supporters had a 'pop' at me.
"I returned the verbal abuse, so much so that I had to sprint down the touchline, before he assaulted me. Anybody watching would have realised that my warm up was a bit faster than normal but I just had to get away from the bloke!"
John's season, and effectively his Leeds career, came to an end on the 10th of April away at Plymouth Arygle. Injury forced him to be replaced by Bobby Davison and he would never be seen in a Leeds shirt again:
"I had a problem with my knee and I had been getting through it with steroid injections. Those injections, which are a last resort these days, were commonplace back then, and now many an ex-player suffers with major problems as a result and you certainly don't have them just for the sake of it.
"The medical staff at Leeds United couldn't diagnose the problem and it caused me to miss the run-in."
John was naturally disappointed some time later when Howard Wilkinson claimed, through his book, that John Hendrie wasn't able to play at the back end of the season but he was fine to run on the beach in Majorca:
"Wilko's comments were bang out of order. I looked on it as a slur on my character. The pain in my knee came when I kicked a football and as soon as I joined Middlesbrough, the club doctor told me that I had a cyst on my knee, a pocket of fluid. I was educated on how to deal with the problem.
As John, from the side-lines, watched his team mates seal the league title and the promotion which everybody had craved, he was already looking forward to the summer:
"I had two years left on my contract and was raring to have another crack at the top flight. I was desperate to hit the ground running and returned to training three weeks ahead of schedule and all the other players, who were on holiday, to do extra fitness work in readiness for the new campaign.
"After leaving Elland Road one day, after voluntary extra training with the physio, I returned home and my wife, who had gone out, had left me a note on the kitchen table asking me to call Colin Todd at Middlesbrough.
"To my amazement, Colin told me that he'd agreed a fee with Leeds United and he asked me to travel up there for talks.
"I was astonished, not one member of staff had the decency to inform me of the situation. I thought it was terrible man management and really I felt had no alternative but to leave Leeds United and go somewhere that I was wanted.
"I could not then and never will understand why Wilkinson never spoke to me about the situation. I left Leeds with mixed feelings, however, I am proud of my contribution."
A few years later, I scored for 'Boro against Leeds and Wilkinson accused his defenders of making me look like a world beater. The facts are that I never asked for a move from Elland Road, it came out of the blue."
John is a regular at Elland Road these days and he's full of admiration for the job that his ex-Barnsley team mate Neil Redfearn is doing under testing circumstances:
"Neil has got them playing for one another and it looks like everyone knows their job and what is expected of them,they trust the system and are starting to believe in themselves.
Thank you to John Hendrie for his time and giving me the opportunity to write this article.