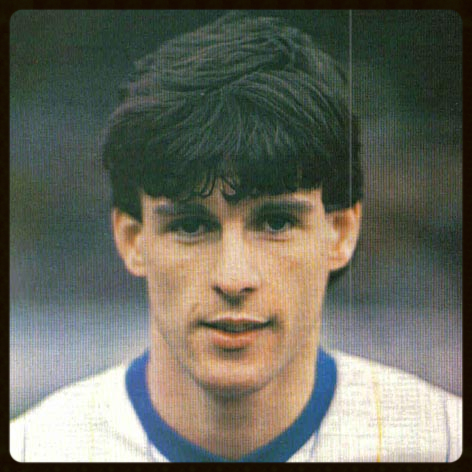 Many players who represented Leeds United during the 1980s saw their time at the club dogged by injuries. One of those was defender, John McGoldrick.
McGoldrick was born in Coatbridge, Lanarkshire in September 1963. He joined Scottish giants Glasgow Celtic after impressing for Celtic Boys' Club:
"I had suffered with knee injuries from the age of 17 and following three operations on my right knee, I hadn't played for 18 months. The injuries robbed me of the opportunity to play in Celtic's first team and although I had one year left on my contract, Billy McNeil advised me that Jimmy Lumsden wanted me to go to Elland Road. Jimmy had been youth team manager at Celtic and I knew the move to Leeds United presented me with a good opportunity.
"I was a member of a young Leeds squad which travelled to Switzerland for a pre-season tournament, which we won, in the summer of 1983 and after a chat with Eddie Gray I signed a one year deal."
John lived in Cottingley with Joan Bell and her family, who he remains friends with to this day, and settled down well to life in West Yorkshire:
"We had a great set of lads. John Donnelly, Phil Hughes and Lyndon Simmonds were among a good bunch that I got on with. Eddie and Jimmy were special people and the nicest, most decent blokes I came across during my career.
"Everybody wanted to play for Eddie, especially the younger lads, Scott Sellars, Denis Irwin, Tommy Wright and John Sheridan would have walked over hot coals for him. Shez was an exceptional player; he had great vision and was a superb passer of the ball."
Despite playing and impressing on the Swiss tour, McGoldrick was still struggling with the effects of the knee problems and with Kevin Hird at full-back; he had to work hard for his chance.
His first appearance came on a night which proved to be a real low point for the club in front of just over 8,000 fans:
"My debut was on the 5th of October 1983 against Chester City in the second round, first leg of the League Cup. Chester were bottom of the fourth division but came to Elland Road and beat us 1-0. It was a bad game but fortunately the lads turned things around in the second leg and progressed to the third round with a 4-1 win."
John's league debut came the following month at the Baseball Ground as an Andy Ritchie goal earned Leeds a point in a 1-1 draw against Derby County.
Of the 12 appearances McGoldrick made, he only tasted victory once, in a 4-1 victory over Middlesbrough on New Year's Eve. Two George McCluskey goals set Leeds on their way in what was an impressive performance in the middle of a bad run of results:
"George was a great lad who had scored goals for fun at Celtic but unfortunately things didn't really work out for him at Elland Road."
John played in draws with Chelsea and Manchester City and defeats against Charlton Athletic, Huddersfield Town, Oldham Athletic and Oxford United, in the League Cup.
His last appearance came at the Old Show Ground in a humiliating defeat against Scunthorpe United in the FA Cup 3rd Round. A 4-2 Scunthorpe win settled a tie which had seen two previous games end in 1-1 draws:
"I suffered another knee injury which required an operation and I was really struggling. It was a massive blow but in the end I wanted to return to Scotland. I was away from my family and not playing football, it was a very tough time.
"Eddie Gray was brilliant and helped me get a free transfer move to Motherwell in July 1984 but soon afterwards I was forced into retirement."
For just over a quarter of a century, John has worked in the Motor Trade and is now the operations manager at Arnold Clark, a role he enjoys:
"I was made operations manager about eight years ago and I have no regrets. As a kid I never dreamt about becoming a professional footballer but I was good enough to be given a chance.
"I had left Leeds by the time Eddie got the sack but he was given a raw deal by the Directors and my opinion is that some of the senior players didn't help him; if they had a slight injury concern then they didn't want to play. Better players than me under-performed but he should have definitely been given more time."
Thank you to John McGoldrick for giving me his time and the opportunity to write this article.