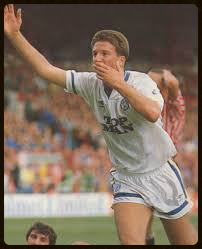 By his own admission, John Pearson wasn't the greatest centre forward to wear the white shirt but he was appreciated by his fellow professionals and his effort, commitment and patience cannot be questioned during a testing time in West Yorkshire.
John, affectionately known at Elland Road as 'the Big Bird' was born in Sheffield in 1963 and he realised a boyhood dream by playing for the club he supported, Sheffield Wednesday.
Following the sale of the influential Ian Snodin to Everton, Billy Bremner was allowed to strengthen his squad and John Pearson arrived at Leeds in January 1987 with the clubs season about to take off:
"Lennie Lawrence called me in at Charlton and advised me that he'd had a lot of interest in my services. Two clubs from the top flight in Scotland were keen as were Derby County and Leeds United.
"Once I knew of Leeds' interest, my mind was made up and I wanted to go there. I met Billy at a service station on the motorway and the deal was done quite quickly.
"I had scored a goal for Charlton Athletic against Leeds in the 1985-86 season and Billy Bremner made a point of shaking my hand afterwards, which I found unusual. When I signed for him he admitted that he'd followed my career and due to the fact that I'd played for Sheffield Wednesday, he knew I could handle the pressure of playing for a big club.
"No disrespect to Charlton but playing in front of 7,000 fans in the First Division didn't have the appeal that playing at Elland Road did and my mind was made up once I knew of Leeds' interest, despite the fact that they played in the second tier."
Bremner's Leeds had been inconsistent during the first half of the season but they hit some real form and their league position improved dramatically as well as a run to the FA Cup Semi-Final:
"Billy threw me straight into the team and I made my debut in a 0-0 draw at home to Blackburn Rovers but I had a predicament straightaway when Billy told me that I was wearing the number 9 shirt. The problem was, Bairdy was already changed and had the number 9 shirt on his back. I was terrified to ask him for it!"
John had to wait until the 14th of April before he finally found the net in an away win at Shrewsbury Town but there was no doubt that his work rate was appreciated. When I was speaking to Ian Baird, in the process of writing his biography, it was clear that he held his strike partner in high regard and whilst John took the knocks, Bairdy was knocking the goals in.
Bairdy acknowledged that John Pearson was a great lad who helped develop him as a player and probably didn't get the credit he deserved. He won his fair share of headers, created many goals for the team and his unselfish play was highly appreciated.
One of John's finest games that season came when Leeds knocked top flight Queens Park Rangers out of the FA Cup in a pulsating fifth round tie at Elland Road. The opening goal, a header from Ian Baird and the late winner from Brendon Ormsby were both scored following John Pearson's flick-ons.
The cup run ended in heart-breaking fashion in the Semi-Final played at Hillsborough as the eventual winners Coventry City overcame Leeds after extra-time:
"It was fantastic to be playing for Leeds United in such a big game and for that game to be played at Hillsborough made it extra special on a personal level. It was devastating to lose the game as was the case when we reached the first ever play-off final, only to lose in a replay to my former club Charlton."
The summer of 1987 saw strikers Ian Baird and Andy Ritchie leave the club and Keith Edwards would soon follow them out of Elland Road. John started the season up front with Bob Taylor but Bremner's men struggled for goals. The arrival of Jim Melrose from Charlton failed to improve matters and things got worse for John when he was sidelined with an injury.
However, after scoring on his return in a 4-1 win at West Bromwich Albion things got better for the big centre-forward and a week later he scored the winner against Ipswich at Elland Road. The best was yet to come.
On the 19th of March 1988, Sheffield United visited Elland Road. Ian Baird had returned from an unhappy spell at Portsmouth to reform his partnership with Pearson in the Leeds attack. It was a huge game for John due to his Sheffield roots and he was left in dreamland after smashing a hat-trick in a 5-0 rout:
"That was a fantastic day which I will never forget. It was always good to put one over the Blades but to score three was unbelievable. It is fair to say that the night that followed remains a blur."
Despite starting the 1988-89 campaign in the starting line up against Oxford United, John would start just five more games although he came off the bench in 27 of the 46 league games scoring one goal, away at Watford:
"It was a strange season with Billy getting the sack early on and I was gutted for him. He was a superb man and everyone respected him. He was under pressure and we went to Peterborough in the League Cup second round. Billy knew we had to win the game and the fact he picked me in the starting line up meant a lot. We did win but he was still sacked and the lads were devastated.
"A few weeks later one of the Directors stopped me in the corridors of Elland Road and told me that they had appointed my old manager. I asked which one and when he told me it was Howard Wilkinson, I turned and said 'you've just got the club promoted'.
"I knew Wilko from my days with the England under 21s and obviously from my time at Wednesday. Therefore, I knew what was in store and what to expect. He completely changed the way that things were done and his record at Leeds speaks for itself."
The 1989/90 season was remarkable but unfortunately for John Pearson football had to take a back seat and he was restricted to seven appearances in the league as Sgt Wilko's barmy army marched back to the top flight:
"My daughter had been born and when she was six months old we realised that she had some problems. We had lots to deal with and we had to take her over to Paris on a few occasions for operations.
"Leeds United and Howard Wilkinson were brilliant and they really looked after me and the family. I will always be grateful for how they acted and thankfully my daughter made a full recovery.
"I came back for pre-season in the summer of 1990 knowing that it would be my last season at the club. We were back in the top flight and I was desperate to enjoy it."
Once again, John got great delight in putting one over Sheffield United when he bagged the first goal in a 2-0 win at Brammall Lane early on in the season:
"That proved to be my last goal for the club and I thoroughly enjoyed it, to score at Brammall Lane in front of a packed away end was fantastic."
After leaving Leeds United John went on to play for Barnsley, Hull City, Carlisle United, Mansfield Town and Cardiff City but injuries began to take their toll:
"I suffered a bad neck injury and needed a disc removing. The initial surgeon wouldn't operate and the injury really slowed me down."
John Pearson will never forget his time at Leeds United and is full of praise for the fans that followed that club in that era:
"I loved it at Leeds from day one. I enjoyed a good partnership with Bairdy and we played some neat football. Although I struggled to find the net, I was pulling my weight and doing the job I was asked to do. I knew what my strengths and weaknesses were and I always gave my all for the team and the supporters. They were great and they always got right behind us, home and away."
Thank you to John Pearson for his time and giving me the opportunity to write this article.