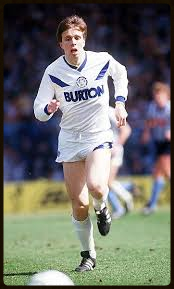 When John Stiles embarked on a career in football it wasn't really a surprise. His father, Nobby, won the World Cup with England in 1966 and his Uncle Johnny (Giles) enjoyed success at home and abroad with Don Revie's Leeds United.
Young Stiles grew up as a Leeds fan, his father had left Old Trafford in sour circumstances and talk of that club was banned in the household once he had signed for Middlesbrough:
"My greatest memory as a kid was my eighth birthday. I was at Wembley to watch Leeds win the F.A Cup against Arsenal in 1972 and my Uncle John took me on the pitch after the game. I still have his sock tags at home what he wore that afternoon."
Despite Nobby never pushing him towards a football career, it was always John's ambition to play for Leeds United and after a brief spell at Shamrock Rovers , then a stint in Canada with Vancouver Whitecaps he got a chance to realise his dream:
"Peter Lorimer, who I'd played with at the Whitecaps, had recommended me to Eddie Gray and after a trial in February 1984, Eddie offered me a deal.
"The contract they offered me could have been anything, I just wanted to join the team I had followed since I was a kid."
It was Eddie who gave John his breakthrough at Leeds United when he gave him his debut in March 1985 at Ayresome Park:
"John Sheridan always reminds me of that day. I had rubbed some ointment on my legs and forgot to wash my hands before I put them on my face. I looked like a belisha beacon. Shez still takes the piss to this day!
"That was my only appearance that season but Eddie was honest with me, he informed me that once Scott Sellars was fit, he was the better option as he knew he'd get a few goals, which I fully understood."
Ironically the next time that John would pull on a Leeds shirt, Gray had been sacked and replaced by Billy Bremner. Despite the fact that Billy gave John the vast majority of his Leeds appearances, things didn't get off to a great start:
"Billy didn't like me at first. I asked him one day why he never spoke to me and his response was that it saves time Stilesy!
"He tried to bomb me out initially and I was training on my own at one point. However, after a decent performance in the reserves, coupled with the first team losing three games out of four, I found myself in the side for a game away at Wimbledon in December 1985. We won 3-0, Bairdy was sent off, Mervyn Day saved a penalty but that was that for me until February"
After beating Oldham 3-1 on New Year's Day, Leeds suffered three defeats on the bounce and John was handed the number 11 shirt against Stoke City on the 1st of February 1986:
"It was a great day, in addition to making my home debut; I also scored my first Leeds goal in a 4-0 win. I will always remember that day, it was incredible.
"Mick Mills, uncharacteristically missed the ball and I took one touch before finding the net in front of the South Stand. The feeling was unbelievable, my head went fuzzy, I couldn't believe it."
The 1985-86 season saw John make 11 starts for the club but the following season would be his finest during his time at Leeds. He made 38 appearances in all competitions as the club chased glory on two fronts:
"It was a great season which ended in heartbreak. We were so close to Wembley in the F.A. Cup and then to lose out in the play offs was cruel and hard to take."
John's only goal during that campaign was the one that all Leeds fans of that era will remember. It came in the Quarter Finals of the F. A. Cup as the Whites saw off Third Division side Wigan in what was a banana skin of a tie:
"That goal had been coming. Billy had given me a specific role in the previous round at home to QPR, saying he thought I could nick a goal. Although we won that game and I didn't score, a goal came in the Quarter Final against another hero of mine in the Wigan goal, Roy Tunks, who had played for my Father whilst he was manager of Preston North End.
The Semi-Final at Hillsborough was an unbelievable occasion. We went out onto the pitch an hour before kick-off and we could see the masses of Leeds fans behind the goal in the Leppings Lane stand. All the lads were nervous but we got back in the dressing room and agreed that we would do it for the fans. They were incredible and the noise they generated that day was unreal. Unfortunately we fell just short, losing in extra time."
After the joint disappointment of the 86-87 season, John suffered with injuries and was in and out of the side the following year and he admits that it was the beginning of the end for him at Elland Road:
"I never really got a run in the side and during the next two seasons I managed 13 starts. It was frustrating but as soon as Billy was fired and Wilkinson came in, I knew I was never going to play."
John left Elland Road in the summer of 1989 when he joined up with Bremner at Doncaster Rovers but unfortunately he was stricken by injuries and after a loan spell at Rochdale he left the game for two years before returning with Gainsborough on the non-league circuit.
John Stiles, by his own admission, wasn't the greatest ever player to play in the famous white shirt but he's quite rightly proud of the fact that he played for Leeds:
"My time at Leeds was fantastic, as I said; I achieved an ambition when I played for the club. I remember that when Eddie was manager, then Billy, they were the best players at Leeds United; they could've played in slippers.
"I have no ego about the fact that I was paid to play football. In fact, a few years ago I was reading an internet blog which named the 50 worst players to turn out for the club. I was voted number 22 and I was disgusted. I emailed the guy who ran the site and told him that I should have been in the top five!
"It was clear that Wilkinson was a fantastic manager, he proved that when he somehow got Doncaster Rovers to pay £40,000 for my services."
Speaking to John is a laugh a minute and it is on the comedy circuit that he now earns a living after trying his hand in the insurance industry and in the football agency game:
"I couldn't stand those two jobs and decided to try my hand on the after dinner circuit but because I wasn't the best known player I wasn't getting much work so I decided to introduce a comedy routine.
"In every dressing room at clubs up and down the country there is a joker in the pack. One that likes to impersonate the other lads and wind them up, it's usually the worst player. That was me!"
Thank you to John Stiles for giving me his time and the opportunity to write this article.