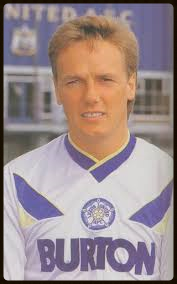 For much of the 1985-86 season relegation to the third tier of English football seemed a huge possibility for Leeds United. Four wins in the last seven games extinguished the fears and in the preparation for the new campaign, Billy Bremner raised expectation levels with the signing of striker Keith Edwards from Sheffield United.
Edwards who hails from the north-east had plundered 200 league goals during two spells at Brammall Lane and a three year stint at Hull City. The signing excited the fans and the prolific centre-forward was in Bremner's eyes the 'final piece of the jigsaw':
"When I heard that Sheffield United had accepted a fee from Leeds, I knew I was on my way. It was a great honour to sign for Leeds and I knew that I had more chance of winning promotion in West Yorkshire than I did in South Yorkshire.
"Back then we didn't have an agent to conduct the negotiations so I took the wife along. The talks lasted 40 minutes and I put pen to paper. We were both happy with the financial terms and I wanted to buy a greyhound with the signing on fee whilst the wife wanted a new kitchen. Obviously, I never got my dog!"
"I thoroughly enjoyed what turned out to be a brief time at Elland Road, although I do look back on it with mixed emotions. It is a fantastic club, we had a great set of lads and I loved playing for Billy Bremner but I endured a pretty sticky start and I never really got over that.
"I was always confident in my ability, I had scored a few goals in pre-season and I hit the bar on my league debut at Blackburn Rovers but unfortunately I didn't score in my first five league appearances and I started to worry."
Keith laughed when telling me that soon after joining Leeds, he announced to his team mates and the staff at the club that his wife was expecting a baby. His good news prompted the girls in the office to make a sign which read, 'KEITH HAS FINALLY SCORED!'.
"I had always scored goals for fun and a barren spell was something I had never had to deal with so it was a difficult time. You can imagine the relief when I opened my account against Reading in the middle of September."
Despite struggling in front of goal, Billy kept faith with his new signing and it wasn't until John Pearson arrived in January that Keith found himself struggling to get on the field of play.
Keith scored three league goals in the first half of the season but despite not playing on a regular basis in the second half of the term he weighed in with some extremely vital strikes:
"It was frustrating. I was partnering Ian Baird up front and he should have been the perfect foil for me but I wasn't playing well enough for the partnership to work.
"I struggled with the way we played, everything came through the midfield with Ian Snodin and John Sheridan pulling the strings, the ball would then go wide and Bairdy was on the end of the crosses. I struggled to adapt as at all my previous clubs everything had been geared to suit me and my strengths.
"It always seemed that the ball would fall a yard behind me or too far in front of me. I would get home after a game and tear my hair out."
Despite the frustration, Keith knew he was at the right club:
"I needed a change of luck but it never really came. Billy was a fantastic man and he handled the situation well. When he signed John Pearson and I was left out of the side, he sat me down and explained his reasons."
Leeds had been inconsistent for the first half of the campaign but after Christmas results improved and Bremner's men began to climb the table in addition to going on a wonderful F.A. Cup run.
Keith remembers a home game against Yorkshire rivals Bradford City at the end of February:
"I was sub that day and desperate to get on. The game was a tight affair and heading for a 0-0 draw. I was in the dug out and pleaded with the Gaffer to get me on the pitch. I always seemed to score against Bradford and I made Billy aware of this.
"He handed me my chance late in the game and I managed to bag the winning goal with very little time left on the clock. Billy hugged me as we left the field at full-time and I started the following week."
Keith also started the F.A. Cup Quarter-Final tie at Wigan due to the fact that leading scorer Ian Baird was suspended but to his disappointment found himself back on the bench for the Semi-Final at Hillsborough:
"With the game being played in Sheffield I was itching to start. It wasn't to be and I had to wait patiently on the bench. After just three minutes, I turned to the Gaffer and joked that big John Pearson was having a 'mare and he should throw me on!"
Edwards did enter the field after 82 minutes with Leeds 2-1 down. Just two minutes later he was on the end of an inch perfect cross from Andy Ritchie to plant a header past Steve Ogrizovic in the Coventry goal and take a pulsating tie into extra time:
"It was an incredible feeling to score in front of the masses of Leeds fans on such a huge occasion. Unfortunately we lost in extra time and the dressing room was a sad place at the end of the game with a lot of the lads in tears."
Keith was beginning to earn the tag 'Super Sub' and it was one he found difficult to take:
"It was good to be getting on the pitch and scoring but I was desperate to start. However,the lads were on one hell of a run and I couldn't really complain."
The defeat to Coventry highlighted that the line between success and failure was a very thin one and in heartbreaking fashion, Leeds would miss out on promotion at the final hurdle in a play off replay against Charlton Athletic, after overcoming Oldham:
"We were confident of success in the play offs. I had scored the winner on the final day of the regular season which cemented us in fourth place.
"We had played Oldham four times already that season in league and cup and we knew that we would have to be at our best to overcome them.
"I started both legs on the bench but managed to score late goals in both to take us to a two legged final."
Andy Goram was in goal for the Latics and in his autobiography 'The Goalie' he describes how Keith Edwards had plagued him throughout his career, acknowledging that Edwards scored against him every time he played against him:
"It was remarkable really. They scored to go 2-0 up in the 89th minute of the second leg at Boundary Park, and lead 2-1 on aggregate. They thought they were through. Joe Royle and his staff were celebrating on the touchline. However, straight from the kick off, Bairdy played a through ball which I got on the end of and I tucked the ball home past Goram to take us through on away goals.
"The games against Charlton were cagey affairs but when John Sheridan put us 1-0 up in the replay, I thought we were home and dry. It wasn't to be and we suffered more heartbreak.
"Billy came so close to achieving his dream of taking the club he loved back to the top flight. Had we achieved that then I admit that the squad would have needed a major overhaul but it would have been fantastic to say that I played a part in Leeds United winning promotion."
Leeds struggled at the start of the following campaign and Keith was soon on his way out of the club:
"I had already turned down a move to Barnsley and then Ian Porterfield, who was Aberdeen manager, came in for me and I moved north of the border.
"One regret I had on leaving Elland Road was doing a newspaper interview which was misinterpreted and I had to apologise to Billy Bremner. In doing so, I gave the fee I had received to Charity and thankfully the incident was soon forgotten about and my relationship with Billy remained a good one."
Keith retains good memories of his time at Leeds and admits that the dressing room was one of the best he had been involved with during a long career:
"We had some real characters. Bairdy, Ian Snodin and Shez were always up for a night out whilst you had the guys like Neil Aspin and Jackie Ashurst who were on the quieter side. You're going to get that all the time and the mixture of personalities made it a fantastic place to be every day.
"Without doubt, Shez was the best player I played with at Leeds. He had so much talent and the game came natural to him. On the training ground he could do the hardest things with seemingly very little effort and he was a nice lad with it.
"My wife once said to me that she had never known me be so happy to go to work and that sums up how much I enjoyed being part of that Leeds United side."
Thank you to Keith Edwards for his time and giving me the opportunity to write this article.