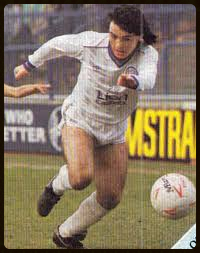 As a young lad growing up in South Wales, Lyndon Simmonds was an avid Leeds United supporter. Often in trouble at school, he was one day summoned to the Headmaster's office:
"I had been trying to keep my nose clean and was unsure why I'd got the call to go to see the Headmaster. I entered the room to see Eddie Gray and Jimmy Lumsden sitting there. Eddie was a hero to me and he had driven 300 miles to ask me to sign for Leeds United."
Lyndon left school early in an attempt to grasp such a fantastic opportunity:
"I'd spent a few weeks training at Arsenal and also Cardiff City. I had options but once Leeds showed their interest there was only place I wanted to go."
Having scored goals for fun in the youth team and reserves, Lyndon was given his first team debut by Eddie Gray on 6th April 1985 in a low key nil-nil draw at home to Blackburn Rovers.
To this day, many believe that Eddie Gray should have been given more time at Leeds. He had a good young squad with the likes of John Sheridan, Tommy Wright, Scott Sellars, Denis Irwin and Andy Linighan in the first team.
Also, terrific prospects such as Terry Phelan and John Scales were coming through the ranks and Gray was very unfortunate that the suits at Elland Road lost patience with him. He was fired in October 1985.
Only days after Gray's sacking, Leeds faced Manchester City in a Full Members Cup group game. The competition which would continue for a few years in various disguises,never really caught the imagination.
Lyndon Simmonds was named in the squad and travelled to Maine Road. It was a cold Monday night, less than 5,000 fans turned up and Leeds got hammered 6-1:
"I came off the bench and replaced George McCluskey, it was a truly horrendous evening."
Just two days later, Leeds played the second and final game of the group. Lyndon made his first start for the club in a 1-1 draw at home to Sheffield United. Just 2,274 turned up at Elland Road.
A few weeks later, and back in the youth team, Leeds were playing Grimsby Town. It was a fiery encounter which Lyndon has never forgotten:
"A team mate, Mark Fella, had been taking some stick all night from a Grimsby defender called Moore. After one incident, Mark was on the ground and took a boot to the face. We were raging although the offender stressed it was accidental.
"Later in the game, I clattered Moore in an attempt to get revenge but unfortunately I received a straight red card."
The directors had appointed the legendary Billy Bremner as the new manager and after a 3-0 defeat at Barnsley, Billy took charge of his new club for the first time at Elland Road the following week against Portsmouth. Lyndon hit the headlines:
"I turned up at Elland Road on the Saturday morning to play for the youth team. When I arrived I found out I wasn't involved but it all became clear at 1pm when I was informed that I was in the first team squad. Billy had left it late to avoid me becoming too nervous.
"I fully expected to be named as sub but George McCluskey failed a fitness test and I was named in the starting line up."
What transpired was 'Roy of the Rovers' stuff. Leeds, who had been struggling for results, beat the league leaders 2-1 with Lyndon scoring both goals on his full league debut:
"I'll never forget that day, it was amazing despite big Noel Blake (who would later play for Leeds) smashing me in the nose. I partnered Ian Baird up front and he was brilliant, talking to me throughout the game, offering advice and encouragement.
"The first goal, I bundled over the line and the second was a penalty at the Kop end. John Sheridan was captain and when the spot kick was awarded he picked the ball up. I presumed he was taking it but he handed it to me and told me to stick it in the net. It wasn't the best penalty I'd ever taken, but it went in and it was an unbelievable feeling."
Simmonds, as a result of the Grimsby incident, would miss the next game at Millwall. He made a further seven league appearances that season, two of them coming off the bench and he added one more goal to his tally in a 2-2 draw with Middlesbrough at Ayresome Park.
Lyndon's final appearance that season was on the 12th April, coming off the bench in a home defeat by Millwall. It would prove to be the last time he wore a Leeds shirt:
"I suffered terribly with injuries; I had several operations on my cartilage and in a bid to regain fitness I spent some time on loan at Swansea the following season."
Lyndon joined Swansea in October 1986 and in seven appearances for the Swans, he scored once, ironically against Rochdale who themselves were to sign him on loan from Leeds later that season. Lyndon then achieved a unique feat when he scored for Rochdale against Swansea:
"I loved every minute of my time at Rochdale, Eddie Gray was in charge and I partnered ex Leeds, Glasgow Rangers and Manchester City centre forward Derek Parlane up front. Our goals helped them avoid relegation from the Football League."
Lyndon Simmonds scored 10 times in 22 appearances that season and eventually signed for Rochdale on a permanent basis. In total he played 73 times for the Lancashire club but unfortunately, the injury problems continued and at the age of just 21, a promising career was cruelly cut short by pelvic problems.
It was a devastating blow for the young Welshman but the majority of the 15,672 crowd at Elland Road that November day against Portsmouth in 1985 will always remember the instant impact Lyndon Simmonds made.
Thank you to Lyndon Simmonds for giving me his time and the opportunity to write this article.