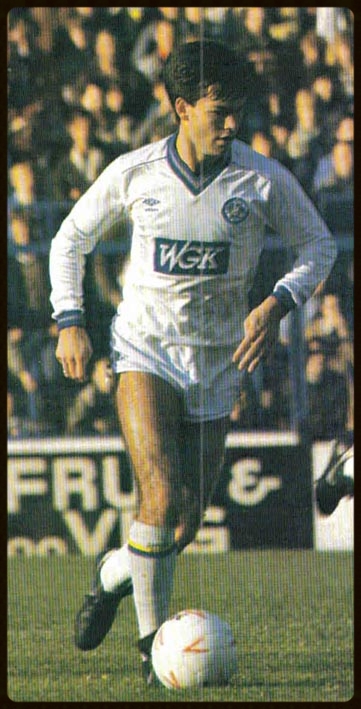 There has been a good relationship over the years between Scottish wingers and Leeds United. Back in the 1982-83 season youngster Mark Gavin burst onto the scene following some very impressive performances for the reserves. but it could easily have been so different.
Mark was born just outside Glasgow but his family moved to Hartlepool when he was ten years old. As a talented player at school, he attracted the attention of several clubs whilst playing for various sides in Hartlepool and the county side:
"To be honest, I had loads of offers. I spent time at Queens Park Rangers, Everton, Derby County, Newcastle United, Middlesbrough, Sunderland and Crystal Palace."
Mark openly admits that initially Palace were his first choice:
"They were widely tipped to be the team of the 80s and they had some brilliant young players. One of the coaches, John Cartwright, was great with me and that's where I wanted to go."
Eventually, Leeds United showed an interest in Mark after he was brought to the attention of the club by a scout named John Barr. After impressing the coaching staff the club were quick to offer the youngster a deal:
"At Leeds there was a fantastic set up, the staff looked after me and there was a good feel about the place. My mother wasn't keen on me moving too far from home so I decided to take up their offer and signed the contract."
Mark continued to improve and impress with some scintillating displays for the youth and reserve teams. He was in good company:
"On a regular basis we would travel across Europe for various youth tournaments. We won loads of silverware. Mind you, we had every right to, we had a fantastic team which included Phil Hughes, Martin Dickinson, Terry Phelan, Denis Irwin, Neil Aspin, John Sheridan, Tommy Wright and Scott Sellars. Some great lads and we had some great times."
Despite this, Leeds United were relegated from the old First Division at the end of the 1981-82 season and in a cost cutting measure, Mark, along with several other youngsters, was released by manager Allan Clarke:
"I wasn't too upset. I didn't particularly like Allan Clarke and I wasn't alone. I had a year left on my contract but they let me go. There were five or six clubs showing an interest in me but when Clarke was sacked, Eddie Gray and Jimmy Lumsden came to see me and offered me a new deal at Leeds."
With Leeds facing up to life outside the top flight for the first time since 1963-64, Eddie Gray took his squad to Scotland for a series of pre-season friendlies and Mark found himself in the new managers plans:
"I was sub for a couple of games and then got the nod against Motherwell who had George Best in their side. It was fair to say I had a blinder that day and was man of the match. I was young, confident and I knew Eddie and Jimmy believed in me. They were great guys, especially Jimmy who was a massive influence on my career.
"However, in the early stages of the season I suffered a thigh strain which was unfortunate because I was itching to play and I was knocking on the first team door."
Mark's chance eventually came. He was named as substitute at home to Cambridge United and came on to replace Martin Dickinson. Leeds won the game 2-1 and the young winger was really enjoying his football.
A couple of months later, on 4th December, Mark Gavin made his full debut for Leeds in a home defeat to Queens Park Rangers, ironically managed by Terry Venables who was at Crystal Palace when Mark spent time at Selhurst Park:
"QPR were top of the league and would eventually go up as champions. We played well that day but they did us on the break and won by a goal to nil."
It was a complete contrast the following week at Rotherham United on a day that Mark Gavin will never forget:
"As a team we didn't play well at Millmoor but we came away with the three points. I broke down the wing and as Emlyn Hughes came across, I skipped past him and hammered a shot across the 'keeper into the bottom corner of the net."
The strike proved to be the winning goal and the day ended with a nice little bonus:
"I was interviewed in the tunnel by Martin Tyler and when the interview finished, he slipped me twenty-five quid!
"It was an amazing feeling to score my first league goal and it gave me so much confidence".
During his debut season in the first team, Mark made seven appearances of which four were as a substitute, the goal at Rotherham was his first and last in 1982-83.
Leeds United would not win promotion back to the top flight until 1990 but every year they were the bookies favourites and 1983-84 was no exception.
"The expectation was massive. The club didn't really belong in the Second Division and the fans demanded success."
Mark played in five of the first eight games but he admits that consistency was a problem. It's probably fair to say that applied throughout the squad as Leeds had a very mediocre season which included some extremely bad days:
"I remember playing at Gay Meadow against Shrewsbury Town. We tried to play the offside trap but unfortunately Martin Dickinson and Kenny Burns were all over the place. We caved in and got absolutely hammered 5-1. Kenny Burns and Shez had a blazing row in the dressing room. The club was shell-shocked and there were some harsh words said that day."
It was a while before Mark featured in the first team again and he admits it was a tough time although he finished the season well and scored in a 3-0 home win over Carlisle United.
The following campaign continued in the same vein, inconsistency on the field and Mark's frustrations increased:
"I went to see Eddie Gray and asked if I could go. I was playing well in the reserves and had scored a few goals but my first team opportunities were limited."
The last time that Mark wore a Leeds shirt was as substitute in the televised FA Cup defeat at home to Everton and following a loan spell at Hartlepool United he signed a permanent deal for Carlisle United.
Mark Gavin's career also took him to Bolton Wanderers, Rochdale, Bristol City (where he had two spells), Hearts, Watford, Exeter City, Scunthorpe United and Greenock Morton:
"I had a decent career, I won player of the season at Bolton and Bristol City, they were great times, I thoroughly enjoyed playing football.
"I still maintain a big interest in the game and the first results I look for are Leeds and Bristol City's but it's a tragedy what's happened at Elland Road. There seems to have been no long term vision and unfortunately short term planning is not the way to run a football club. The appointment of Brian McDermott has impressed me and I am sure with the right approach, Leeds can return to the Premier League."
Mark's son Tom who lives out in the USA is a decent young player at University level and Mark often gets to watch the games on the internet which is something he obviously enjoys.
These days Mark is a professional gambler and by his own admission, a successful one:
"During my time at Bristol City I met a lad who was a gambler. He did well and he taught me to read the form and what to look out for. I've been doing it now for years and I make a good living out of it."
Any tips, Mark?
Thank you to Mark Gavin for his time and giving me the opportunity to write this article.