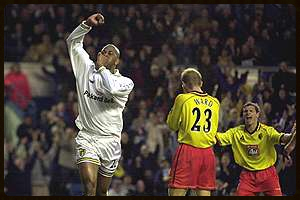 During his time at Leeds United, central defender Michael Duberry experienced the full range of emotions and also found himself tangled up in a regrettable incident which had the eyes of the worlds media focused on the football club.
Duberry was born in Enfield in 1975 and began his career with Chelsea. Following a loan spell on the south coast with Bournemouth, 'Dubes' returned to his parent club but found his path to regular first team football blocked by some world class centre backs as the foreign influx of Stamford Bridge got underway:
"I could have stayed at Chelsea but it was always going to be difficult for me to play week in, week out. Frank Leboeuf and Marcel Desailly had arrived at the club and also a young John Terry was starting to emerge. I craved first team football and realised that I would have to move on in an attempt to get that."
Sheffield Wednesday were keen to take Michael to Hillsborough but once Leeds United showed their interest it was an easy decision for the defender to make and he arrived in West Yorkshire in July 1999:
"Leeds was very much a club on the up. They had finished fourth in the Premier League the previous season and a young, hungry squad were very eager to build on that and bring the glory days back to Elland Road.
"I soon settled in to my new surroundings and my confidence was high during pre-season. We travelled to Sweden where I picked up an award after being voted the tournaments best player. However, I was under no illusions, I knew I would have a battle on my hands to get into the starting line up when the real stuff got underway."
That was soon proved to be the case when manager David O'Leary opted for a central defensive pairing of Lucas Radebe and Jonathan Woodgate for the season's opener at home to Derby County:
"I was very disappointed but I had to respect the Gaffers decision. I realised that I had to bide my time and wait for my chance."
In his first season at Leeds, Michael was restricted to 14 starts in league and cup as the Whites finished in third place earning them a shot at Champions League qualification.
The following campaign started well for the centre back and although he didn't feature in the opening league game against Everton, he started the next nine games which included games against Barcelona and AC Milan in the group stages of Europe's prestige competition:
"I was playing well and feeling good. The squad had been hit by injuries and I was given my chance which I was determined to make the most of. I knew I had to keep improving and work hard.
"The Champions League had got underway and we were given a rude awakening in the Nou Camp against Barcelona. AC Milan was next up and I kept my place in the side. I knew that I wasn't a crowd favourite but that night against the Italians, I had my best game in a Leeds shirt.
"We won the game 1-0, it was a real boost to keep a clean sheet against Bierhoff and Shevchenko and I came away thinking that the fans would now see why Leeds paid in excess of four million pounds for me."
However, typical of Michael Duberry's time at Elland Road, a disastrous blow was just around the corner:
"On the Saturday after the Milan game we played Derby County at Pride Park and I had to be replaced after rupturing my Achilles. I would not kick another ball that season. I was absolutely devastated and it was a very difficult period for me."
Things would become even more difficult after a night out in Leeds on Tuesday the 10th of January. The developments that evening created worldwide news and Michael Duberry found himself in the middle of it all:
"The incident was front page news for months. It is one that I am now happy to talk about and I do so regularly. The events that night and the whole experience of the court case changed me as a person and helped me grow up.
"I made a mistake by not telling the truth from the start and I am man enough to hold my hands up and admit that. I tried to help my friends and I ended up in a whole world of trouble.
"The squad were a close knit unit and we all got on well. 'Woody' and I lived in each other's pockets and although we remained friends during and after the court case, things weren't the same.
"One of the darkest times was during the 2001-02 season when we played Cardiff City in the F.A. Cup. I was sub that day and the Gaffer sent me out to warm-up. The Cardiff fans absolutely slaughtered me and started chanting about the incident. To my horror, a section of the Leeds fans joined in. That was hard to take – they were supposed to be on my side."
Before the start of the 2002-03 season, manager David O'Leary left the club and was replaced with Terry Venables. The man O'Leary had signed back in 1999, Michael Duberry, had started just 31 league games:
"I liked David and was sorry to see him go. The book he wrote, 'Leeds United on Trial' should never have been written and although the players were disappointed, it didn't have the effect on the dressing room that had been reported in the media.
"I knew that my age to games ratio was not great and this fact was highlighted when Terry Venables came to the club. He told us all that it was a fresh start, I was desperate to play and I pointed out that if I played I would give my all but I openly asked him if he felt that it was time I moved on.
"Rio had left but I was still behind Woody, Lucas and Dom Matteo in the pecking order. Danny Mills was also capable at filling in as a central defender and I could understand players of that calibre being in front of me. They had all represented their respective countries and I was the only one without an international cap.
"However, what I couldn't accept was seeing Teddy Lucic in the side ahead of me – he couldn't kick a ball and it was clear that Venables didn't fancy me as a player although we got on reasonably well.
"When I knocked on his door to speak to him about the issue he said that I had told him that I wanted out – that wasn't the case and it wasn't until he was sacked and replaced by Peter Reid that I got my chance."
After starting the final seven games of a turbulent season, things were finally looking up. However, another disaster was just around the corner and the whole scenario was typical of Michael's 'stop-start' Leeds career:
"In preparation for the new campaign, we played in a tournament over in Ireland and I suffered a broken cheekbone in a game against Aston Villa which kept me out of the side until November."
For Leeds United, the meltdown had begun. The financial problems were well documented and one by one the star names were departing the club:
"The 2003-04 season was a terrible time. The dressing room had lost its spark, the team spirit had gone, we didn't believe in ourselves and not one person around the club had a smile on their face.
"It was a far cry from the previous seasons when we had such a fantastic team spirit. 'Kells' (Gary Kelly) would have us all singing in the dressing room, we would all go out together after training and the banter was relentless. We even had the yellow Robin Reliant for the worst performer in training."
Following the disastrous campaign which ended in unmanageable debt and relegation, the club began to prepare for life in English footballs second tier for the first time since 1989-90:
"Obviously things weren't the same. There were only a handful of the 'old guard' left and due to the financial problems, the manager had to completely rebuild the squad with free transfers and loans.
"Unfortunately, Sean Gregan was no David Batty and Clarke Carlisle was no Rio Ferdinand but we knew we had to get on with the job and knuckle down in very testing circumstances.
"I make no apologies when I say I didn't (and still don't) like Kevin Blackwell. He was the only manager I played for at Leeds that I didn't get on with. He tried to bully people and that made it almost impossible for him to get the best out of players.
"He told us that everything would click into place when he signed Sean Gregan. He'd been after him for some time and finally the deal was done. I couldn't understand how the manager of Leeds United had it in his head that he would build a team around one player.
"To be fair to Sean, he was played in the wrong position and he was constantly exposed. Blackwell did him no favours there and it was never going to work out."
After starting the new season in the side, Duberry was loaned out to Stoke City in a move which would eventually be made permanent but in between he was recalled by Blackwell and played his final game in a F.A. Cup defeat at Birmingham:
"I suffered a ruptured thigh in that game and it proved to be a sad ending to my Leeds career. I thoroughly enjoyed my time there even though I didn't play anywhere near the number of games I would of liked to.
"Through training every day with the players we had under O'Leary, I became a better player. It was great place to be and they were the best days of my footballing life."
When I asked Michael who he considered to be the best player he played alongside at Leeds, he struggled, understandably, to signal out an individual:
"Rio had everything in his locker; Lucas led by example and always had a smile on his face. Woody possessed all the attributes and Dom Matteo was immense in whatever position he was asked to play in.
"Of course, there was also Nigel Martyn, a world class 'keeper and David Batty who was superb. I would win the ball and 'Batts' would be five yards away and available for me to make the pass.
"We had two fantastic right backs in Gary Kelly and Danny Mills. Alan Smith was old school and got his fair share of goals as did Michael Bridges and Mark Viduka.
"Don't forget players like Stephen McPhail and Jason Wilcox who had all the ability in the world but didn't play week in, week out.
"I still have connections in Leeds. My son was born there and we visit the area on a regular basis. I am proud to say that I played for Leeds United at the highest level and no one can take that away from me.
"Medals gather dust and money comes and goes but those memories will stay with me forever."
Thank you to Michael Duberry for his time and giving me the opportunity to write this article.