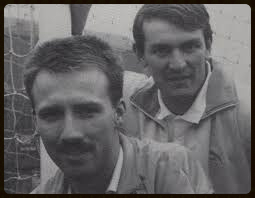 Early October, 1988. Leeds United was struggling in the second trier of English football, less than 16,000 had witnessed a dismal 1-0 home defeat to Watford. Meanwhile, a 22 year Scouser named Neil Parsley was earning a living, working on a building site. The fortunes of both Leeds United and Neil Parsley were about to change dramatically:
"I was playing non league football for Witton Albion and Mike Whitlow and I had been invited for a trial at Sheffield Wednesday by their manager Howard Wilkinson. We booked a week's holiday from our day jobs and made our way to Hillsborough."
Upon arriving in South Yorkshire, the pair got an unexpected shock:
"We walked into the place and Howard was on his way out! He spoke to us briefly and told us that he was leaving Sheffield Wednesday to become the new manager at Leeds United. He advised us to have our trial, as arranged, but at the same time said he was interested in taking us to West Yorkshire.
"Peter Eustace was placed in charge during the week we were at Wednesday and after playing in a couple of reserve games and doing reasonably well, he wanted to have another look at us. However, in the mean time, Wilkinson had invited us to Elland Road.
"To be fair to Howard, he was true to his word and that was enough for us, we went to Leeds and impressed enough to earn a deal. After the faith he had shown in us, it was no brainer to sign, despite the fact Wednesday were in the top flight."
Neil Parsley and Mike Whitlow became Howard Wilkinson's first signings as he set about his task to restore past glories:
"We signed on a Monday and were handed our debuts in the reserves against Leicester City. We were well beaten and Jimmy Quinn bagged a hat-trick for the opposition. Wilko was at the game and he was fuming afterwards."
The youngsters were soon training with the first team and Neil remembers being 'welcomed to professional football' when the squad were preparing for an away game at Oldham in mid November:
"Oldham had the plastic pitch back then and Howard took us away from the familiar surroundings of Fullerton Park to train on a similar surface to the one at Boundary Park. During a practice game I was the victim of a very tasty challenge from Ian Baird who certainly let me know what professional football was all about."
Unfortunately for Neil, he tore his groin in only his fifth appearance for the second string. The injury became complicated and after an operation in February 1989 failed to cure the problem, Neil was sent to London to see a specialist.
"It was a tough time. I had settled in well and was beginning to find my feet around the place. I became close friends with Gary Speed, David Batty, Peter Swan and a young professional named Tony Smart.
"Lads like Brendan Ormsby and Gordon Strachan, who joined in March 1989, were a huge help as I battled my way to fitness."
Neil was back in training as the club prepared for the new 1989-90 season but things had changed:
"Although I was the regular right-back in the reserves, when fit, Howard had not wasted any time rebuilding the club and it had moved on so far in such a short space of time.
"Neil Aspin had gone to Port Vale and had been replaced by Mel Sterland and in the days before squad rotation, Wilko always played his best X1 and it was one hell of a job to get the number two shirt from such a quality player like Sterland."
"We had a good reserve team, a very good team. Lads like Speedo, Ormsby, Noel Blake, Chris Kamara, Carl Shutt, John Pearson, Dylan Kerr and Vince Hilaire were regulars and we had some great times.
"I remember playing against Manchester United's reserves at Old Trafford and we battered them. Brendan Ormsby scored that night and he jumped on the fences of the away end behind the goal and gave a salute to imaginary Leeds fans behind the goal. It was such a good performance that the club gave us all £50 bonus!
In the December of 1989, Neil joined Chester City on loan and made his league debut away at Tranmere Rovers in a 0-0 draw. He played six games for Chester before returning to Elland Road.
Ironically, the nearest that Neil got to the first team at Leeds United was the 1990 Easter Monday showdown with promotion rivals Sheffield United:
"Mel was doubtful due to a knock picked up in the previous game and in preparation for the crunch game with the Blades; I played right back in a practice match. Gordon Strachan spoke to me afterwards and asked me if I was ready to play. Of course I was, it was the chance I had waited for."
Unfortunately for Neil, Mel Sterland recovered and took his place in the side as Leeds brushed aside their counterparts with a fantastic display.
It was soon time for Neil to leave Elland Road despite not making a first team appearance:
"West Ham United made an enquiry about me and I spoke to Wilkinson and told him I needed to be playing first team football. Howard was fantastic; he made it easier for me to move by giving me a free transfer. I sought advice from the experienced lads like Strach and Kamara and although nothing materialised with West Ham United, I eventually joined Huddersfield Town."
After making 57 appearances for Huddersfield, Neil played on loan at Doncaster before moving to West Bromwich Albion and then on to Exeter City:
"Although I never managed to play in the first team at Leeds, I cherished every moment. The passion around the place was unbelievable. Leeds was, and still is, a massive club. Elland Road was a fortress, Batts and Vinnie helped to create an awe of invincibility and a lot of teams were beaten as soon they got off the bus."
These days Neil is the manager of Northern Premier league side Farsley AFC where he is assisted by former Leeds player Mark Jackson and he keeps a close eye on goings on at Leeds United.
Thank you to Neil Parsley for giving me his time and the opportunity to write this article.