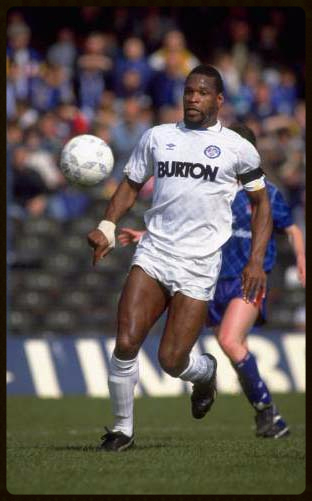 Signed from Portsmouth in the summer of 1988, on a free transfer by Billy Bremner, Noel Blake made 62 appearances for Leeds United and he's still fondly remembered by the supporters who witnessed that era.
Noel was born in Kingston, Jamaica and following spells with Sutton Coldfield, Aston Villa, Shrewsbury Town (on loan), Birmingham City and Portsmouth, he became the first West Indian born player to play for Leeds.
The big centre half arrived in West Yorkshire following a successful spell at Fratton Park where he had won a promotion in addition to winning the supporters' player of the award for two consecutive seasons:
"I am very proud of that. We had some good players down there, the likes of Vince Hilaire, Alan Knight, Terry Connor and there was Micky Quinn who scored goals for fun. To be voted the player of the year by the fans, was a tremendous honour."
When the time came to leave Portsmouth, interest in Noel soon mounted and he held talks with Watford, Crystal Palace, Birmingham City and Wimbledon but Leeds was his preferred destination despite having a torrid time on a previous visit:
"I played at Elland Road on a few occasions but it was in the 1985-86 season that I remember the visit for the wrong reasons. Leeds won the game 2-1 with two Lyndon Simmonds goals but I received some terrible abuse from a section of the Leeds fans.
"As a kid I had followed Leeds, they were my 'second' team behind Birmingham City and the treatment I got that day hurt me, although I must admit, I had to put up with racist chants most weeks and that's how it was back then.
"When the opportunity came to sign for Billy Bremner, God bless him, it was one I couldn't refuse. I asked myself, 'Do you shy away or do you face the challenge?' I faced the challenge and signed for the club and it was a real pleasure to play for Leeds United. I never had a single problem with the supporters during my time there, they were superb with me.
"Vince Hilaire also joined that summer and we went out into the community, educated people, broke down the barriers and laid some strong foundations and that was something I am extremely proud of."
During his only full season at the club, Noel missed just two of the 46 league games and although one was following a sending off away at Barnsley, he was quick to point out his disciplinary record:
"Wherever I played during my career, this hard-man reputation followed me but the facts are that I never missed a game through an accumulation of bookings."
Blake was hard but fair. Opposing centre forwards knew they would be in for a torrid afternoon and I know that Bairdy was happy to have Noel on his side when the pair were together at both Portsmouth and Leeds.
Every time the centre back made a crunching tackle, an affectionate chant of 'Bruno! Bruno!' would ring around Elland Road.
In addition to his duties in the back four, he also proved quite handy at the other end as he weighed in with four goals during the 88-89 campaign.
After making his debut in a 1-1 draw at home to Oxford United, Noel soon made his mark when in only his third appearance he scored a late equaliser to salvage a point in a 1-1 draw at home to Manchester City although he admits he's only got vague memories of that goal:
"The memory that stands out for me that season was the home game with Bradford City. It was a Wednesday night fixture and there were over 33,000 inside Elland Road to witness a 3-3 draw. It was incredible and I'm not sure that I have ever witnessed such an atmosphere anywhere else."
For the large part of his relatively short Leeds career, Blake played under the management of Howard Wilkinson and it was Wilko who gave Noel one of his greatest honours:
"I captained Leeds United under Howard and that means so much. I remember captaining the side away at Forest in a FA Cup tie and then when Mark Aizlewood did what he did, I took the armband for the remaining few games of the season."
Leeds United had plodded its way through the 1980s but in the summer of 1989 it all began to change and for Noel it was the beginning of the end:
"It was all my doing unfortunately. I received my marching orders in a pre-season friendly against Anderlecht and that opened the door for Peter Haddock to step in. Peter was tremendous, he struck up a fantastic partnership at the back with Chris Fairclough and I couldn't get back in the side."
Noel's last appearance for Leeds came against one his former clubs, Aston Villa, in the much maligned Zenith Data Systems Cup. A game which Leeds lost 2-0 and Blake was played at right back.
"I had only made seven league appearances during that promotion season and I had the chance to go to Stoke City and team up with Alan Ball which again, I couldn't refuse. Although Leeds sat top of the league and Stoke were bottom, needing snookers, I just wanted to play every week and Bally was a very special person to me – I wanted to help him out.
"Howard asked me to stay and told me that the club would be in the First Division the following season but I had never experienced prolonged spells of sitting in the stands and Stoke presented me with a good opportunity and I firmly believe that in life, things happen for a reason.
"There was no fall out although I had a little pop at Howard via the press when I left and that is something I will always regret. I was immature and one piece of advice that I pass on to any player today is that when they leave a club, they keep their mouth shut and get on with it."
Noel, who has just left his role in the England youth system is now coaching at Blackpool but looks back with a huge sense of pride at his time in LS11:
"The passion and drive around the place was always incredible. To walk from the tunnel onto the pitch with the crowd applauding us and 'Marching on Together' being played and sung was fantastic. Words can't really explain my feelings towards the people and the football club and even today, where ever I go and Leeds fans recognise me, they call me Bruno.
"The place was full of top people with great characters, Bobby Davison, David Batty, Gary Speed, Ian Baird, Gary Williams, Vince Hilaire, John Sheridan, Mike Whitlow, John Stiles and Gordon Strachan to name a few.
"Training changed when Howard and Mick Hennigan came in, we worked much harder but it was still enjoyable. The banter around the place was relentless and Vince (Hilaire) and Nobby (John Stiles) were like Morecambe and Wise.
"You couldn't turn your back on Vince, he was up to all sorts of tricks and one of his favourites was to smear the door handles with Vaseline."
When I asked Noel to name the best player he played with at Leeds, it was no surprise when he said Gordon Strachan but he was quick to mention others:
"Gordon was a top man and a brilliant player. He did the job he was brought in to do and more. On and off the field he was a top class pro and had the respect of everybody due to his approach, what he brought to the team and his leadership qualities.
"David Batty went on to become the best holding midfielder in the country. John Sheridan was another great player. He didn't last too long under Wilkinson but he was blessed with tremendous ability and although Gary Speed excelled in his attacking midfield role, he was also a useful centre half. He played in that position with me on many occasions for the reserves and he hardly put a foot wrong.
"I played for some great clubs during my career. I played for the club I support, Birmingham City. I played for Stoke and I still live in the Potteries. I loved my time as a young lad at Villa and I had success at Pompey but the fact I played for and captained Leeds United is right up there."
Thank you to Noel Blake for giving me his time and the opportunity to write this article.