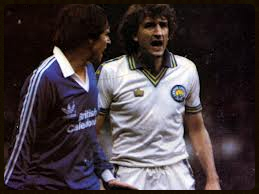 Paul Hart signed for Leeds United in March 1978 and was seen as the ideal replacement for centre half Gordon McQueen who had jumped ship the previous month.
Hart was born close to Haydock Park racecourse in 1953; his father was the Manchester City star Johnny Hart. It was no surprise that Paul was a City fan and he fondly remembers the days of Colin Bell, Mike Summerbee and Francis Lee, describing them as "fantastic times".
After playing for Manchester Boys, Hart joined Stockport County at 17 years of age and made his first team debut within two weeks.
In the summer of 1973 Blackpool paid £25,000 for his services and within five years they made a huge profit when the commanding defender moved to Leeds United for a fee of £350,000:
"A move had been on the cards, Wolverhampton Wanderers, Everton and Leeds were in for me and I eventually chose Leeds due to the history of the club, the tradition, the style of play and also, Jimmy Armfield was an influence."
At the time it was a record fee for a centre half and Hart admits that in his early days at Elland Road, the expectation that came with the fee was a problem:
"It was daunting, there's no doubt about that. I had joined a huge club with some real quality players in the dressing room. Tony Currie, Paul Madeley, Eddie Gray and Allan Clarke soon made me feel welcome and the advice they gave me was superb. They were fantastic football players and great lads."
Hart made his Leeds United debut at Anfield against Bob Paisley's Liverpool on the 11th of March 1978. Liverpool won the game 1-0, thanks to a Kenny Dalglish goal, but the score line in the history books doesn't tell the whole story:
"Sniffer was very unlucky that afternoon. On another day he would have had a hat-trick but I will never forget an incident before the game. We were in the tunnel and he turned to me and asked, 'Have you ever seen Tommy Smith angry?' He then turned to Tommy and said something which I can't really repeat. Smith was seething and he spent the afternoon trying to kick Sniffer all over the place.
"I thought the world of Allan Clarke, he more than anybody took me under his wing. He was a perfectionist, a very clever footballer, he was as hard as nails and he demanded the best from everybody around him."
Hart stayed in the side, playing the final 12 games and attentions turned to his first full season. Jimmy Armfield had left the club and was soon replaced by Jock Stein.
The centre half didn't have to wait long for his first Leeds goal. It came in the first home game of the season at home to Manchester United:
"To be honest, there were no celebrations. I had a poor game and we got beat 3-2, it was a very disappointing night."
By his own admission, Hart's Leeds career didn't get off to the best of starts but the turning point was just around the corner:
"We played West Bromwich Albion in the second round of the League Cup and after two goalless draws we replayed at Maine Road. I managed to grab the only goal of the game and that did wonders for me.
"I grew in confidence and was on top of my game. There was talk of an England call up but unfortunately that never materialised but I was really enjoying my football."
By this time, Jock Stein's brief spell as manager was over and Jimmy Adamson was in charge:
"Brian Flynn knew Jimmy from their Burnley days and he informed us that Jimmy was a great coach but the problem was that we barely saw him on the training ground. His backroom team of Dave Merrington and Stan Ternant would take charge of the training sessions over on Fullerton Park."
Hart missed only two league games in the 1978-79 season and he scored five league goals. Another goal came in the third round of the FA Cup as Leeds thrashed Hartlepool 6-2 away from home. He also played in eight League Cup ties as the Whites were beaten by Southampton in a two legged semi-final.
"We had a good season, John Hawley, who I still see on a regular basis, and Ray Hankin formed a formidable partnership up front."
By the time the following campaign kicked off, Leeds had lost two key players and Hart was gutted:
"Tony Currie moved on and I was distraught when he left. It makes me laugh when I read people's perceptions that Tony was lazy. He worked harder than anybody at the club. He was strong, fit and had all the talent in the world.
"Frankie Gray also left to join Forest and the truth is, the club replaced with them with great lads but in terms of playing ability they weren't quite in the same class."
Leeds had finished the season in fifth place and qualified for the following seasons UEFA Cup but after strolling past Valetta from Malta in the first round, Leeds suffered a disappointing exit at the hands of Universitatea Craiovia from Romania:
"What a place that was, all concrete and grey, it was a very tough place to go and we lost 2-0. We should have been 1-0 up in the second leg at Elland Road, I played in midfield that night and missed a good chance early on. Unfortunately it wasn't our night and we lost by the same scoreline as the first leg."
It was clear that Leeds were in decline. The club and all concerned were desperate for a return to the glory days but it all ended in disastrous circumstances when they were relegated at the end of the 1981/82 season:
"It was very, very disappointing and we struggled all season in all honesty. Goals were hard to come by although that improved when Frank Worthington was brought in."
As Frank was coming in, Paul Hart was very close to leaving:
"Manchester City wanted me and they came in with a bid of £500,000 plus Tommy Caton but Sniffer didn't want me to leave – that was the end of that."
As the club adapted to life in the second tier, Hart remained at the club and played in 39 of the 42 league games. His last game for Leeds was against Rotherham United on the final day of the 1982-83 season.
"I eventually moved on to Nottingham Forest for £57,000 which was a huge deficit in what Leeds could have received just over a year earlier."
After leaving Forest in the summer of 1985, Hart signed for Howard Wilkinson at Sheffield Wednesday before joining Birmingham City in December 1986.
"I broke my leg on my Birmingham debut on New Years Day and from there I joined Notts County as player-coach which is where my playing professional career finished.
After a spell as manager of Chesterfield , Paul Hart returned to the City Ground to work on the coaching staff but he was soon back at Elland Road:
"I joined Leeds to become the Academy Director in the summer of 1992 and we enjoyed great success. We won the FA Youth Cup twice and saw some great players come through to play in the first team."
Having recently left his position at Charlton Athletic, Paul Hart reflects on the good times he enjoyed at Leeds as a coach and before that, a player:
"My time there in charge of the Academy was superb with the likes of Woodgate, Harte, McPhail, and Robinson all coming through the ranks.
"I still feel very privileged to have played for Leeds United. I played alongside some fantastic players but it was a shame that the clubs success didn't continue.
Thank you to Paul Hart for giving me his time and the opportunity to write this article.