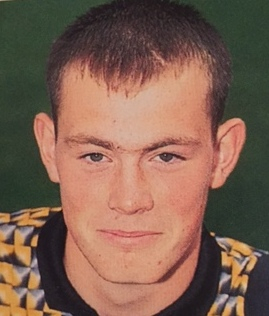 Custodian Paul Pettinger's first team career at Leeds United was restricted to four unused substitute appearances, in competitive fixtures, as he found his way to the number one spot blocked by the experienced pair of John Lukic and Mervyn Day and then the underrated Mark Beeney.
As a youngster Paul played for Hoyland Falcons, a side run by Mark Crossley's father and one particular highlight was saving a last minute penalty in a cup final at Under-11's level.
He progressed to play for South Yorkshire boys at all levels and joined Barnsley on schoolboy forms before becoming first choice for the England schoolboys, doing enough on one occasion to be voted man of the match at Wembley by no other than Saint and Greavsie.
Things didn't go to plan at Oakwell and Pettinger made his intentions to leave very clear after a fall out with the manager, Mel Machin:
"I was invited to spend four days at Nottingham Forest on trial during which I was summoned to some wooden buildings to see the Gaffer. I entered the buildings, which were saunas and Brian Clough was relaxing inside. He spoke: 'Young man, it's nice to see you. Now go to the shop and get me a can of pop, a mars bar and a newspaper'.
"It was a good set up at Forest, I was looked after by Paul Hart and John McGovern and they offered me a three year deal which I agreed to sign. The fee was reported to be up to £100,000 depending on my development and it would be paid in three stages.
"Soon after, before I had actually signed the deal, Paul Hart moved to Leeds United and he contacted me to ask me to join Leeds – which I duly did.
"The staff at Forest were furious and although I'd never signed for them, they had my name on a plate on the door at the digs and Alan Hill, one of the coaches, reckoned they had paid Barnsley the first instalment of the transfer fee and my parents were liable for the money."
The situation was sorted out and Pettinger was left to focus on making a name for himself at Elland Road. The year was 1992, Leeds were playing in the inaugural season of the newly formed Premier League and Paul, in his first year at the club, found himself on the bench for the first team on the 7thof November:
"I got a call on the morning of the game to ask me to travel to Maine Road. I was taken over there in Howard Wilkinson's Lexus as it transpired that John Lukic was passing blood after being kicked in the stomach during the previous days training session and wasn't fit. Mervyn Day started in goal and I sat on the bench as cover."
Paul knew that the only realistic way he would make his debut was an injury to the veteran, Day or a red card but he admits he was desperate to get on:
"It was a surreal experience although we were well beaten on the day. City ran out 4-0 winners but I was itching to get on the field, without wishing a serious injury on Merv."
From that point it was back to the juniors but having tasted life with the first team squad, the young keeper was keen for more:
"They were great days and we had a fantastic youth team and the likes of Jamie Forrester, Noel Whelan, Mark Ford, Mark Tinkler, Rob Bowman, Kevin Sharp and Andy Couzens all went on to make the first team.
"We all worked hard but we had some laughs along the way and if ever an apprentice did anything wrong, you were summoned to 'court' and punishment would be dished out.
"One Tuesday night, Gary Lynam, Rob Bowman and I went out for a few beers. We ventured to an establishment which sold Holsten Pills for a quid a bottle and there were strippers on. Needless to say, I had one too many and turned up for the following mornings training session hung-over. I told the coaching staff that I wasn't well and couldn't train but the lads knew otherwise and I found myself in 'court'.
"There was a concreted area at the side of Fullerton Park which was fenced off. The 'court' ordered that I should be tied to a metal pole that supported the fencing, stripped naked and covered in boot polish whilst the lads hammered footballs at me.
"Andy Couzens smashed a shot which hit me plum in the face and my head hit the pole and I was knocked out cold. Paul Hart went mental and the club asked me if I wanted to report the incident to the police, which obviously was never going to happen. It was one of those pranks that went wrong, nobody intended for that to happen."
By the end of his first season, Paul had another taste of life with the first team as he sat on the bench for a friendly against Gary Lineker's Grampus Eight at Elland Road and he helped his team mates to lift the F.A Youth Cup by overcoming Manchester United in both legs of the final:
"We were leading Grampus Eight 1-0 and Wilkinson told me to get warmed up as I was going on. I followed his instructions and got my gloves on. However, as I was stood waiting on the touchline, the Japanese side equalised, Wilko told me to sit down and I never got on the field of play.
"To win the F.A. Youth was a dream come true. It's probably the highest accolade an apprentice can earn and to do it by beating Manchester United was extra special.
"At the start of the following season I returned for pre-season to be informed by Sean Hardy, the kit man, that Wilkinson had turned down a bid for me from Manchester United but I don't know if he was winding me up as I never heard anymore about it."
During the 1993/94 and 1994/95 seasons, Paul was behind Lukic and Beeney who battled it out for the goalkeeping spot and the youngster was restricted to life in the reserves and spells away from the club on loan at Kettering, Torquay United, Halifax Town and Rotherham United.
Paul suffered a couple of injuries during his three and half seasons at the club, one lengthy spell was caused by a cartilage injury which required an operation and the other was caused by the power of Tony Yeboah:
"Yeboah fired a shot at me on Fullerton Park, I managed to block it but straightaway I had a pain in my hand. Alan Sutton applied some ice but the pain wouldn't go away. It was hurting for weeks and I was playing in the reserves with my hand strapped so heavily that I could barely get my glove on. Eventually, after an MRI scan, I realised that I'd broken my wrist."
Paul was back on the first team bench early on during the 1995/96 season, for home games against Notts County in the League Cup and Queens Park Rangers in the Premier League. He was also on the bench for the away fixture at Wimbledon. It was the game made famous by Tony Yeboah's wonder goal as the Whites romped to a 4-2 away win:
"I was restricted that season as Wilkinson decided that in most games he would fill the bench with outfield players and in March 1996, I was on the move to join Tony Pulis' Gillingham as back up to Jim Stannard."
Paul looks back on that decision and it's one he rues as less than a week later, Mark Beeney was sent off at Old Trafford:
"Who knows, with Mark suspended I may have got a chance to be back on the bench at least and then early the following season, Wilkinson was sacked and I may have got a chance under George Graham. However, hindsight is a great thing and you can't change the past."
After leaving Gillingham, Paul played for Carlisle United, Rotherham United and Lincoln City before drifting into non-league football, finishing at Sheffield FC in 2010.
Paul looks back on his career and admits that he probably under-achieved:
"I went from the England youth goalkeeper to only play a handful of games in the football league. It was frustrating what happened at Leeds when you think that the lads of the Youth Cup winning side of 1992, that got into the first team didn't make a real impact and the others were obviously released, but you look at the opposition and what they went on to do in the game."
Thank you to Paul Pettinger for his time and giving me the opportunity to write this article.