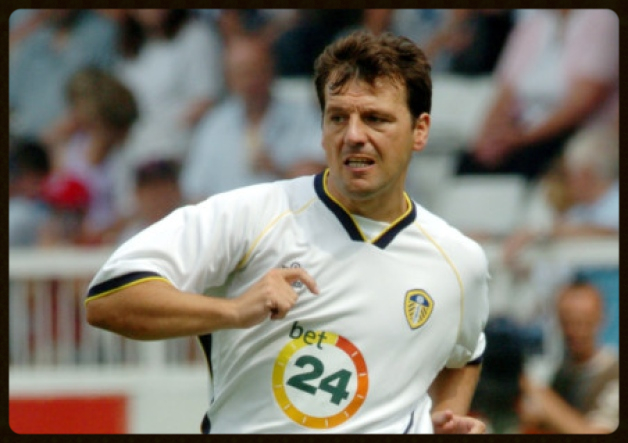 Robbie Blake realised a dream when he signed and played for Leeds United but unfortunately by the time he left, the club was at its lowest ebb and the diminutive striker had been sold against his wishes.
Blake started his career at Darlington before spells with Waterford United on loan, Bradford City, Nottingham Forest on loan, Burnley and Birmingham City:
"I'd only been at Birmingham a short time and was competing for a shirt with some class strikers. Walter Pandiani was there along with Emile Heskey and Mikael Forssell then, one afternoon, Steve Bruce called me in to inform me that Leeds United had enquired about my availablity.
"I harbored no ambition to leave St Andrews and drop down a Division but a week later when I was left out of the squad for a pre-season tour, I knew the writing was on the wall.
"Leeds had fallen on hard times but they were, and still are, a massive club. I'd always wanted to play for Leeds and every time I had played against them I was envious of the fans and the atmosphere they created.
"As a kid, I supported Middlesbrough and when the fixtures came out the first one I looked for was Leeds United at Ayresome Park."
It was August 2005 when Robbie Blake put pen to paper and signed for the West Yorkshire club but his time there was largely frustrating:
"I joined Leeds to win promotion back to the Premier League and we got off to a great start beating Millwall on my debut, but soon after I had a disagreement with the manager, Kevin Blackwell, and it is fair to say that he never got the best out of me.
"I was in the side one week, out the next. He played me on the right, on the left, down the middle and I never really settled. I didn't get on with him and thought he was way out of his depth."
Despite his relationship with the manager, Robbie featured 41 times in the league during the 2005/06 season and he weighed in with 11 goals. One particular game stays in his memory:
"Southampton away in the middle of November is an afternoon that I will never forget. We had beaten them at Elland Road a month before but then drew three of the next four games.
"We went in at St Mary's 3-0 down at half-time and the players were shell shocked. To be fair to Blackwell, although he gave us a good talking to, he didn't go over the top. He told us that the first goal in the second half was vital and if we could get that and win the second-half, we would restore some pride."
With 71 minutes on the clock, Leeds was still trailing 3-0 but then central defender Paul Butler scored to make it 3-1:
"When Paul scored, we found some belief and really went at Southampton. Six minutes later I pulled a second goal back and before we knew it we were level through a David Healy penalty."
Leeds famously went on to secure all three points when loanee Liam Miller scored his only goal for the club with four minutes remaining but the players joy was soon turned to disappointment:
"After celebrating with the supporters, we left the pitch on cloud nine but when we returned to the dressing room we realised that money had been stolen from our pockets. It was swiftly reported to the home team's officials, who dealt with the situation impeccably and thankfully we were reimbursed before we got back on the coach."
The 'against all odds' victory at Southampton spurred Leeds on and they would win nine of the next 13 league games which put them in a fantastic position:
"We were confident, playing well and winning games. Reading and Sheffield United were streets clear at one point but we believed that we could catch the Blades and gain automatic promotion."
Leeds was flying and February was a very productive month with a vital home win over promotion rivals Watford, courtesy of two Robbie Blake goals. He was on the mark again with a vital goal at Selhurst Park as another promotion rival, Crystal Palace, was put to the sword but then the promotion charge faltered:
"We stopped winning games and we struggled to score goals. We couldn't put our finger on the problem as we had some good strikers at the club in David Healy and Rob Hulse. Richard Cresswell was also there although he was struggling with injuries.
"Blackwell recognised the struggles in front of goal and brought in Danny Graham but hardly played him. That was a strange move to be honest but we managed to qualify for the play-offs with room to spare."
After a score draw with Preston North End in the first leg at Elland Road, Leeds were riled by ridiculous comments made by the opposing manager Billy Davies who claimed it was "job done":
"We were heading to Deepdale knowing that we were one game from the Millennium Stadium and possible promotion so all the incentives were there. However, Davies had fired us up with his comments on Sky and in the press.
"Blackwell had got hold of all the newspaper cuttings and he plastered them over the dressing room walls. It worked a treat when we ran out 2-0 winners and took our place in the Final against Watford.
"I was on a coaching course recently over in Belfast with Paul McKenna, who played for Preston at the time and he told me that the North End players couldn't believe the stuff that Davies had said to the media."
The only negatives of the great night at Deepdale were the sendings off of Stephen Crainey and Richard Cresswell which meant they would miss the showpiece occasion:
"The Final was a disaster. Blackwell opted to play one up front and we were never in the game. I told him afterwards that he had got it wrong and we had a major fall out.
"One or two things were said afterwards and some of it got back to Blackwell which prompted him to inform me at the start of the following season that I would be left to rot in the reserves. I had played well in pre-season and his assistant John Carver had told me, whilst we were over in Norway, that I would be involved when the new season got underway but that wasn't to be the case.
"I was suffering from a groin problem and that, coupled with the fall out with the manager meant that I only started one league game before he was sacked.
"I have seen Kevin Blackwell since that episode. We had a good chat and there are no hard feelings between us."
The club were clearly suffering with a major hangover from the catastrophic defeat at the hands of Watford and John Carver was placed in temporary charge of the first team:
"John was, and still is, a fantastic coach although it's never worked out for him as a manager. I think that after the Final in Cardiff and the start we had had to the new season, the players needed a different voice and fresh ideas and we got that when Denis Wise was appointed.
"Denis coming in gave me a new lease of life. My head had gone due to the situation I was in but I was soon back in the team and playing with confidence.
"As a group we spoke about climbing the league and battling for a play-off place but for some reason we couldn't get a run going and we spent the season in the basement battling away with no reward."
Leeds had started the season among the favourites for promotion but finished it rock bottom and in administration, facing life in English football's third tier for the first time in the clubs history:
"Over the course of the season we weren't good enough and the players and staff have to hold their hands up and take the blame.
"I remember going bottom of the league after winning at Hull City and we were left wondering how the hell are we going to get out of this mess? It was bizarre and a real kick in the teeth after such an important away victory."
"So much was going on inside the club and a few heads had dropped long before the season had finished.
"After the final whistle at Derby County on the final day, some players were being told that they would be released as they were walking off the pitch. It was a truly horrendous situation to be in and the worst moment of my career."
Robbie Blake spent the summer training hard before reporting back to Elland Road to get ready for the new campaign:
"I had been part of a squad that had taken Leeds down to League One and my sole focus was to stay and help them get promoted. That summer was the hardest pre-season I had endured in my career and I was ready for the challenge until Denis called me in to inform me that I had to go due to the circumstances.
"I was very disappointed and at no time had I asked to leave the club. One of my old clubs, Burnley, came in for me and I departed Elland Road on good terms with the staff there."
During his time at the club, Blake names the legendary full back Gary Kelly as the best player he played alongside:
"Gary was superb; he was an exceptional talent and a great professional. Unfortunately, things came to a sticky end for him and the treatment he got from the club was not deserved. It was bitterly disappointing to see a legends career end that way."
Robbie Blake admits that despite the trauma of the Play-off Final and then relegation, it was a real honour to play for Leeds United and the army of supporters:
"The fans were incredible and there is no doubt that they are among the best in the country. I just hope, for their sake more than anything, that the club can get promotion back to the top flight and be where they belong."
Thank you to Robbie Blake for his time and giving me the opportunity to write this article.