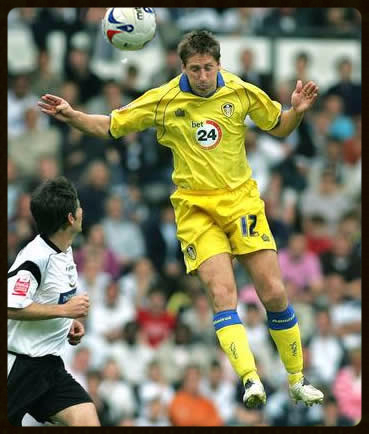 Robbie Elliott made just eight Leeds United appearances in a brief spell during a time when the club was at its lowest ebb.
Having started his career with Newcastle United he became Bolton Wanderers record signing in July 1997 but his progress with the newly promoted club was halted when he suffered a broken leg on his home debut against Everton.
After suffering relegation with Bolton, Elliott helped them back to the Premiership before returning to his home town club, Newcastle, in July 2001. He remained at St James Park until he was released in July 2006 and despite playing in pre-season for Kevin Blackwell's Leeds, he joined Newcastle's arch-rivals Sunderland:
"A move to Leeds never materialised for one reason or another and I signed for Sunderland. After a poor start to the season, Niall Quinn left his position as manager and when Roy Keane came in things soon changed for me personally and I needed to get out of the club."
Elliott's brief spell at The Stadium of Light would soon come to an end and he finally signed for Leeds United, managed by Denis Wise, on New Year's Day, 2007:
"I knew around Christmas time that there would be the opportunity to sign for Leeds once the transfer window opened. I cancelled my contract with Sunderland and put pen to paper at Elland Road."
Leeds were on a terrible run, not since the trip to Plymouth Argyle on the 25th of November had they tasted victory. However, the rot would be stopped with a victory over Coventry City, the game in which Elliott made his debut:
"To be honest, due to the circumstances, my preparation for the game wasn't ideal. I knew some of the lads from when I had spent time there the previous summer but there was some new faces at the club and the first time I met them was when we sat down for a pre-match meal.
"It was nice to get out on the pitch before the game and get a feel of the place. Leeds were struggling and I remember looking around the dressing room and scratching my head asking myself, 'How is the group of players in the position that they are?'
The three points were pocketed that day courtesy of a 2-1 win thanks to goals from David Healy, who would finish as leading goalscorer, and Jonathan Douglas.
Having lined up against Leeds in the past, Robbie was pleased to have the fans on his side:
"I remember games as a junior against Leeds when they played on Fullerton Park but Elland Road was always one of my favourite grounds to play at and the supporters created some of the most intense atmospheres that I had experienced.
"Some members of my family live in Leeds and quite often I would watch games from the stands, so I had witnessed on many occasions how passionate the fans were and considering the plight of the club during my time there, the support was amazing."
After making his debut, Elliott's next two appearances came against West Bromwich Albion. First in the FA Cup, then in League and unfortunately the Baggies ran out winners in both fixtures.
It was during the league encounter that Robbie Elliott suffered a torn hamstring and had to be replaced by Tresor Kandol just before the hour mark.
His battle for fitness wasn't straight forward as during his recovery he cracked a disc in his back and he was out of action for around two months:
"It was an extremely frustrating time but I worked hard, got fit and made my comeback at Southend United in the middle of March. The lads had picked up four points from the previous two games with a win at home to Luton Town and a draw at Leicester City. The fixtures were passing us by and due to the fact that Southend were down there with us, we knew that three it was a huge game in the battle to avoid the drop.
"We drew the game 1-1 and to be honest a point wasn't much use to either side. David Healy had equalised and we were denied a last minute penalty which should have been given. The dressing room was a quiet place at the end of the game and I think we began to realise that it was going to take a monumental effort to get out of the mess we had found ourselves in."
Despite winning three and drawing one of the last seven games, Leeds United were relegated to the third tier of English football for the first time in the clubs history and Robbie Elliott, like many of the players, was out of contract with an uncertain future:
"It still amazes me to this day that the club was relegated. We had a dressing room full of characters, Gary Kelly, Robbie Blake, Shaun Derry, David Healy and Alan Thompson and on their day they were very good players but collectively, for whatever reason, too many things had gone wrong over the 46 games.
"I was out of contract at the end of the season and I was hoping to sign a new deal but with the club in administration and all sorts of nonsense going on behind the scenes, timing was an issue and with other offers on the table I couldn't wait forever. It was a real shame that I didn't return.
"In all honesty, I enjoyed playing under Denis Wise and Gus Poyet. Denis was the type of man that if you bought into his ways and took his ideas on board, he would fight to the death for you. I know that some of the other players had a different type of relationship with him but for me, he was great to work for."
Despite the unhappy ending, Robbie Elliott is proud to say that he played for Leeds United:
"The city lives and breathes football and I class Leeds as a proper club. The history and tradition is there and hopefully the good times will return."
Thank you to Robbie Elliott for giving me his time and the opportunity to write this article.