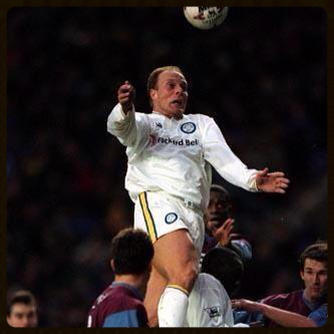 In January 1997 George Graham splashed out a seven figure sum to sign a player, from the Dutch side FC Volendam, who Leeds United fans knew nothing about.
Robert Molenaar arrived in England on Monday the 6th of January for a trial with Tottenham Hotspur and within hours he was informed of additional interest from Leeds United. By the Thursday of that week he was a Leeds player:
"Spurs wanted to extend my trial whereas George Graham and Leeds acknowledged my abilities and offered me a deal. I trained on the Friday with my new team mates and the following day I made my debut against Leicester City at Elland Road.
"As I ran out of the tunnel for the first time, I saw the huge East Stand dominating the skyline and due to the noise the fans generated, it sounded like there were 100,000 of them inside the stadium but in reality the attendance was just under 30,000."
Leeds won the game by thumping Leicester 3-0. Lee Bowyer opened the scoring before two Ian Rush goals completed the rout but it was the new boy who received the accolades with a man of the match performance and one particular challenge raised the roof:
"I wanted to make an impression and I was very pleased with my performance which was good enough to win me the man of the match award which was the icing on the cake.
"Early on in the game the ball was played up in the air to Emile Heskey, I moved across to challenge him and as I jumped I just seemed to keep gaining height. I won the ball fairly but my momentum sent me crashing into Heskey and I wiped him out. He almost landed in the West Stand and I thought I had decapitated him!"
That incident increased the noise levels in the Kop ten-fold. This huge figure of a man, a giant Dutch central defender, had wasted no time at all in endearing himself to the Elland Road faithful and cries of "Oooh-ahh Molenaar" boomed from the Geldard End. However, the new cult figure would still receive some timely advice from his new boss:
"Over in Holland we would often play the ball back to the goalkeeper who would then pass it out to a member of the back four and the play would build from there. I had passed the ball back to Nigel Martyn against Leicester but George Graham was quick to tell me afterwards that he didn't like that and he wanted the ball up the field as quick as possible.
"I had to quickly change my style of play. Throughout my career I had been told to mark the man but under Graham I had to learn how to mark the zone. Also, due to the fact that the English Premier League was much more intense than the top flight in Holland, I struggled with the pace of the game in those early months and I picked up seven yellow cards in the 14 games I played before the end of that season."
Two of those 14 appearances came in the FA Cup as Leeds suffered remarkable highs and lows inside a fortnight:
"We played Arsenal in the fourth round at Highbury and that was my first experience of this competition. I was aware that Leeds had been well beaten there in the October but we dug in and a Rod Wallace goal took us into round five."
Portsmouth, from the second tier, were the visitors to Elland Road and they shocked their Premier League counterparts by winning the game 3-2 and it could have been worse had they not missed a penalty:
"In the dressing room at Highbury after we had won, Carlton Palmer was screaming to us that we had done the hard bit and we were destined for Wembley. We got carried away and we were far too casual on the day and we didn't deserve anything from the game. It was a huge disappointment."
The 1996-97 season was very much one of transition. Howard Wilkinson had been sacked and replaced by George Graham. The Scot's first job was to ensure Leeds remained in the Premier League and he did this by building from the back. Attacking play was sacrificed as Leeds finished the season in 11th place but had only scored 28 goals, of which five had been scored under Wilkinson. The clubs top scorers in the league were Brian Deane and Lee Sharpe with five each and nine of the 33 games under Graham finished 0-0 but although it was far from pretty, the job had been done:
"When I originally signed for Leeds, Ian McNeil the chief scout had told me that the first aim was for the club to stay in the Premier League but then the aim for the following season would be to finish in the top six. I found that a strange statement but fair play to George Graham, he achieved both of those targets that he had set."
The 1997-98 season was a complete contrast to the previous campaign:
"We were involved in some crazy matches. I will always remember Blackburn Rovers away. We were 4-3 up before half time (and that's how it finished) and although I had managed to score, I gave away a penalty, was lucky not to concede another and I had been booked.
"As a result, during the interval, Graham told me that I wouldn't be starting the second half and he sent on Bruno Ribeiro, I was gutted. I thought I was in control of my game as time ticked by but the manager thought different and looking back he had to do what he did.
"I must admit, I have since watched the highlights of the game on the internet and we didn't look very organised at times.
"In the league, Graham took me off in five of the 18 games I started and I began to doubt my own ability but he constantly told me that he was happy with me and David Wetherall kept me going with some kind words."
Monday the 30th of March 1998 is a date that will forever stay in Robert Molenaar's memory, as it will the rest of the Leeds players and staff who were involved in a life threatening experience at Stansted Airport:
"We were returning to Leeds following a game against West Ham on that Monday night. The plane was jet propelled and as we took off I raised the alarm that the wing on the side I was sitting, was on fire. The pilot, Captain John Hackett, was remarkable and he managed to ground the aircraft from 400 feet. The nose was down and the tail was up but we managed to escape.
"It was very frightening, but calm heads were needed. Peter Ridsdale was panicking as his young son was sat towards the back of the plane and Gary Kelly, who didn't like flying anyway, was terrified. Those sat towards the front were able to step of the plane as it wasn't far from the ground but those at the back had to jump out a fair distance.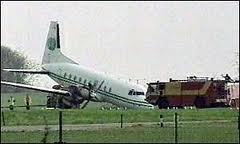 The chartered Hawker Siddeley HS-748 turbo prop nose down at Stansted Airport
"We had some representatives from various sponsors and corporate partners travelling with us and I remember one guy who was quite large. He was at the door looking down and was scared to jump the distance to the tarmac. Stephen McPhail was stood behind him and gave him a shove, the guy broke a bone but that was the worst of the injuries suffered when it could have been far worse.
"Everybody was contacting their wives and girlfriends to tell them what had happened and they were not to panic as we were all ok. Nigel Martyn ensured that everybody was safe distance from the aircraft in case it blew up as the flames were still coming from the wing and there was fuel all over the ground."
The 1998-99 season was effectively the end of Molenaar's Leeds United career. Having started in all but one of the first 18 league games, he was very much part of new manager David O'Leary's plans:
"We travelled to Arsenal five days before Christmas and during the game I was in a duel with Anelka. He came across on my far side and as I stretched to get the ball under control and shield it from him, our knees clashed and the pain was excruciating.
"It was impossible to continue and the following day I was taken to a private clinic in Bradford where it was diagnosed that I had done my anterior cruciate ligament. The surgeon operated on me but three months later it went again and I was back to square one.
"I was still experiencing pain in my knee 17 months after the incident and I had lost all my strength in that area. In total it was 19 months before I was back to fitness but I was never the same player.
"By the time I was fit, the club had moved on to another level and were preparing to embark on the Champions League season. I was on the bench for both legs of the qualifier with TSV 1860 Munich, without getting a taste of the action and it was the same scenario for the opening league game against Everton.
"David O'Leary called me into his office early on that season and informed me that a deal was in place for me to go to Wimbledon but I didn't want to go there and told him that I was happy to stay and fight for my place.
"Leeds had given me a contract extension whilst I was out with the long term injury and I felt that I owed them something and I wanted to repay them.
"Unfortunately, I never got the chance. O'Leary cast me aside when I refused to join Wimbledon and I went from sitting on the bench to sitting in the stands but I was a professional footballer and I decided to get my head down, work hard and try to prove him wrong. However, once Rio Ferdinand signed in the November, it was clear I would never play for Leeds again."
Robert Molenaar moved across West Yorkshire to sign for Bradford City who had already bought Gunnar Halle, David Wetherall, Lee Sharpe and David Hopkin from Leeds United but they were unable to save the Bantams from relegation.
After leaving Bradford in 2003, Molenaar returned to Holland to play for RBC Roosendaal where he stayed for four years before retiring:
"I had gained my coaching badges and started working in the Roosendaal youth set up before joining the youth academy at AZ Alkmaar. From there I became assistant manager at NEC Nijmegen but due to results and politics the manager was relieved of his duties in August 2013 and I followed him out of the door.
"I am actively looking for a job as a head coach and my ultimate dream is to come to England and win trophies."
During his time at Leeds United, Robert's no nonsense, all action style of play earned him the nickname, 'The Terminator' and he is fondly remembered for the effort and commitment he gave whenever he took to the field of play. In total he made 65 appearances and scored six goals in a Leeds career decimated by injury:
"The whole English experience was fantastic, meeting new people and making new friends. I keep an eye out for Leeds United's results but I haven't been back to the club since I returned to Holland. It would be nice to arrange a reunion with my old colleagues and chat about old times. Playing for Leeds was the highlight of my career."
Thank you to Robert Molenaar for giving me his time and the opportunity to write this article.