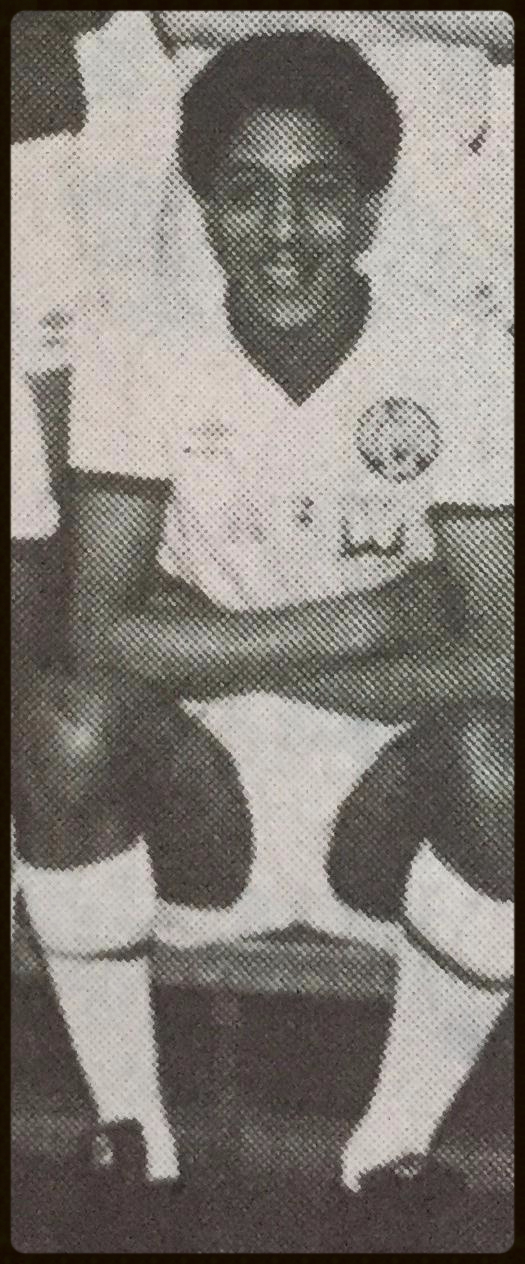 As a footballer, Roger Eli is remembered most for his spell at Turf Moor playing for Burnley. However is career started off at Leeds United and he realised a dream when he stepped out on to the Elland Road pitch to make his first team debut in 1984.
Roger hailed from Bradford and he represented Bradford schools before having trails with the England schoolboys. His ability to play football was becoming noticed and he wasn't short of opportunities:
"When I was a young lad I would play four games of football over the weekend, Saturday morning, Saturday afternoon and the same on a Sunday. Most of the Yorkshire based clubs were interested but it was Nottingham Forest who signed me on schoolboy forms at the age of 14.
"Forest were extremely keen and they would send the clubs scouts and coaches up to Bradford on a regular basis. Eventually, Brian Clough invited me to the City Ground, with my parents. It was a super set-up over there and I liked how Cloughie spoke."
Roger was made captain for the under-15s and found himself playing in the 'A' team against seasoned professionals who were out of the first team at their respective clubs:
"I got on with the job and kept my feet on the ground. There was an interesting time when Cloughie took us to Italy to participate in a tournament. It was arranged for the under-18s, I was 15 at the time but I played in the games and did well. There was talk that Fiorentina and Lazio were keen on me but nothing materialised."
However, little did Forest know that at the same time, Roger Eli was training with Leeds United on a Sunday:
"Tony Fawthrop at Leeds was a huge influence on me and he used to hold training sessions on a Sunday on Fullerton Park and I used to go down there and join in."
Eli was offered a deal and signed for Leeds United in June 1982 joining a youth set up packed with players with huge potential:
"I can remember myself and Denis Irwin being asked to paint the walls within Elland Road and we looked round to see Eddie Gray in conversation with Don Revie, it was an unbelievable feeling to be around the place.
"The first team had just suffered relegation and Eddie Gray had taken over as manager but the youth team were flying.
"John Sheridan was head and shoulders above the rest of us. It was clear to see how good Shez was but you must not forget the likes of Denis Irwin, Scott Sellars, Tommy Wright, Terry Phelan, Lyndon Simmonds and John Scales. Also, there were many other good players who for one reason or another didn't make the grade such as Stevie Scholes and Mark Russell. The youth team were second to nobody and we had some fantastic times."
Roger progressed to become a regular in the reserves and after some fine displays he was soon knocking on the first team door:
"Every week I thought I would be involved but I never seemed to be given a real chance. Eddie was a good guy and he would compliment me on my performances but for some reason it didn't really happen for me.
"During the summer we would have the team photos taken. The first team squad would wear the home kit and the reserves and juniors would wear the away kit. I always would be told to wear the away one and it became frustrating.
"I played in a reserve fixture at Blackburn and was doing well before going in for a challenge and suffering a torn cartilage.
"Eddie came in afterwards as I was lying on the treatment table and told me that it was a real shame as he had planned on giving me my debut on the Saturday."
Roger admits that he's not sure if that was true or whether Eddie was trying to raise the youngsters spirits but all the same he was gutted:
"It took me nearly four months to get over that. Peter Gunby and Keith Mincher were very supportive as I battled back to fitness and soon I got my chance."
After being an unused substitute for away games against Charlton Athletic and Shrewsbury Town, Eli was handed the number 12 shirt for a home game against Wimbledon on the 1st of December 1984:
"We won the game 5-2. Andy Ritchie bagged a hat-trick with Tommy (Wright) and Scott (Sellars) getting the other goals. I didn't expect to come on, but I did for Peter Lorimer, one of my heroes, and the feeling was incredible.
Unfortunately for Roger, he wouldn't play again that season and had to wait just over 12 months for another taste of first team football:
"By the time I played again for the first team, Eddie had been fired and Billy Bremner came in. Listen, Billy was a world class player but we never really saw eye to eye and he didn't fancy me as a footballer.
"On one occasion he called me and Denis (Irwin) in for extra training and he ran us into the ground. I'm not sure why he did it but he worked us into the ground. I was knackered and thought I was going to end up in a coma.
"I recall playing against Aston Villa in the reserves and we battered them. I was playing in the centre of midfield and seeing a lot of the ball. It was easy for us that night and we started showboating.
"As I came off at half time Billy told me I was playing well but then proceeded to have a go at me and told it was wrong to take the mickey out of the opposition. This confused me at the time and even more so when on the Saturday he named me in the first team for a game against Brighton & Hove Albion."
That game was Eli's only start in the first team and he played in midfield that day alongside John Sheridan, Ian Snodin and Gary Hamson:
"I was surprised to be in the team and I should have scored after two minutes when I flashed a header just past the post.
"Then, just before half time, I went in for a challenge with Gary O'Reilly and damaged my ankle ligaments and had to be replaced by Scott Sellars.
"It was a silly decision to go in for the ball as I was never going to win it. I was devastated, out for two weeks and back in the reserves once I'd got back to fitness."
By the end of the following month Roger Eli had left the club to join Wolverhampton Wanderers:
"I wanted out to be honest. With all the changes going on it was clear that Billy wanted to bring his own players in. A number of players arrived from Doncaster Rovers who weren't in the same class as the players that Eddie had nurtured. It was time to move on."
Roger Eli admits that Wolves were the right club at the wrong time and he seemed to float from club to club before finding his feet at Burnley:
"I signed for Burnley and after initially playing at the centre of the defence and then in midfield, I went back to playing as a striker. That was the position I played when I started at Leeds. I scored 31 goals in 97 starts and 17 of those goals came in a title winning season before injuries took their toll.
Despite not making the impact he would've liked to at Leeds, Eli is proud to say he played for the club.
If you wish to know more about the life and times of Roger Eli you can purchase his book, Thanks for the Memories: The Roger Eli Story by clicking here
Thank you to Roger Eli for his time and giving me the opportunity to write this article.