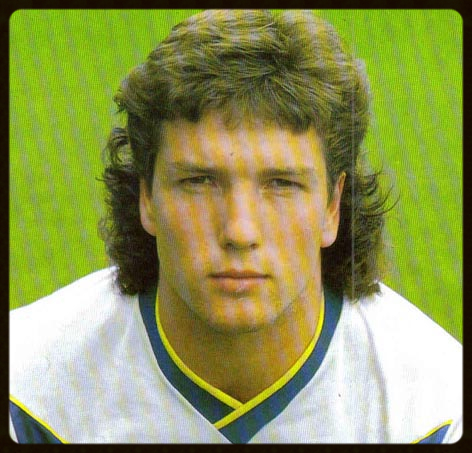 Left full-back Ronnie Robinson spent around 15 months at Elland Road having arrived on a free transfer from Ipswich Town.
Born in Sunderland in October 1966, Ronnie was born into a football mad family and he represented Sunderland Boys and played at county level for Durham before leaving his home town at just 16 years of age:
"My Father had 10 brothers and three sisters and they formed a team called Football Family Robinson. They would play other teams to raise money for charity. So, my love of football, as a youngster, came from my Father although one of my main attributes was my speed which I guess I got from my Mother as she claims that when they were younger and they first met, Dad could never catch her as he chased her around wanting a date!
"I moved to Suffolk to join Ipswich, where I signed professional forms almost a year later. It was a massive move for me and I have to admit to suffering from home sickness during my time down there.
"The club did their best to help me settle and they put me up in some extremely good digs where I met lads who became good mates, notably Dalian Atkinson."
Early in November 1985, Robinson left Ipswich Town after failing to make the breakthrough into the first team but little did he know of Leeds United's interest:
"Almost immediately, Leeds offered me a trial. I spent around two weeks there and Billy Bremner saw enough to offer me a contract.
"Coming from Sunderland, I knew all about the great Leeds side that Don Revie put together. My Father is a huge Sunderland fan and he joked that Billy wouldn't like Sunderland folk due to the F.A Cup Final result in 1973.
"In fact, just after I had signed for Leeds, Billy was talking to me and during the conversation I told him where I was from. He laughed and said that if he'd have known that, he would never have signed me."
Ronnie was determined to make the most of his chance at Leeds and was looking forward to the hard work ahead:
"Billy nicknamed me 'Rambo'. I was obsessed with training and I would pride myself on my fitness. I started off by playing a few games in the youth team and then I came on as a substitute for Terry Phelan in Peter Lorimer's testimonial match against Manchester United. I will never forget marking Jesper Olsen that night, he was like a greyhound.
"On the Friday after the midweek testimonial, Billy called me in to his office in the afternoon and spoke to me about my progress. He then asked me where the youth team were playing the following day.
"When I told me we were off to Halifax Town, he replied 'no you're not, you're going to Carlisle United with the first team.
"Terry Phelan had suffered a hamstring injury in the testimonial game and Billy gave me a chance. I was staggered but obviously grateful for the opportunity so early in my Leeds career."
Leeds had won just one of their previous five league games and there was no doubt that Billy took a bit of a gamble as he also handed a debut to Brian Caswell, a signing from Doncaster Rovers.
The gamble paid off as Leeds came home with the three points after goals from Andy Linighan and Andy Ritchie earned a 2-1 win and the Whites' third away win of the season in the league:
"It was a great experience to make my debut. We had a good set of lads and although I was nervous all morning, we passed the time away playing carpet bowls.
"As kick off approached I was stood in the shower area when Mervyn Day asked me out to go out on to the pitch with him so I could fire some shots at him and help him with his warm up routine.
"The game passed by quickly and the lads were very supportive, especially Merv and Ian Snodin. I cleared one ball by hammering it up field. John Sheridan told me to play my natural game and I began to settle down.
"Sheridan was class. I remember him one morning in a training game on Fullerton Park. He was running at pace with the ball and two lads on the 'opposing side' came towards him. John shouted 'double megs', he then nut-megged both players and carried on. It was unbelievable to see."
Ronnie did enough to impress at Brunton Park and he kept his place in the side for the next four games before Terry Phelan returned on Boxing Day.
For one reason or another, the left back spot became a bit of a problem for the manager and over the next few weeks Nigel Thompson, Gary Hamson and Brian Caswell would play there before Ronnie returned against Stoke City on the 1st of February:
"That was probably our best performance of the season. The lads had been beaten there 6-2 before I had joined and everybody was keen on revenge."
Leeds hammered Stoke 4-0 thanks to two goals from Peter Swan and one each from Ian Baird and John Stiles.
Bremner's men were struggling to find any sort of consistency in what proved to be a disappointing campaign but Ronnie Robinson exceeded all his expectations:
"I had signed in the November and to make 16 appearances was beyond my wildest dreams. We had some good lads at Leeds and during my time there I became good mates with Martin Dickinson, Russell Doig, John Buckley and Tony Brown."
When the following season got underway, Peter Haddock was the first choice left back but when 'Fish' suffered an injury; Ronnie got his chance in the middle of October as Crystal Palace arrived at Elland Road:
"Again, I did well and managed to hang on to the shirt, playing 11 successive games but, unfortunately, the eleventh game would be my last for the club."
That final appearance came at Stoke City's Victoria Ground which was becoming a graveyard for Leeds United. Having been trounced 6-2 the previous season, things got worse. Stoke were 5-0 up at half-time and ran out 7-2 winners:
"I was subbed but it's fair to say that nobody performed to their level that day. Soon after, Billy brought in Bobby McDonald and Micky Adams and I knew my days were numbered."
Ronnie was soon on his way across Yorkshire to sign for Doncaster Rovers. He was a consistent performer at Belle Vue and that paved the way for a move to West Bromwich Albion.
After leaving the Baggies, Ronnie played for Rotherham United, Peterborough United and Exeter City before a loan spell at Huddersfield Town:
"I enjoyed my playing days and I am proud to say that I played for Leeds United. During my career I was signed by Billy Bremner, Dave Mackay, Brian Talbot, Alan Ball and Terry Cooper who were all brilliant players. The fact that men of their calibre wanted me in their team was very flattering.
"These days 16 year olds sign apprentice forms and they think that they've made it. I always wanted to be a footballer but to play as many games as I did exceeded all my expectations. I had a decent time but I wish I'd been born 20 years later when you see the money they earn today.
"I don't watch football so much these days but I treasure the memories and my Mother collected every match day programme from the games I played in my career.
"One year I was on holiday with a girlfriend in the Dominican Republic. We had a row and she called the security to the hotel room and when he turned up he was wearing a Leeds shirt. I was quick to point out that I had played for Leeds and he was more interested in hearing me talk about my time there than he was helping sort out the disturbance."
Thank you to Ronnie Robinson for his time and giving me the opportunity to write this article.