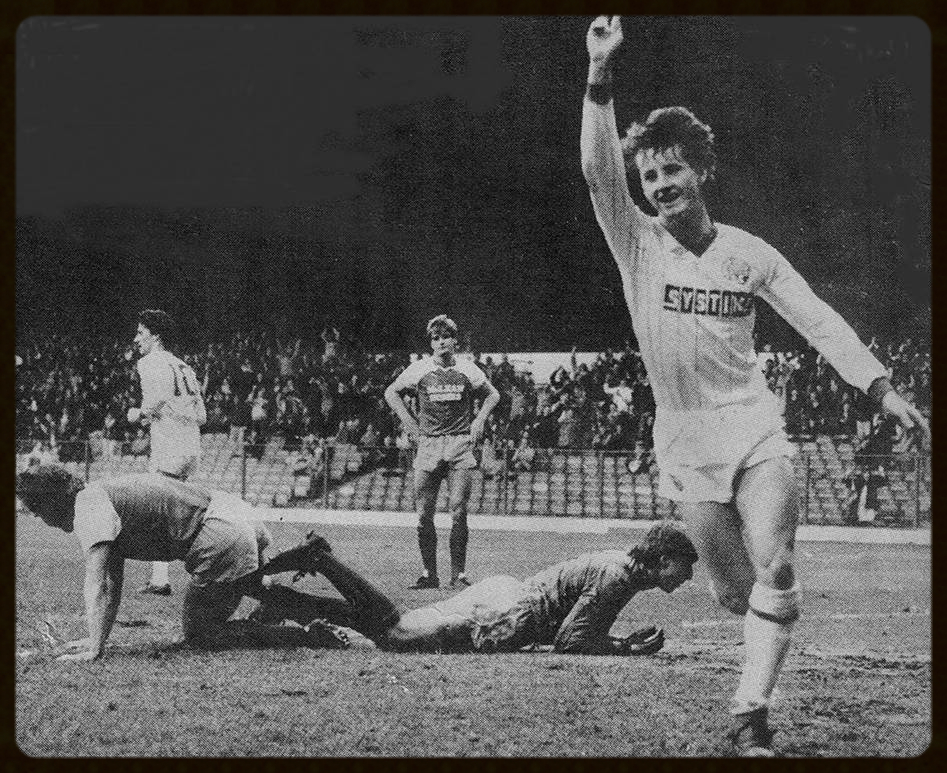 Scott Sellars was one of the many talented youngsters who progressed through the ranks at Elland Road. He was a key member of Eddie Gray's youthful team at Elland Road in the early-mid 1980s.
Born in Sheffield in November 1965, Scott Sellars was in demand as he took his first steps towards becoming a professional footballer. He trained with Barnsley and Sheffield Wednesday as a kid but it was Allan Clarke and his assistant, Martin Wilkinson, who first invited Sellars to train at Elland Road:
"I had been turning out for a Sunday league team in the Barnsley area which was associated with Leeds United and I signed on as an apprentice at the age of 16. We had a fantastic youth team and when Eddie Gray was appointed manager, a few of us started to make the step up.
"The club's financial situation had taken its toll and Eddie had to put his faith in the youth policy. If it wasn't for the fact that a few of the lads had made the breakthrough into the first team squad, there is no doubt in mind that we would have won the FA Youth Cup."
Eddie Gray had taken charge of first team affairs following the clubs relegation in 1981-82 and it was in his first season as manager that John Sheridan, Mark Gavin, Tommy Wright and Sellars himself, all made their first team debuts:
"Mark Gavin was the first debutant whilst Shez made his debut in the November and stayed in the side. Tommy first played in the April whilst my debut came in the final away game of the season at Shrewsbury Town.
"It wasn't the best of games at Gay Meadow but it was fantastic to pull on a Leeds shirt for the first time although I couldn't believe I was in the team. The game ended 0-0 and it was a typical end of season encounter."
During the following campaign, Scott's good friend Denis Irwin came into the side and Eddie had brought back his former team mates, David Harvey and Peter Lorimer to offer some considerable experience to his young players,
Having made his first appearance that season on Boxing Day, Scott's first goal for the club soon followed:
"The team had been on a bad run and had not won in the league since the end of October. We were up against Middlesbrough on New Years' Eve and we played well that day, winning 4-1. I scored theopener when I drilled the ball home at the Kop end. It was a massive moment for me and one which I will never forget."
Scott played in 21 games that season and further goals followed against Grimsby Town and Cambridge United.
Leeds finished, what had been a disappointing season, with a good run of results although Scott's campaign had been cut short with an ankle injury. Despite this, he had played well enough to win the Yorkshire Post player of the year award and he took the good form into the new season:
"We started off well in 1984-85 and although I missed the opener, we won the first four games. Tommy Wright was on fire, scoring goals for fun and it was a great time but unfortunately we couldn't maintain the excellent start and became very inconsistent.
"A huge part of the problem was that we had no real presence up front. I remember we were completely out-muscled in some games but that all changed towards the end of the season when Eddie brought Bairdy in from Southampton. He offered us something different and the opposing centre backs and goalkeepers were always on their toes."
Scott Sellars featured in 43 games and he weighed in with eight goals in all competitions.
Leeds were the bookmakers favourites for promotion when the 1985-86 season got underway in August but things didn't go to plan for Scott or the team:
"I was in and out of the side and it proved to be a very frustrating time. We got battered 6-2 at Stoke and won just three of the first 11 league games."
The bad start led to Eddie Gray getting the sack and the board of directors turned to his former team-mate and legendary club captain, Billy Bremner as his replacement:
"I got on well with Billy but he wanted his Leeds side to be more physical and I was never going to be a regular."
Scott started just six games under Billy Bremner's management and in one of those he got himself sent off:
"We had drawn Peterborough United away in the FA Cup. We lost 1-0 and I had two goals disallowed. It was after the second one was ruled out that I lost my rag with the linesman which resulted in the referee giving me a red card."
By the time the 1986-87 season got underway there had been a massive change in personnel. Andy Linighan and Denis Irwin had joined Oldham Athletic and many other promising youngsters, including Sellars, had been released or allowed to move on:
"I didn't want to leave Leeds United and it was a sad day for me, I loved playing for the club and I had never envisaged playing anywhere else."
Scott joined Blackburn Rovers and played a pivotal role in the club winning the Full Members Cup in his first season. International honours came his way during the 1987-88 campaign when he won three England under-21 caps and in 1991-92 he helped Blackburn win promotion to the newly formed Premier League before a move back to Leeds in the summer of 1992 in a £800,000 deal:
"Leeds made me a really good offer and I was overjoyed to return as I had always felt that I had unfinished business at Elland Road. Howard Wilkinson had been tracking me for a while and he had tried to sign me when he was manager at Sheffield Wednesday."
Having won the league title the previous season, the Leeds midfield of Gordon Strachan, David Batty, Gary McAllister and Gary Speed picked itself but Wilkinson wanted options as Strachan needed a back operation:
"Unfortunately I suffered a dead leg after playing well in pre-season and then I required a hernia operation which meant I wasn't able to make my second debut until the middle of September."
Scott admits it was nice to be back at the club and despite changes behind the scenes, it felt very much like home but with Strachan fit and performing well, he was restricted to very little game time.
In March 1993, his second spell came to an abrupt end when he joined Kevin Keegan's Newcastle United:
"Leeds had a problem at right back and Wilkinson sold me to raise the necessary funds to sign David Kerslake. It was a blow but I needed to be paying first team football."
After helping the Geordies win promotion to the Premier League Scott suffered a terrible cartilage injury and eventually moved to Bolton Wanderers.
Scott Sellars finished his career at Mansfield Town after spells with Huddersfield Town and Danish side Aarhus. When he retired from playing he had spells as a coach with Sheffield United and Assistant Manager at Chesterfield. He is now part of the coaching staff at Wolverhampton Wanderers after a spell managing the academy at Manchester City:
"Overall I enjoyed my times at Leeds, especially under Eddie Gray when I was playing football in a young side and the majority of them were my mates. Eddie should have been given more time and you only have to look at what those young players achieved when they moved on."
Thank you to Scott Sellars for giving me his time and the opportunity to write this article.