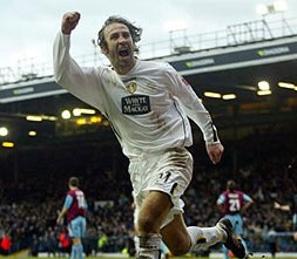 Unfortunately, Shaun Derry's spell at Leeds United was all too brief and ended when the popular midfielder left Elland Road following what he describes as a "truly horrible situation".
Times were tough at Leeds following relegation from the Premier League in May 2004, and hampered by the financial meltdown, Kevin Blackwell had the task of assembling a squad to embark on a campaign in the newly named Championship.
Leeds' form was largely indifferent as the season progressed, although there were flashes that the players at the managers disposal were more than capable. None more so than when Queens Park Rangers were hammered 6-1 in West Yorkshire.
Throughout the season, Blackwell was always looking to strengthen. Players continued to come and go and at the end of November 2004 he moved for Crystal Palace's Shaun Derry, in what would initially be a loan deal.
Derry travelled to Leeds for talks and personal terms were quickly agreed. The new man was handed his training kit and went to see his parents to break the news:
"I left Yorkshire having put pen to paper on the deal and visited my parents in Nottingham to tell them I had just signed for Leeds United. Whilst sat having a cup of tea, my agent telephoned to tell me the move had fallen through due to the fact that Gerald Krasner was negotiating a deal to sell the club.
"I had said farewell to everyone at Palace and had to return with my tail between my legs. I was gutted with the whole situation and ended up going on loan to Nottingham Forest."
Shaun Derry made seven league appearances for the club in the City of his birth and he admits he was more than happy there:
"I was ready to sign an extension to the loan and there would be a three year contract at the end of it. However, the takeover at Leeds had been completed and Blackwell came back in for me. I signed for Leeds in the February without any hesitation.
"I made my debut away at Wigan Athletic and we were well beaten on the day. They had a good side which won promotion that season. However, when we ran out to warm up, I could not believe the size of the Leeds support behind the goal."
The following week was "Roy of the Rovers" stuff as Derry made his home debut against West Ham United, another side who would end the season with promotion after winning the Play Off Final.
Rob Hulse put Leeds ahead early in the second half and the game was heading for a draw after Gavin Williams' equaliser. There were just four minutes remaining when Derry latched onto a David Healy header to slide the ball into the net at the Kop end:
"That moment will live with me for the rest of my life. There were over 34,000 in the ground and the vast majority were going wild. I was never renowned for scoring goals so I was determined to enjoy that one."
Derry scored again in a 1-1 draw against Wolverhampton Wanderers but after his sending off away at Queens Park Rangers in the middle of April, the subsequent suspension brought an end to his season.
"I will always remember the last home game against Rotherham, I went into the dressing room where Neil Sullivan was telling everyone that finishing 14th in the Championship was unacceptable for Leeds United, despite all what had gone on.
"I would say that during the first half of the 2005-06 season, I played the best football of my career. There was a good feeling about the place and all season we were in and around the top six.
"I thought that, at times, some players had been frightened by the size of the club and could not handle the pressure of wearing the badge. I embraced it and it helped take my game to a new level.
"We had a fantastic spirit and it showed on many occasions. Who can forget that day at St Mary's when we won 4-3 after being 3-0 down with 19 minutes to go?"
Leeds ended the season in fifth place and qualified for the end of season Play Offs, where they faced a two legged Semi-Final against Preston North End. The first leg, at Elland Road, ended in a 1-1 draw but within minutes of the game ending, the Preston manager's comments ensured that Kevin Blackwell did not need to deliver a team talk before the return fixture at Deepdale:
"We were immediately fired up when Billy Davies made his 'job done' comment to the media. Kevin Blackwell pinned the press-cuttings to the walls of the dressing room at Preston and no words were needed as we went out and got the result to take us to the Final.
"There were no crazy celebrations, our feet were firmly on the ground and we returned to the hotel, not far from the ground, knowing that we still had a job to do."
Everyone knows what happened against Watford at the Millennium Stadium and the whole experience left Shaun Derry feeling numb:
"I desperately wanted to help take Leeds back up and after the Play Off Final I was lost for words for weeks. However, during the summer, my daughter was born which put life into perspective and gave me a focus."
During the later part of the season, Derry had played with a broken toe. Painkilling injections were getting him through games and he spent pre-season training doing cardio sessions in the pool:
"I never put a boot on during the summer but was picked in the side that started the season at home to Norwich City. We won 1-0 but during and after the game I had a feeling that something was not quite right in and around the club."
Leeds threw away a victory in the next game at Loftus Road by conceding a last minute goal to Queens Park Rangers in a 2-2 draw. Another last minute goal saw Palace beat Leeds, who had battled on with ten men after Geoff Horsfield received his marching orders, 1-0 at Selhurst Park and things rapidly got worse:
"Talk of further financial problems started to materialise, we couldn't get a result on the pitch and there were problems in the camp. Looking back, it was clear that some of the squad did not realise what it meant to be a part of Leeds United. The poor run resulted in Blackwell being sacked and John Carver was put in temporary charge.
"I remember us going to Luton Town and getting hammered 5-1. The fans, despite the performance on the pitch, stayed with us - they were incredible and did not stop singing all afternoon.
"I had a good relationship with Blackwell. He was the man who gave me the opportunity to play for Leeds and for that I will always be grateful to him.
Ken Bates turned to Denis Wise and Gus Poyet in an attempt to change the clubs fortunes and although the new management team got off to a winning start, at home to Southend United, things failed to improve:
"Gus was class, a naturally good guy who was consistent in his methods and his approach. He and Denis got on very well and they bounced off each other but never underestimate how important Gus was to the football club."
Over the Christmas period, the Whites were beaten at Stoke City, it would be the last time that Shaun Derry started a game for Leeds United:
"During that match, I was caught by Mamady Sidibe who clipped the side of my foot. There was a lot of bleeding and the foot was badly swollen.
"Things would get worse as the bone started to calcify. I felt completely useless as I could not be out there helping the lads to get out of the mess we had found ourselves in. I knew the injury was long term and after three operations I would be out for ten months. To make matters worse, Leeds made me an offer of a retirement package."
On the 10th February 2007, Leeds faced Crystal Palace at Elland Road with Shaun Derry sidelined. Matt Heath and Robbie Blake scored vital goals as three valuable points were gained in a 2-1 win but immediately afterwards, Denis Wise turned the attention away from the victory.
In a furious post-match rant, Wise claimed that one of his Leeds United players had leaked his team sheet to the Crystal Palace management prior to the game and the culprit would never play for Leeds again. Fingers were unfairly pointed at Shaun Derry, largely down to his previous connections with the London club:
"To this day it still sticks in my throat. Wise claimed he never pointed the finger at me or mentioned my name - he didn't need to, everything stacked up against me. I would never dream of pulling a stunt like that and people wrongly assumed I was to blame.
"By November 2007 I had battled my way back to fitness and returned to Selhurst Park on loan. A couple of months later, Wise contacted me to say he had injury problems and he needed me back at Leeds, I simply told him that I would not be returning.
"He asked me if I was saying 'no' to Leeds United to which I replied, and made it clear, that I was saying 'no' to Denis Wise. As much as I had loved life at Leeds and wanted to play for the club again, I did not want to play for Wise and could never forgive him for the 'mole in the camp' episode.
"I was married in the area and my kids were born up there. Leeds was our home but it all came to an end when a cloud engulfed me for no reason. It was a truly horrible situation. Everyone around me, away from the club, knew how happy I'd been there.
"After a couple of decent seasons at Palace I joined QPR but I always wanted to return to Leeds. I felt there was unfinished business but unfortunately the chance never materialised."
When I asked Shaun who he rated as the best player that he played alongside at Elland Road, he did not hesitate in telling me:
"Gary Kelly. A Leeds United legend. He was a real character and a class act with true ability. Unfortunately, his Leeds career also came to an abrupt end, and after all the years of quality service he had given the club, that must haunt him."
Despite his own sticky ending, Shaun Derry, who is now the first team coach at Oxford United, still considers himself lucky enough to have pulled a Leeds shirt on:
"The harsh reality is this. Had Leeds not been relegated in 2004, I would say that 90% of the players who have pulled that shirt on between then and now, would never have done so if the club had remained in the top flight. I was privileged and the problems we encountered during my time there were hard to stomach.
"When Leeds United come calling, you don't turn the opportunity down and I wish them all the best in the promotion run-in this season. It would be great to see them back where they belong, the fans deserve it."
Thank you to Shaun Derry for giving me his time and the opportunity to write this article.