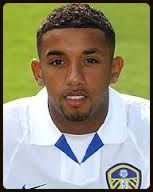 Simon Johnson harbored hopes of firing Leeds United back to the big time following relegation in 2004 but unfortunately he was never given a chance and his dream soon turned into dismay.
Johnson, at the age of 14, was playing for Wigmoor in the Walsall junior league when he came to the attention of a scout from Newcastle United. However, he was never offered the chance to go to the north east due to the fact that the scout in question left the Geordie's to work for Leeds United:
"I was asked to go to Leeds and it was an opportunity that I could not refuse. My father is a Leeds fan so it was a dream come true."
Originally, the youngster was turned away. He was advised by the coaching staff that he had to work on his pace and that advice was taken on board. Soon enough, a determined, focused Simon Johnson was soon back in West Yorkshire:
"The athlete, Mark Lewis-Francis is a good friend of mine and I worked hard alongside him to try and find that extra yard of pace and after taking another look at me, Leeds United invited me back to the club.
"I finished my last year of school in Boston Spa and the club put me in digs in Barwick-in-Elmet where Ian Harte was also residing. Harte was a good lad, he was on the fringes of the first team and he looked after me during those early days."
Johnson admits that he found it difficult at first due to the position that he was being asked to play in for the Academy:
"I had always played in the centre of midfield and that was the position I had played when representing England at u-15 and u-16 level. Leeds wanted me to play in an unfamiliar striker's role and I found that a bit strange to be honest. I was deemed good enough to play for my country in midfield but Leeds didn't seem to think so. However, I just got on with it and didn't complain.
"Arthur Graham was in charge at the time. He was a great bloke and the whole experience was an enjoyable one. We could see that Arthur had been a top player in his day as he would run rings round us when he joined in the training sessions."
The West Bromwich born youngster was making great strides and the goals were flowing for the juniors before he was handed his chance in the second string:
"I was a dedicated young player. I had kicked a ball every day from the age of six and I wanted to try and make the make the most of the fantastic opportunity I had worked so hard to be given.
"There were some good young players competing for a striking role in the reserves, lads like Craig Farrell, Caleb Folan, Tony Hackworth and Lee Matthews. You had to be on top of your game at all times and the coaches demanded the very best from everybody."
After consistently finding the back of the net for the reserves, Johnson made the giant step up to the first team squad and without a hint of arrogance he explained that he felt it was 'natural progression':
"It is what you work hard to achieve. I was a confident young player and wanted to improve all the time."
Leeds had endured a torrid season under Terry Venables and the financial problems were beginning to take centre stage. With their Premier League status far from secure, the board turned to the former Sunderland manager Peter Reid to try and steady a ship which was heading for murky waters:
"The first team were playing Charlton Athletic away and I was told by Eddie Gray that I would be travelling with the squad. I was obviously thrilled, but in my wildest dreams I didn't expect to be involved. I assumed that I was going down there for the experience.
"On the Friday night, in the hotel after dinner, Eddie asked me if my parents were coming down for the game. That gave me the strongest hint that I would play a part although I didn't allow myself to get carried away or let the nerves set in."
Sure enough, Johnson was named on the bench alongside Jason Wilcox, James Milner, Nicky Barmby and Nigel Martyn:
"Unfortunately it was too late for my parents to make arrangements and travel to The Valley. However, I know how proud my Dad felt when I was handed my debut, replacing Alan Smith, with 12 minutes to go."
On an unforgettable afternoon in London and totally out of character with how the season had panned out, Leeds ran riot. An Ian Harte penalty and a Mark Viduka hat-trick had helped put the Whites in total control and by the time the debutant entered the fray, Reid's men had romped into a 6-1 lead:
"It was a fantastic time to make my debut, the clock was ticking down and there was no pressure on me. The game was won and I went on to try to savour the occasion and enjoy it."
However, within seconds, Johnson's joy turned to pain:
"Haha, I got a 'welcome to the Premier League' from Charlton's Richard Rufus. I was backing into him trying to shield the ball from a throw in and he punched me in the ribs. I certainly felt it but I had the last laugh overall."
From that point, Simon Johnson was part of the squad for the remainder of the season. He played the last 11 minutes of a spectacular 3-2 win at Highbury which killed the Gunners' chances of lifting the Premier League but more importantly secured Leeds' status as a top flight club and after making his full debut in the final game, at home to Aston Villa, hopes were high for the new season:
"Obviously things didn't go to plan the following year and it culminated in relegation. One by one we had seen top players depart. The training ground was a tough place to be and there were a lot of dropped shoulders.
"I found it difficult as I could see that towards the end there were 'established' players who weren't putting the maximum effort in. It was as if they had resigned themselves to the fact that the club was going to be relegated but they knew that they would still be in the Premier League the following season regardless.
"Us youngsters felt that we should've been handed more opportunities. We didn't have the experience but we would've run through brick walls to try to win games and keep the club up.
"A perfect example was Jamie McMaster. Jamie was the best young player in England at his age but because of the precarious position Leeds was in, he never got a real chance.
When the clubs fate was sealed, Johnson went away for the summer believing he would play a leading role in the new Championship season but unfortunately it wasn't to be:
"I was on holiday when I heard the news that Kevin Blackwell had been given the job on a permanent basis and my outlook immediately changed.
"It should've been the perfect opportunity for me but it didn't happen. I'd never had a problem with anyone at the football club but I didn't see eye to eye with Blackwell, we never hit it off and I didn't particularly like the man.
"As a young footballer, I wasn't on fantastic wages but I was happy with what I was earning. Blackwell seemed to begrudge me. Admittedly I hadn't set the world alight on the pitch but I signed the contract I had been offered, I didn't ask for it.
"His man-management skills and attitude were poor and he was never going to get the best out of his players, especially the youngsters. We had very little conversation and when he did speak to me he was negative."
Johnson had already spent time out on loan at Hull City in 2002 and Blackpool in 2003/04 and another loan move was just around the corner:
"Blackwell called me in and advised me that Darlington wanted me on loan. I told him that I wasn't overly keen on going there as I felt I could perform and do well at a higher level. He gave me a grilling for thirty minutes to then turn round and inform me that Sunderland also wanted me!
"Sunderland was in the same league as Leeds and the fact that they had enquired about me proved the point I was trying to make to the manager but due to his mentality he couldn't see it."
After making five league appearances for the Black Cats, Johnson enjoyed further loan spells at Doncaster Rovers and Barnsley:
"Andy Ritchie was in charge at Barnsley and I enjoyed my time there. They wanted me on a permanent basis but the move never materialised and I returned to Elland Road knowing that within a matter of weeks I would be out of contract with no chance of getting a new one.
"I was frustrated and ended up going to Darlington, the club I had rejected earlier in the season. To be honest it was soul destroying although I'm older and wiser now and I've grown to understand that football can be cruel.
"I lived the dream playing for Leeds United and had the privilege of being around top drawer players from a very young age.
"Friendships were built and I will never forget those days. Lads like Michael Duberry and Rio Ferdinand were always on hand to help and encourage me and I also had huge admiration for Alan Smith.
"Olivier Dacourt was a top bloke and a world class player and for technical ability you need look no further than Stephen McPhail, he was one player I could never win the ball off in training."
Thank you to Simon Johnson for giving me his time and the opportunity to write this article.