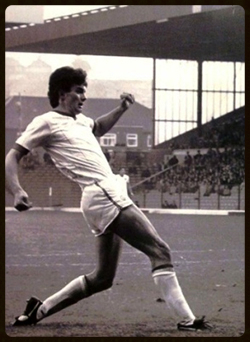 You may not remember Steve Balcombe playing for Leeds United; after all he made only two first team appearances. However, on the 3rd of October 1981 the League Champions, Aston Villa, came to LS11. In their ranks was a certain Brendon Ormsby. I know for a fact that Brendon will always remember Steve Balcombe.
Although Steve was born in North Wales in 1961, he spent his childhood growing up in the village of Shawbury, near Shrewsbury, and Stafford before, at the age of 11, his family moved to the Republic of Ireland. His childhood heroes were Don Revie's Leeds United:
"At a very young age all I wanted was to play for Leeds United, and spent every spare minute kicking a ball around."
When he moved over to Ireland he played in the same Home Farm junior side as the Liverpool legend Ronnie Whelan. Steve was clearly blessed with a talent to play football and it wasn't long before he was the subject of interest from the continent:
"I played for Ireland U15s in Holland which resulted in calls from Ajax who were interested in signing me".
Leeds United were also aware of Steve's ability and from the age of 14 he was invited to Elland Road during the summer months, at Christmas and at Easter:
"I loved going there but it was agony after each spell. Once I returned to Ireland I would have to wait for a letter inviting me to go back or a letter advising me that they'd seen enough and I was no longer needed."
Luckily for Steve, he always received letters of a positive nature and at 16 years of age he signed an apprenticeship with Leeds United:
"It wasn't easy, I had moved from a different country and I had to adjust quickly. The digs were two bus rides from Elland Road so I was happy when I eventually moved to Middleton which is a bit closer.
"We had some great lads in the youth system, John Lukic, David Seaman, Terry Connor, Martin Dickinson and Aidan Butterworth to name a few. Leeds had a fantastic youth policy."
Steve was prolific in front of goal for the youth team and he caught the eye of first team manager Jimmy Adamson in October 1979 when, at the age of 18, he was named as substitute away at Southampton:
"We flew down there and it was my first experience of being involved with the first team. I was extremely nervous and although I didn't get on the field, we won 2-1 and the win bonus came in very handy!"
It would be two years before Steve got a taste of first division football, but during this time he was capped by Wales at U18 and U21 levels. Leeds were struggling at the beginning of the 1981-82 season having lost five or their first eight league games:
"I trained with the reserves and juniors the day before and as we were walking off Fullerton Park the manager called me over and told me he wanted me to train with the first team.
"Later on when the team sheets were pinned to the board, I had been named in the first team squad for the following day's game with Aston Villa.
"We had dinner at the ground on the Saturday and at 1:45 I was in the dressing room. Barry Murphy handed me a shirt which was all nicely folded. When I unravelled it, it was the number nine shirt. I couldn't believe it and it was at that point that I realised adrenaline was brown!"
It was an emotional moment for the youngster, a childhood dream was about to come true. Steve Balcombe's time had come.
The game ended in a 1-1 draw in front of 21,065 spectators. Those present that day will never forget the impact Steve made:
"We were a goal down and in the second half we attacked the Kop. Villa centre back Allan Evans inadvertently headed the ball into my path and as Brendon Ormsby came across I flicked it over his head, chested it down and stuck it into the net past Jimmy Rimmer."
John Helm described it as a dream start staright out of a story book and one of the Sunday newspapers described it as an "embryo Pele!!"
Should a goal of similar quality be scored in the Premier League today, it would be shown all across the world, every hour of every day for a long time.
Steve gave a good account of himself and although he tired towards the end, it was an unforgettable experience:
"I almost scored a second soon after the equaliser when I got on the end of Arthur Graham's cross but Jimmy Rimmer clawed the ball out from underneath his crossbar."
Four days later Leeds were playing Ipswich Town at home in the League Cup, it was the first leg of the tie and Steve had kept his place in the team:
"We lost 1-0 but again, I thought I did well. I was the victim of a hefty challenge on the halfway line and despite feeling the effects, I was able to continue."
It became apparent that Steve had suffered a hematoma. he had a blood clot the size of cricket ball on his calf which ruled him out for three months:
"If I had stayed fit I was sure I would have been in the squad for the next game which was against Liverpool and Ronnie Whelan.
"I fought my way back to fitness and was named in the squad to face Manchester City at home but unfortunately the game was postponed".
With Leeds continuing to struggle and finding goals hard to come by, Allan Clarke brought in Frank Worthington, there were now five centre forwards at the club and Steve never got a look in:
"It wasn't a great time to be honest. There was unrest in the boardroom and it filtered right through the club down to the cleaning ladies. I wasn't getting a game and my contract was due to expire at the end of the season."
Steve and many others would soon learn the harsh realities that professional football can bring:
"After the final training session of the season the lads who were out of contract were sitting in the away team dressing room waiting for the call to go and see Allan Clarke in his office. Lads were coming out in tears having been told that was it and they were on their way out.
"Martin Wilkinson, Clarke's assistant, had told me that I would be alright; a contract was on the table for me to stay at Elland Road. As I entered the room, he stood there with his head down, he never spoke to me."
Allan Clarke informed Steve that he would be letting him go. Steve argued that Wilkinson had told him that he'd be offered a deal but Clarke made it clear that he was the decision maker.
Steve Balcombe's time at Elland Road was over and after a brief spell trawling the continent looking for a club with two other ex-Leeds youngsters, he began to realise that his passion for the game was waining:
"There was interest from Bristol Rovers and Chesterfield but my desire had gone. I decided to go back to Dublin and I had spells with Home Farm, Dundalk, Shamrock Rovers and Oaklands. Trying to get a job was a nightmare and I would urge all young, starry eyed players to concentrate on their education."
In 1985 Steve moved back to Yorkshire and played briefly for Whitby Town who were managed by David Harvey. The team at Whitby included Eddie Gray and Ray Hankin. He continued from there with spells at Harrogate Town, Tadcaster Albion and finally Boroughbridge, scoring the winner in the County Cup final.
These days you can find Steve behind the bar at his pub and restaurant, The Victoria at Cattal, next to Cattal railway station on the York to Harrogate line: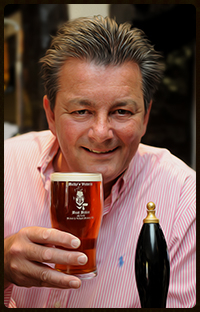 "I absolutely love what I am doing now and I wouldn't change a thing".
http://thevictoriacattal.co.uk/
Nip in to The Victoria, have a pint of Balky's best bitter and a meal and ask Steve about that goal that had John Helm purring and Brendon Ormsby wondering what day it was!
Thank you to Steve Balcombe for giving me his time and the opportunity to write this article.