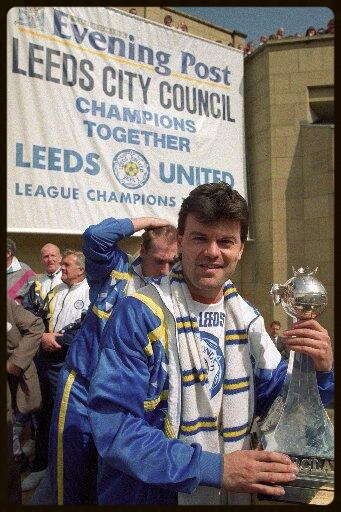 Despite an injury hit time at Elland Road and starting 12 games in the 1991-92 campaign, Steve Hodge played a key part in Leeds United's title winning season.
Hodge joined Nottingham Forest as an apprentice in 1978 before turning professional in 1980. His form in the Forest side brought England recognition at under 21 level and following a £450,000 move to Aston Villa he won his first international cap at senior level.
The midfielder was a member of England's Mexico 86 squad and after the quarter final defeat to Argentina, he swopped shirts with the best player in the world at that time, Diego Maradona. Hodge still owns the shirt and that moment would later provide him with the title of his autobiography, 'The Man With Maradona's shirt'.
Hodge went on to play for Tottenham Hotspur and a second spell at the City Ground before joining Leeds United in the summer of 1991:
"I was approaching 30 years of age and the tail end of my career. Howard Wilkinson had tried to sign me eight years earlier when he was Sheffield Wednesday manager so it was good to finally join up with him.
"I knew of Leeds' interest and I was aware of the proud history and tradition. The club was very much on the up after finishing fourth in the top flight in the first season after promotion."
As soon as he walked into the club, Steve Hodge knew he had a major battle to earn a place in the starting eleven:
"Leeds had a great midfield but to be honest, when I first joined, I knew very little of Gary Speed. I backed myself to get into the side but I knew that I faced one hell of a challenge.
"In hindsight I was brought in as the fifth midfielder, it was frustrating at times but Howard knew his starting 11 and the players on the fringes, including myself, had to keep the 11 on their toes."
Leeds were due to kick off their season with a trip to Crystal Palace but on the Friday the game was postponed. Selhurst Park had undergone some necessary maintenance during the summer but the work hadn't been finished and the ground was not ready to host the fixture:
"That was disappointing; we were left kicking our heels all weekend after weeks of preparation for the big kick off."
Steve Hodge was an unused substitute as Leeds' season finally got underway with a 1-0 midweek win over his former club Nottingham Forest but on the Saturday he got off to a flying start:
"I was substitute again for the game against Sheffield Wednesday and Wilkinson brought me on with 12 minutes to go. Wednesday were leading 1-0 and in the final minute I managed to flick the ball past Chris Woods for the equaliser.
"It was nice to score on my debut but more importantly it earned us a point and maintained the unbeaten start to the season."
As Wilkinson's trusted midfield four continued to do the business, Hodge remained on the bench until the 21st of September when Liverpool were the visitors to Elland Road. It was his first start in a Leeds shirt and he marked the occasion with his second goal for the club, which proved to be the game's only goal:
"That was the day that we made a big statement to the rest of the division. We realised after that victory that we could live with the best teams in England. Leeds had beaten Liverpool at Elland Road for the first time since the Championship winning season of 1973-74 and we could see what it meant to the supporters."
Leeds were winning games and Steve Hodge was scoring goals. Two more followed in a thrilling 4-3 win at home to Sheffield United and a week later at Notts County, he scored his 100th career goal in a 4-2 victory:
"The Notts County game was on the 19th of October and I didn't start another game until Boxing Day when I scored two more in a draw with Southampton."
After the Southampton fixture, Steve Hodge had started five league games and made eight further appearances coming off the bench, yet he had still managed to score 7 goals from midfield. Those 7 goals meant as far as league games were concerned, he was the clubs top scorer, two in front of Lee Chapman and one in front of Gary Speed.
In between the Notts County and Southampton games, Hodge was the unfortunate victim of circumstances. He was brought on at Elland Road in a game against Everton but then the substitute was substituted.
"Chris Fairclough was sent off and Howard brought on John McClelland, in my place, to slot into the back four. I had only been on the field six minutes and it was very hard to take although I had to respect the manager's decision."
Despite his two goal salvo in the game against Southampton, Hodge was back on the bench for the following fixture:
"It was a frustrating time, I'll be honest. I couldn't have done anymore. I wasn't playing regularly and my fitness was up and down but more importantly the team were winning."
On the 12th of January 1992, Leeds travelled the short distance along the M1 to face Sheffield Wednesday. Without the injured Gordon Strachan and the suspended David Batty, Hodge was back in the starting line up and played his part in an absolute master class. In front of 32,228 at Hillsborough and a live TV audience, Leeds ripped the Wednesday's apart in a 6-1 win and the club was bouncing:
"That game made us realise we had more than a chance of winning the title at the end of the season. It was a very sweet moment."
Hodge's season continued in a stop-start manner and by the end of it he had made 23 league appearances but 11 of those had been as a substitute.
"After the lads beat Sheffield United, a game I missed through injury, and Liverpool beat Manchester later on that same day, we were confirmed as the Champions. We partied all week in and around Leeds; it was a super time for the club, the staff, the players and the supporters."
The following season saw the introduction of the Premier League but Steve Hodge was back on familiar ground. In what was a disappointing term for all concerned, he equalled the previous total of 23 appearances but this time he only started nine games:
"It was a strange, frustrating season. Wilkinson brought in David Rocastle and Scott Sellars, two more midfielders and all three of us couldn't get a regular run in the side. In fact, Scott had moved on again by the time the final ball of the season had finished.
"We had a remarkable record at Elland Road but couldn't win away. We couldn't put our finger on it and all round it was a poor campaign.
"I can remember playing against Liverpool in the reserves. We had a strong line up that night including Rocastle, Sellars, Bobby Davison, Eric Cantona and Imre Varadi. Liverpool had Jamie Redknapp in the middle of the park and he was outstanding as they beat us 7-1."
The following season was Steve's last as a Leeds player:
"I knew I'd be moving on, I was a bit part player and eventually joined Derby County on loan for two months before signing a permanent deal at Queens Park Rangers.
Steve Hodge was a class act and the fact that he couldn't get regular football at Elland Road proves how good the midfield was at that time.
Despite his up and downs at Leeds he looks back on those special times and polishes a League Championship medal.
"I still keep in touch with the lads. I am close friends with Chris Fairclough and I got on really well with Jon Newsome. There were come great characters around the place and two or three times a year we all get together and reminisce about what we achieved as a group."
Thank you to Steve Hodge for giving me his time and the opportunity to write this article.