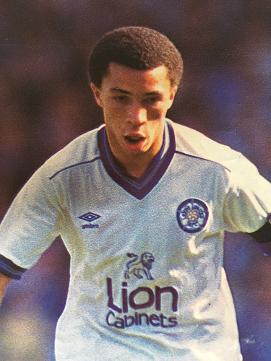 By the time Terry Phelan hung up his boots in 2009, he had pocketed a F A Cup winner's medal, won promotion to the Premier League with Fulham, and had represented the Republic of Ireland at the 1994 World Cup Finals. In total, the full-back had won 42 full international caps and in 1992 had become Manchester City's joint record signing following a £2.5 million transfer from Wimbledon.
Terry admits that his desire to succeed as a professional footballer had been there from a young age but that desire was enhanced when, in 1985, he was told by manager Billy Bremner, that he had no future at Leeds United.
As a child obsessed by our national sport, Terry would spend countless hours playing football in the streets of Manchester. As he progressed through school teams and representative sides, the scouts were flocking to witness his ability and he admits that he could have had the pick from dozens of clubs:
"All the football league teams in the north west of England wanted me and there seemed to be a constant stream of blokes, associated to various clubs, knocking on my parents' front door but Leeds United was the team I wanted to sign for.
"Allan Clarke came calling one day, dressed in a big sheepskin coat and made it clear that he wanted me to join Leeds. The club appealed to me, it was rich in history and my best mate, Mark Russell, had already signed schoolboy forms."
'Sniffer' invited Terry to Elland Road and he lit up Fullerton Park when in a trial game, on the first team pitch, he collected the ball on the half-way line, advanced up the field, beat a couple of opponents and curled a beauty into the top corner from 25 yards:
"Not long after I had impressed and scored in that trial game, Allan Clarke was relieved of his duties but fortunately, the new manager, Eddie Gray had been made aware of me and I ended up signing for the club.
"I was living in digs in Barwick in Elmet with Kath and Trevor Parkinson, they were wonderful people who I respected so much. They looked after me and many other young players over the years."
Although Leeds had been relegated at the end of the 1981-82 season and times were tough financially, a fantastic mix of youth and experience was being moulded by Gray in an attempt to win promotion back to the First Division and restore the glory days back to Elland Road:
"When I first arrived, I remember the experienced players like Kenny Burns, Peter Barnes, Trevor Cherry, Arthur Graham, Frank Worthington and Paul Hart being in the first team whilst lads like Tommy Wright, Scott Sellars, Denis Irwin and John Sheridan were on the verge of making the step up from the reserves and youth team."
The youngsters that Eddie had at his disposal flourished and by the time the 1984-85 season got underway, the majority were in the first team although Terry was waiting patiently for his chance:
"I was doing well for the second string and striving to be the best I could and although I was itching to make my debut in the senior side, I had to respect that in front of me were the likes of Frankie Gray and Gary Hamson – talented experienced players.
"Back then there was only one substitute but on many occasions I travelled with the squad as the thirteenth man. It gave me good experience and despite not making the match day squad, I enjoyed being involved with the first team."
The 7th of September 1985 is a date etched in Terry's memory, the date he finally pulled on a first team shirt:
"I travelled as thirteenth man to an away game at Shrewsbury Town and both Frank (Gray) and Gary (Hamson) were struggling with injuries.
"On the bus on the way down there, 'Lash' (Peter Lorimer) told me to prepare as I may well be in the team. The coaching staff dropped the odd hint and when we arrived at the ground, Eddie spoke to me and asked if I was ready.
"The lads were brilliant and plenty offered advice, Shez told me to enjoy it and I certainly did. I had put years of hard work in and I was finally being given my league debut."
Leeds won the game 3-1 thanks to goals from Tommy Wright, George McCluskey and Ian Baird – it was a welcome victory on a ground where they had been thumped 5-1 during the 1983-84 season:
"I remember the game like it was yesterday", Phelan recalls. "I was bombing up and down the left wing and got a few good tackles in early on which fired me up and my confidence grew.
"After the game, Lash told me that I had a nice win bonus coming and I should bank it. However, I didn't have a bank account at the time! So soon after, I went into a bank in Leeds but wasn't sure how to fill the application forms in. Tessa Sanderson was behind me in the queue and helped me open my first bank account."
Terry did enough to impress the manager and he remained in the side. However, much to the surprise of everyone, Eddie was sensationally sacked just a month later. The players, especially the younger lads were devastated:
"Eddie was like a father figure to me. I will never forget how Eddie and his lovely wife, Linda, helped me so much when I first moved to Leeds. Unfortunately he was not given the time he needed and his sacking hit me hard. He was a brilliant manager, a top man and a true gentleman who I never heard shout at anybody."
Billy Bremner was brought in to replace Eddie and despite initially picking Terry in the side, it was soon made clear that the young defender was not in his long term plans:
"I found it strange but Billy told me I was too small and not physical enough. He wanted bigger, stronger lads in his defence and I challenged him to give me more of a chance or even play me on the left wing.
"The coaching staff encouraged me to keep my chin up and although I was back in the reserves, I worked hard, didn't moan and prayed for another opportunity."
In total, Terry Phelan made 19 appearances for Leeds, including two from the bench and the final one came in a 2-0 home defeat to Barnsley:
"At the end of the season, I was on my way to sign for Terry Yorath at Swansea City, driven on by the determination to prove Billy wrong, but listen; I never held a grudge against him. He was a world class player and a Leeds United legend. He made his decision to let me go and that was that.
"Everyone at the club was brilliant, from the manager to the tea lady. I gave my all to succeed but unfortunately things didn't work out long term.
"The experiences turned me from a boy into a man. As apprentices, we were asked to sweep the terraces and the corridors, clean the toilets, look after the kit and boots of the first team squad and even wash their cars. It gave me a good grounding in life and taught me some valuable lessons.
"The job came with its rewards and I will never forget one Christmas when Andy Ritchie gave me a brand new pair of Puma for being his boot boy – I was over the moon."
I asked Terry who he deemed to be the best payer at the club during his time there and although he gave glowing endorsements of Frankie Gray, Ian Snodin, Tommy Wright, Scott Sellars and Denis Irwin, he had little hesitation in naming John Sheridan:
"Shez was a good tackler, a wonderful ball player and he scored some fabulous goals. The skills he displayed were incredible; he could play football with both feet and made the game look easy. He gave me a good bollocking here and there but he was light years ahead of everyone else and a top guy with it."
"The lads all got on well and as I said, there were some fantastic players. Scott Sellars had real ability but he never stopped moaning! Neil Aspin was a great lad but never had any money and the petrol light on his car was always on.
"Ian Snodin was another great lad and a superb player. I could run and thought I was fast until I met 'Snod'. We regularly had a race but not once did I ever get near him."
These days, Terry is coaching out in India and he loves the life out there. Speaking to me via 'WhatsApp', he's on a balcony looking out across the water reflecting on his days in West Yorkshire in the early to mid 80s:
"I had some incredible times at Leeds United and I still think the world of the club and the fans – they were great with me. I will never forget the buzz of playing in front of them at Elland Road and their support away from home was second to none.
"I turned out for some great clubs in my career including Everton, Chelsea and Manchester City. My time at Wimbledon was special and I was lucky enough to be part of the Crazy Gang that lifted the FA Cup in 1988 but if I could return in a coaching capacity to one club – it would be Leeds."
Thank you to Terry Phelan for giving me his time and the opportunity to write this article.