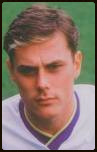 Diminutive striker Tommy Wright burst onto the scene at Elland Road with a debut goal and some scintillating displays.
Born in Dunfermline in January 1966, Wright had trials at several clubs, including Arsenal and Tottenham Hotspur before deciding to pursue his footballing dreams with Leeds United:
"I had been invited to go down to Leeds from the age of 14. Martin Wilkinson, Allan Clarke's assistant had been fantastic and we were guests of the club for a midweek game against Everton which ended in a 1-1 draw. It was after that game that I decided to sign."
Like many of the youngsters around at the time, Wright was given his chance in the first team in 1982/83:
"Eddie Gray had taken over and following relegation, the club wasn't in the best of states financially. The manager put his faith in the younger players and I made my debut on the 16th of April 1983 at home to Fulham."
The visit of the promotion chasing Londoners saw a crowd of 24,328 inside Elland Road and Wright made a dream start when he put Leeds 1-0 up:
"My debut came out of the blue. I had done well in the youth and reserves teams and had scored a few goals. Unfortunately, I didn't find out until just before kick-off that I would be playing so I had no time to inform my family.
"It was a dream come true to score before having to leave the field with cramp. Unfortunately we couldn't hold on and Fulham grabbed an equaliser late on."
Tommy made three further appearances, one from the substitute's bench and big things were expected from him in the following campaign.
Despite not cementing his place in the starting line up until December 1983, Wright finished the season with 11 goals. It was a superb return in a side which had failed to show any real consistency:
"There were too many youngsters in the team and it was difficult for us to maintain any sort of momentum.
"I can remember, the likes of Shez, Mark Gavin, Scott Sellars, Denis Irwin and myself were still eligible to play in the FA Youth Cup but we were omitted from the side that played Newcastle United in the Quarter Finals as we were due to turn out for the first team against Scunthorpe United in the FA Cup 3rd round."
The following season saw Leeds and Tommy fire out of the blocks by winning the first four games:
"It was a superb time. All the lads got on well and there was a great togetherness. We were winning football matches and I was scoring goals. But again, the inconsistency set in and although we ended the season strongly we finished in 7th place.
"The arrival of Ian Baird in March made a big difference to us and I believe that if Bairdy had have been brought in at Christmas, we would have got promoted."
Although Tommy had finished the season with 15 goals in all competitions, it wasn't to be and despite the bookmakers making Leeds promotion favourites in 1985-86, things didn't work out well for the club or for Tommy Wright:
"We were struggling. The lads were feeling the pressure and it all culminated in Eddie getting the sack.
"The younger players especially, were devastated. Eddie had been superb for us; he was a father figure and didn't deserve the treatment he got."
Wright's first goal in the 1985/86 season came in a 3-1 away win at Shrewsbury Town but unfortunately, it proved to be his last in a Leeds shirt:
"Soon after, I suffered an injury and the clubs medical staff diagnosed it as a pelvic problem and I was out for the rest of the season. The club did everything to get me fit, they were very supportive but I couldn't get over the problem. It was the lowest point of my career and I was out until September 1987."
The game in which Wright made his comeback was a League Cup tie away at Oldham Athletic. Leeds lost 3-2 and he came on as a substitute to replace Bob Taylor. It was the last time that Tommy Wright pulled on a Leeds shirt:
"I joined Oldham after it turned out that the injury had been wrongly diagnosed and I had in fact suffered a muscle tear in my stomach.
"There wasn't the technology available back then and these days I would have been out for six weeks at the most."
Although Tommy departed Elland Road in October 1986, it wasn't the last he would see of Leeds United that season:
"It was unbelievable that we would meet in the end of season play offs. I was still sharing a house with Denis Irwin and Shez. Denis and I were at Oldham and Shez was still at Leeds. It was an incredible situation."
With Leeds having won the first leg, 1-0 at Elland Road courtesy of a late goal by Keith Edwards, it was over to Boundary Park for the second leg and Tommy admits he thought Oldham had got to the final:
"We levelled the aggregate score before going 2-0 up on the day in the final minute. We thought were there but straight from the kick-off, Keith Edwards got on the end of a through ball and buried his chance. Leeds had gone through after extra time, on away goals, and we were devastated."
Tommy left Boundary Park in 1989 to join Leicester City and he made more appearances for the Foxes than he did for any of his other clubs:
"I loved it at Leicester, I had a great relationship with the supporters but after losing in the play off final, I moved on to achieve my dream of playing in the Premier League."
Tommy joined Middlesbrough before playing for Bradford City and following another spell at Oldham, he played for St Johnston, Livingston and Doncaster Rovers .
In 2006, Tommy Wright was named assistant manager to John Sheridan at Oldham before the pair moved on to Chesterfield.
Tommy looks back fondly on his years at Leeds United and he sings the praises of his former manager:
"Eddie Gray was a brilliant coach who had an eye for young talent. We all went on to have good careers and it is no coincidence that years later when the next crop of kids came through like Woodgate, Harte, Smith and McPhail, Eddie was back involved with the club."
The Leeds United fans also hold a special place in Tommy's heart:
"The supporters were and still are incredible. We would go to Portsmouth on a Tuesday night and there would be 3,000 packed into the away end. They always got behind us and players at other clubs used to mention how vocal the Leeds fans had been.
"I firmly believe that the club is back on the right road. They have a good, calm young manager in Brian McDermott who knows exactly what he needs to do to get them back up into the Premier League and I wish Leeds all the best for the new season, it is a tremendous club."
Thank you to Tommy Wright for giving me his time and the opportunity to write this article.