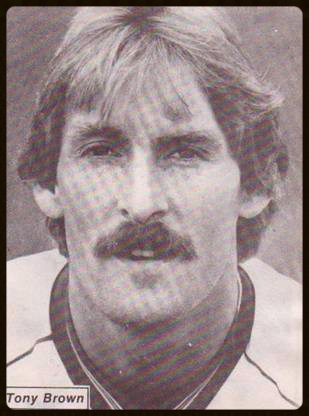 As a youngster growing up, Tony Brown was a Leeds United supporter who cheered on Don Revie's all conquering team from the terraces of Elland Road. Little did he know that one day he would line up in the white shirt alongside Peter Lorimer, David Harvey and the Gray brothers, Eddie and Frankie.
Tony was a latecomer to the professional game. He was playing centre half in the North Eastern Counties league and working in a radio repair shop when in March 1983 he agreed to sign for Leeds United at the age of 24:
"Whilst playing for Thackley, Bradford City had shown an interest in me before I was spotted by Leeds scout Tony Fawthrop. Soon after, Peter Gunby came to watch me in action and then invited me to Elland Road where I played half a dozen games for the reserves before being offered a two year contract which I signed with no hesitation."
At the time Martin Dickinson and Paul Hart formed a regular partnership in the centre of defence and also at the club were the likes of Kenny Burns, Neil Aspin and a young Denis Irwin:
"I was fortunate enough to play alongside Kenny and Denis in the reserves. Kenny was an experienced professional who had been there and done it, I learned a lot from him whilst Denis was a young lad but you could see how much ability he possessed."
Although he impressed at reserve level, Tony's chance in the Leeds United first team came much earlier than he had expected:
"I had been playing well in the Central League and Eddie gave me the nod to step in and make my debut at the start of May against Leicester City at Elland Road due to the fact that Paul Hart was out injured.
"Some of my mates were at the game along with members of my family. It was an unbelievable feeling to play for Leeds but at the same time it was a real baptism of fire; the front two for the visitors were future England strikers, Alan Smith and Gary Lineker. "
The game ended 2-2 in front of 14,442 spectators and with Paul Hart returning for the following fixture away at Shrewsbury Town and with just one game remaining at home to Rotherham United, Tony's focus turned towards pre-season:
"I trained all summer. I wanted to improve my fitness levels ready for the new season and the hard work paid off when after playing in a pre-season friendly against Hearts, which ended 0-0, I was informed by Eddie Gray that I would be starting the season in the first team."
Leeds opened the 1983-84 campaign at home to Newcastle United and despite playing well they slipped to an undeserved 1-0 defeat. Tony stayed in the side until the start of October but found himself out of the picture following a disastrous afternoon for the club at Shrewsbury Town:
"We were hammered 5-1 and at half time I was taken off after not having the best 45 minutes of my career but to be honest, Eddie could have taken anyone off, nobody played well that day. I was replaced by Andy Watson and I played in just two of the next 15 games."
The two games Tony played in were a 2-1 home win over Portsmouth at the end of October and a 1-0 defeat at Carlisle United in December. His next appearance came on the 4th of February, ironically against Shrewsbury Town, and this time it would be a much sweeter afternoon for all concerned.
Leeds gained revenge for the hiding at Gay Meadow by sweeping aside the opposition in a 3-0 win courtesy of two goals from Andy Watson and the other from Brown, his first goal in professional football:
"We had been working on set pieces leading up to the game and we got an opportunity to put a routine into practice. A free kick came over and I managed to head the ball home at the South Stand end.
"It was a great moment and although I wasn't one for wild celebrations, I certainly enjoyed my one and only goal for Leeds United."
In total Tony made 22 appearances in his first full season, which was a fantastic achievement but unfortunately he never got the chance to build on that.
"We returned for pre-season and Eddie had signed Andy Linighan. Andy started the season at centre half alongside Neil Aspin and Leeds got off to a flyer by winning the first four games."
Tony was keen to play first team football and he joined Billy Bremner's Doncaster Rovers on loan for a three month spell:
"I enjoyed it at Belle Vue but returned to Elland Road and played in an away game at Portsmouth which was the only time I featured for Leeds that season. Doncaster were keen to have me back, Eddie was keen to sign Ian Snodin and I was included as part of the deal which eventually went through in the summer.
"My time at Leeds was fantastic. We had a decent mix of youth and experience and there were some great lads at the club, some real characters and I got on particularly well with Martin Dickinson, Neil Aspin and Kevin Hird.
"Not long after I had left Eddie got the sack, which was a real shame. He didn't get the time or money he needed despite moulding a promising young squad. Tommy Wright, Denis Irwin, Scott Sellars, Terry Phelan amongst others moved on after Eddie left and they proved how good they were.
"John Sheridan was also in the side after recovering from a broken leg. He had the best touch of any player that I ever lined up alongside. Whilst others had to work at their game, it came natural to Sheridan, he was a class act."
It was Billy Bremner who took over the job at Leeds and over a period of time a few of his Doncaster Rovers players, including Brian Caswell, David Harle and John Buckley, followed him to West Yorkshire and there was even talk of a return for Tony Brown:
"It was mooted on a couple of occasions but Doncaster didn't want me to go and in all honesty I was enjoying my time there, simply because I was playing week in week out."
Tony went on to captain Doncaster before moving on to Scunthorpe United and Rochdale. After retiring as a player he had a spell managing non-league Eccleshill but these days his involvement with football is purely as a spectator and he often gets to watch the current Leeds side.
Thank you to Tony Brown for giving me his time and the opportunity to write this article.