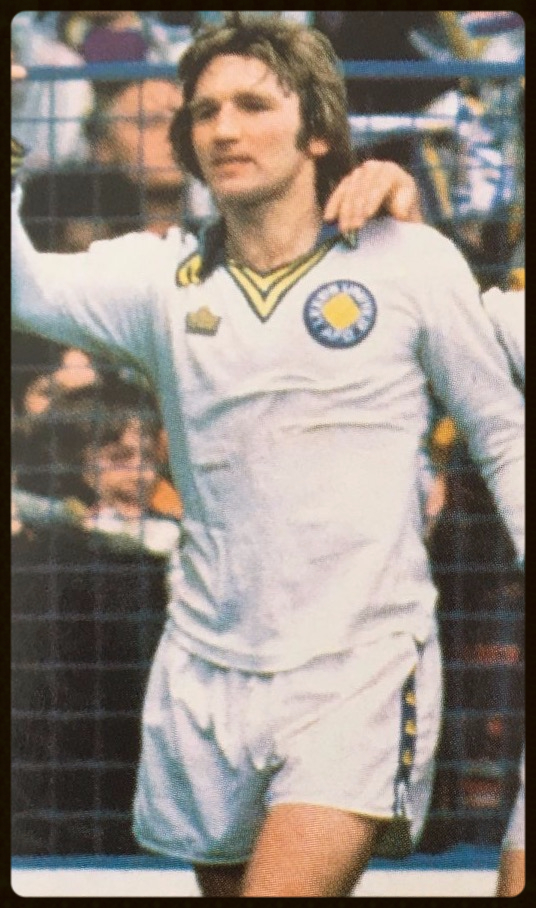 In the modern game, there are very few players that can be classed as true entertainers. Back in the 70s, the English game was awash with them. Frank Worthington, Stan Bowles, Rodney Marsh, Alan Birchenall, Duncan McKenzie and dare I say, George Best, spring to mind and you can add to that list a flamboyant midfielder by the name of Tony Currie.
As a kid, Currie was disregarded by Queens Park Rangers at the age of 14. He joined Watford and from there he moved north to Sheffield United. It was at Bramall Lane where his special talent was truly recognised and he was recently voted the South Yorkshire clubs greatest ever player. Playing alongside his great friend, the late Alan Woodward, the pair helped the Blades to a sixth place top flight finish. In fact, they ended the 1974-75 season just four points behind the eventual Champions, Derby County.
However, the following season would be Currie's last at the club:
"The 1975-76 season was a nightmare. By the turn of the year we had won just once in the league (2-1 at home to Burnley) and despite winning three games on the bounce at the start of April, we needed snookers and relegation to the Second Division was a formality."
As a member of the England squad, Tony Currie felt he had to move on and remain in the top flight for the sake of his international and domestic career but he never imagined his eventual destination:
"I handed in three transfer requests but they were all turned down. We went away to Gibraltar for pre-season training and whilst we were over there the manager, Jimmy Sirrell, told me that when we returned to England I had to go and see John Harris who was one of my previous managers at the club.
"Sure enough I did as I was told and we got into John's car. I had no idea what was happening or where we were going and due to my shy nature I didn't ask any questions.
"The next thing I know, we were in Leeds driving through the gates of Elland Road. John told to me to go in and see Jimmy Armfield and although I remember very little about the conversation, I signed the paperwork and became a Leeds United player.
"It was surreal, I never imagined that Sheffield United would sell me to Leeds but I couldn't wait to get started. I got a lot of stick from the Blades faithful and I would like to stress that the move was nothing to do with money. I was on the same wage at Elland Road as I had been on at Bramall Lane."
Tony Currie walked into a club full of legends. Players like Billy Bremner, Paul Reaney, Allan Clarke, Peter Lorimer, Norman Hunter, Eddie Gray, Paul Madeley and Frankie Gray:
"I knew a lot of the lads from time away with England and although Don Revie's ageing side was slowly being dismantled, they were still world class players and brilliant lads.
"Unfortunately, I only played alongside Billy four times before he moved to Hull City and within a few weeks of Billy's departure, Norman had also moved on. Times were changing but regardless, I was thrilled to be there."
On the 21st of August 1976, the Elland Road crowd got their first glimpse of Tony Currie in the white shirt when he made his debut in a 2-2 draw at home to West Bromwich Albion:
"I enjoyed my debut and I had a decent game, developing an instant rapport with the supporters. I had managed to score on my debuts for Watford and Sheffield United but unfortunately I didn't achieve that at Leeds, despite trying my luck from every angle against West Brom.
"It didn't help that I had to leave the field for ten minutes to have stitches in my shin following a challenge by Ally Brown."
It wasn't long before Currie was on the score sheet in a 4-2 away defeat at Coventry City and although he only managed one more goal in his first season (away at Stoke City in the League Cup) he admits that it didn't affect his game:
"I liked to entertain and gained as much pleasure in making a pass that lead to a goal as I did scoring them. I played every game with the aim to be the best player on the pitch. I wasn't one for 'taking the mickey' out of fellow professionals, that wasn't my style, but I liked to show the crowd what I could do."
In the league, Leeds finished tenth, losing as many games as they won but there was the welcome distraction of the FA Cup:
"We enjoyed a brilliant cup run but unfortunately fell at the Semi Final stage and that was a major disappointment. The trend would continue and in each of my three seasons at Leeds, we lost in the Semi Finals of major cup competitions."
The following season, Leeds finished in ninth place but this time it was the League Cup that offered the chance of silverware:
"We lost over two legs to Nottingham Forest and to be fair they were the better side over both games so there were no arguments but it was a different story the following season when we lost at the same stage to Southampton."
It was during the 1977-78 season that Gordon McQueen and then Joe Jordan departed Elland Road to join Manchester United and that frustrated Tony Currie:
"To see them both leave was very frustrating and I honestly believe that had they stayed and with one or two additions, we could have eventually won the league title."
When the 1978-79 season got underway, few would have imagined that it would be Tony Currie's last as a Leeds player. The campaign kicked off in glorious sunshine at Arsenal and the hugely popular midfielder provided a magical moment when he hammered home an unstoppable volley from a seemingly impossible angle which silenced the North Bank. A stunning strike which helped Leeds to a 2-2 draw but it was quite simply a taste of things to come.
On the 25th of November, Leeds romped to a 4-0 victory over hapless Southampton. Arthur Graham's effort and a Paul Madeley strike, which took a wicked deflection, had given the Whites a commanding two-nil lead before ten minutes into the second half the brilliance of Tony Currie produced one of the finest individual goals ever seen at Elland Road:
"I will never forget that goal. I'd actually given the ball away when I misplaced a pass. I was so disappointed with myself that I ran 30 yards to win it back. Luckily, Graham Baker lost control of the ball as I closed him down and it fell into my path. I ran towards goal and as I approached the edge of the box, with their defender Chris Nicholl in front of me, I curled a shot past Terry Gennoe."
As the ball nestled in the back of the net and the goalscorer stood in front of his adoring public, Martin Tyler commentating on the game for Yorkshire Television, shrieked "Oh my goodness and Tony Currie milks the applause that is so deserved":
"It was an amazing moment; it was as if a gust of wind had blown across Elland Road and affected the direction of the ball. I could see how happy the crowd were and how much they enjoyed the goal. There were no wild celebrations from me. I stood my ground and clapped the supporters on the Kop for clapping me and for a few seconds I felt like the King of the World.
"The players let me enjoy the moment and I remember Eddie Gray ruffling my hair as though I had tapped one in from three yards. That was typical of Eddie, a fantastic man who had seen and done it all and he let nothing faze him."
"You see goals like that every week in modern day football but back then they were a rarity and the effort won the ITV Big Match Goal of the Season competition."
The Saints were to return to West Yorkshire later in the season in the League Cup Semi Final and the return leg would prove a turning point in the career of Tony Currie:
"As we had done in the league, we battered them at Elland Road but inexplicably let a two goal advantage slip and we were devastated not to take a lead down to The Dell.
"My wife, at the time, had never settled in the North and she had returned to London. My head was all over the place and I travelled to Southampton for the second leg on my own.
"Looking back I should never have played. I had a real stinker and never got involved in the game leaving me to realise that I had let the club, my team mates and the supporters down as a 1-0 defeat denied us a place in a Wembley final.
"I realised that for the sake of my family I would have to leave Leeds United and return south. It wasn't an easy decision and it broke my heart. However, looking back, I believe that arrangements could have been put into place that would have ensured I remained a Leeds United player. I could've trained in the Capital and travelled to Leeds for the games."
In these interviews I am always curious as to who the subject deemed to be the best player that he played with during his time at Leeds and Tony informed me:
"We had some world class players and due to the fact that many were coming to the end of their careers, I would have to say Arthur Graham. He was a fantastic winger, fast, tricky, he could score goals and was comfortable with the ball at either foot. Off the pitch I spent a lot of time with Arthur and we enjoyed some great nights in the Bingley Arms with Ray Hankin.
"Ray himself was a top player, he suffered terribly with knee problems but he would run through a brick wall for you.
"Brian Flynn was a superb footballer despite the fact he stood four foot nothing and we remain good friends to this day, playing a lot of golf together.
"We had a wealth of talent between the sticks, the two Dave's, Harvey and Stewart were tremendous 'keepers and they never let anybody down. 'Lash' (Peter Lorimer) was a superb player but it was only until I played alongside him that I realised he could do much more than rocket a shot into the net from 30 yards.
"Another player who I thought a lot about was the late Byron Stevenson. He was much underrated and should have played far more games than what he did. He was comfortable in every position he played in and he reminded me of a young Paul Madeley.
"What a finisher Allan Clarke was. I would put him up front with Jimmy Greaves in my all time England XI. I would play the ball through for 'Sniffer' and turn round and walk back to the centre circle as I knew he would do the business."
Players like Tony Currie are few and far between and when he left Elland Road to return to London to play for Queens Park Rangers, a huge hole was left in the Leeds United midfield and supporters were well and truly devastated – so were the players.
Paul Hart told me in his interview for 'He wore the white shirt': "Tony Currie moved on and I was distraught when he left. It makes me laugh when I read people's perceptions that Tony was lazy. He worked harder than anybody at the club. He was strong, fit and had all the talent in the world."
The England midfielder, appreciated his former colleagues comments and was quick to point out:
"That's nice to hear that 'Harty' said such things but it doesn't surprise me. He was a fantastic player in his own right but the truth is, he idolised me and would have married me if I had let him!"
Currie certainly enjoyed entertaining on the pitch and he remembers just after joining Leeds that he got himself into hot water by enjoying himself off the pitch:
"We were over in Germany preparing for the season to start and the lads ended up in a night club rather worse for wear. Billy Bremner and I had become detached from the group and decided we would leave to get some food.
"It was 4 o'clock in the morning and we had no idea where we were so we randomly boarded a tram and luckily found a bakery. I came out of the bakers to discover that Billy had disappeared and I eventually found him in a van, slumped over the steering wheel fast asleep.
"I woke him up and we started walking although we had no idea where we were heading or where the hotel was. After asking for directions, we soon realised that the hotel was three doors down from the night club where we had been in the first place. It meant another tram ride and when we eventually got back we were reprimanded by Jimmy Armfield and it resulted in a £25 fine."
Just recently Tony enjoyed a Q&A night with the Bradford branch of the Leeds United Supporters Club and if you're holding a function and looking for a former legend to attend, please contact me and I will pass on your details to Tony who will gladly attend, if he can.
According to peoples opinions on social media recently, Leeds United have never since enjoyed a talent like Tony Currie, although some hold a case for Gary McAllister. However the facts are it is clear that the man is still held in high regard by the fans who idolised him back in the late 1970s:
"Leaving Elland Road, the players and the fans was the biggest regret of my career. For me, between 1964 and 1974, Leeds United had been the best side in Europe and although my time there came after the halcyon days, it was a real pleasure to play for such a great club and although, at times, I felt the weight of expectation, I loved every minute of it."
Thank you to Tony Currie for his time and giving me the opportunity to write this article.