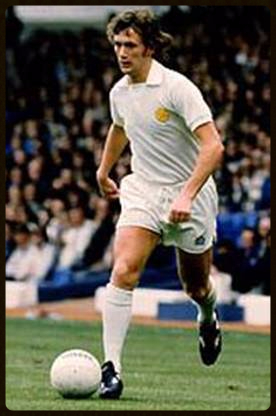 During a Leeds career which spanned a decade, Trevor Cherry experienced the highest of highs and the lowest of lows whilst plying his trade at Elland Road.
Born in February 1948, Cherry supported his hometown club, Huddersfield Town, and signed for the Leeds Road outfit at the age of 17:
"I loved football from an early age and although I supported Huddersfield, Dave Mackay was my footballing hero. I started work at the age of 15 as an apprentice electrician, much to the delight of my mother who wasn't too keen on me focusing solely on football.
"I eventually signed for Huddersfield a couple of years later and on an evening I would go to night school and study book-keeping."
Ian Greaves was Cherry's first manager and he was held in high regard by the young pretender:
"He was a brilliant manager and demanded 110% commitment at all times. I was determined; never the best, but I always gave my all."
At the end of the 1971/2 season, Trevor Cherry realised it was time to move on and there was initial interest from Bradford City and Tottenham Hotspur:
"London seemed a thousand miles away and I never really contemplated joining Spurs, especially when I heard that Don Revie and Leeds United had come in for me.
"I met Don at Leeds Road and couldn't believe a man of his stature, in charge of such a fantastic club, wanted to sign me. He explained that he wanted me to play left back and eventually replace Norman Hunter in the centre of the defence.
"The names of the players at Elland Road rolled off the tongue; the place was packed with world class players. My style of play suited Leeds, the lads welcomed me and I enjoyed it from the very first minute."
Trevor's Leeds career got off to the worst possible start with a heavy opening day defeat at Stamford Bridge:
"I wore the number three shirt and lined up in a back four alongside Roy Ellam, who had also joined Leeds from Huddersfield that summer. Peter Lorimer had to go in goal after an injury to David Harvey and Chelsea ran out 4-0 winners."
As Leeds challenged for honours at home and abroad, Trevor featured in 39 of the 42 league games and scored his first league goal in a 3-0 home win over Manchester City. That goal was his third in all competitions having scored in victories over Burnley in the League Cup and Carl Zeiss Jena in the European Cup-Winners Cup.
With the season starting in disappointing fashion, it also ended that way following a game which Trevor describes as the biggest disappointment of his career when red hot favourites Leeds lost in the FA Cup Final to Sunderland.
"I still can't believe how we didn't score when Jim Montgomery made that incredible double save from my header and then Peter Lorimer's effort. It was unbelievable, 99 times out of 100 that passage of play would have resulted in a goal.
"I didn't want the runners-up medal afterwards, I was devastated – all the lads were; it was a real low point in my career and just 11 days later we suffered another single goal cup final defeat, this time in Salonika against AC Milan who lifted the Cup-Winners Cup in controversial circumstances."
The following season saw Leeds United lift the First Division as they swept all their rivals aside in devastating fashion. After winning the first seven league games, Leeds didn't taste defeat until the 23rd of February, at Stoke City. Ironically, on Trevor's birthday:
"Don had told us before a ball had been kicked that he wanted us to go unbeaten. He certainly kept us on our toes and even after winning at Maine Road at the end of October, he told us that if we can't do it every week, he will bring players in that can.
"I had been suspended at the start of the title winning season due to the totting up system. At times it felt like I had a season ticket to London to attend disciplinary hearings at the FA headquarters.
"Winning the league was the ultimate honour and no one can argue when a team comes out on top over 42 games, especially when it is done in the manner that we did it."
When the final ball was kicked at Queens Park Rangers on the 27th of April 1974, it signalled the end of an era for Leeds United. Don Revie would move on during the summer to become the England manager and be replaced by Brian Clough:
"I have to say that Cloughie treated me well, I haven't got a bad word to say about him and although he was a touch alternative in some of his ways, his bark was worse than his bite."
The season had started well for Trevor Cherry when he scored Leeds' goal in a 1-1 draw against Liverpool at Wembley in the season's curtain-raiser, the Charity Shield. It was a game made famous by the double sending off of Billy Bremner and Kevin Keegan and the Merseyside club eventually ran out winners following a penalty shootout.
Brian Clough's reign has been well documented and when it came to a swift ending, Jimmy Armfield was the man that Leeds United turned to:
"Jimmy Armfield was a smashing bloke but the driving force behind him was the coach, Don Howe. Jimmy wasn't the strongest of managers and we did have our disagreements. I was bitterly disappointed at one stage when it looked like I would be moving on but we patched things up and got on with the job."
The season would end in controversial disappointment as Leeds finished on the losing side in the European Cup Final in Paris to Bayern Munich.
As one by one, the ageing Leeds United superstars moved on, it became a real period of transition at Elland Road as players like Carl Harris, Tony Currie, Arthur Graham and Paul Hart had been tasked with the responsibilities of bringing back the glory days.
One of Trevor's finest moments came in the FA Cup 5th Round during the 1976-77 season when he scored a late winner in front of the Kop:
"That was a great day, the atmosphere was electric, Elland Road was packed and although it wasn't the greatest goal ever scored, it counted and in the Quarter Final of the greatest club cup competition in the world, you take it.
"I can still see Joe Jordan smiling at the end of the game, I had never seen Joe looking so happy but unfortunately we lost in the Semi-Final after being outfought at Hillsborough against Manchester United."
When Jimmy Armfield left the club, he was replaced by Jock Stein. Unfortunately Stein didn't hang around and Jimmy Adamson was the next man in the Elland Road hot seat:
"Adamson had been a great manager but was past his sell by date when he came to Leeds, the board got that appointment wrong and for the rest of my time there, things didn't improve and it all ended in disaster when we suffered relegation in 1982 under Allan Clarke.
"As a striker, Allan Clarke was the best around but he made mistakes as a manager and we couldn't keep our status as a top flight club."
Trevor Cherry pulled on a Leeds United shirt for the last time on the 4th of December 1982 at home to Queens Park Rangers, a game which Leeds lost 1-0. After 485 appearances and 32 goals, it was time for a change.
After leaving Elland Road Cherry became player-manager at Bradford City and then worked as a director of a sports promotion firm.
He looks back on his time at Elland Road with great fondness:
"I never thought I would achieve what I did in the game and I was surrounded by some fantastic people. Les Cocker was brilliant with me, he treated me really well whether at Leeds United or with England.
"It is sad to see what has happened at Leeds United. I was never a Ken Bates fan and I just hope that Cellino gets it right. The supporters don't deserve this and I can't for the life of me understand why people with real money have never invested in the club.
Thank you to Trevor Cherry for giving me his time and the opportunity to write this article.