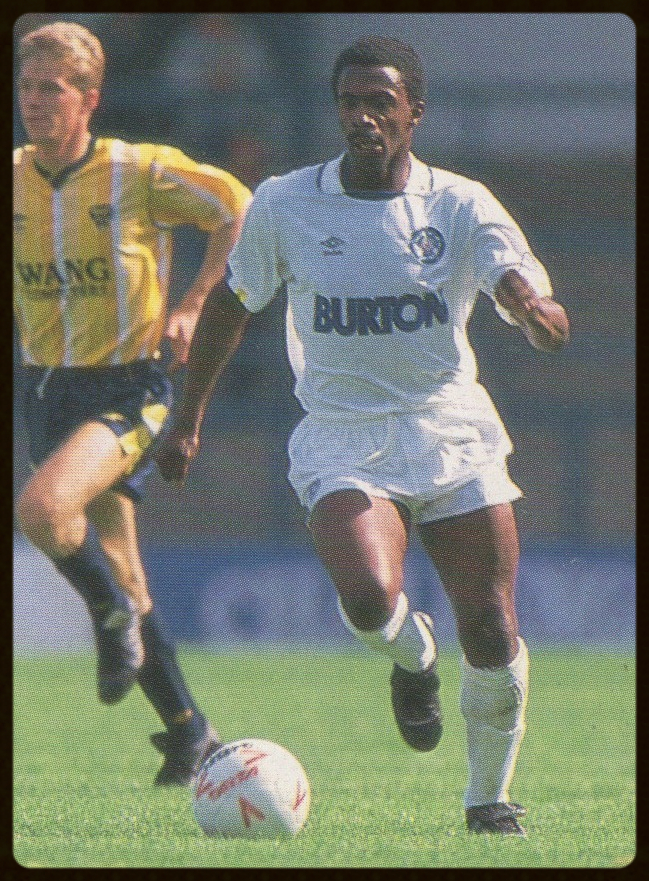 Like the last player I featured in this series, Noel Blake, flying winger Vince Hilaire joined Leeds from Portsmouth but his time in West Yorkshire was soon over.
Vince burst onto the scene at Crystal Palace and was a key figure in a young side which the media predicted would be 'the team of the 80s'. He won nine caps at England under 21 level and represented the England 'B' team and whilst he was tipped to become a full international, that never materialised.
After a short spell at Luton Town, Hilaire signed for Portsmouth in November 1984 and played a huge part in their promotion season in 1986/87.
It was during the summer of 1988 that he joined Leeds from the south coast club for a fee of £190,000 which was settled by a tribunal and Vince, a self-confessed football anorak, was over the moon:
"I knew all about the great Leeds sides of the 60s and 70s and for a legend like Billy Bremner to want to sign me was incredible. I had several options but Billy was a huge factor in my decision to go and play in the north of England.
"Billy was great to be around and he and Norman Hunter would join in the training sessions and they were the best players at the club!
"He would fascinate us with stories about the glory days and all the lads would sit and listen, everybody adored Billy – he was a brilliant man."
It was a blow to Vince just weeks into the season when Billy Bremner was sacked after a poor start and the new signing knew all about his replacement, Howard Wilkinson:
"I remember the first league game under Wilkinson; it was away at Swindon Town. Swindon had the best playing surface in the division but due to the way they played, the ball never touched it. We were told to match their style of play. I had four touches in the whole 90 minutes and I could hear the ball screaming for help as it was leathered from one end of the field to the other.
"It was a truly awful game which finished 0-0 and when we got back into the dressing room, the manger told me that I had played well and that was the level of performance he expected from me.
"Some of the lads couldn't stop laughing, I was truly baffled and that was probably the only time he tried to pay me a compliment but to be honest, my days were numbered as soon as he walked through the door.
"When I was playing for the England under 21s, Wilko, along with Dave Sexton and Terry Venables, was part of the coaching staff and the southern lads used to rib him due to his dour northern accent. He was Notts County manager at the time and after one training session I said to him, tongue in cheek, 'It's a long way to come from Nottingham down here just to collect the balls and cones.'
"He didn't appreciate that comment and he sure as hell never forgave me for it and looking back I do regret that moment."
Despite their differences, Vince played for the majority of that season, scoring seven goals in the process. In fact, he scored the first league goal of Howard Wilkinson's tenure, in a 1-1 draw at home to Leicester City.
"I will never forget Wilkinson telling us during a team meeting that he and Mick Hennigan had spent the previous day thinking over a new routine for when we were awarded a free kick on the edge of the oppositions penalty area.
"We went out and trained and as we were walking off Fullerton Park he blew his whistle and ordered John Sheridan, Glyn Snodin, David Batty, Mervyn Day and myself to hang around to try and master this routine but to be honest he couldn't have picked three worst lads to experiment with. Shez just wanted to pass the ball, I wanted to juggle the ball and Batts wanted to finish training and go home.
"His plan was that the four of us would stand facing the ball, shoulder to shoulder with our backs to goal. Me and Batts in the middle with Shez and Snod either side depending on which side the free kick had been awarded and Merv between the sticks.
"So, if were on Snod's side the three of us would run over the ball, away from the goal and Snod would run round and curl the ball into the net. It was a farce and all we could hear between Wilko's shouting was Merv laughing as he stood on his line.
"We tried it and tried it again. The manager was becoming exasperated with us but by some miracle we eventually nailed it by the Thursday and the ball ended up in the back of the net.
"We all agreed that if the situation arose during the following game away at Watford then we would not do it. On the coach down there he reminded us, during dinner at the hotel he reminded us and I half expected the hotel receptionist telephoning the room on the morning of the game to remind us about this free kick routine, but the four of us were adamant that we would do our own thing.
"Stefan Edberg, the tennis player and huge Leeds fan, was at the game and he came into the dressing room prior to the kick off to say hello and even he knew about this crazy idea that the gaffer had!
"We went out and didn't play well. We were a goal down when sure enough, Bobby Davison was brought down just outside the area and we were awarded a free kick. Bobby was hurt and Alan Sutton came on with his magic sponge and whilst treating Bobby he told us that he'd been asked to remind us about the routine. We told him that we weren't doing it and he had to tell Wilkinson that he'd forgotten to give us the reminder.
"Unfortunately, Wilko had called Neil Aspin over. Neil was a great lad but not the brightest and he came running over to remind us. That was it, we had to do it.
"Snod put the ball down and we took up our positions. The Watford lads were baffled and due to the fact we had been adamant we weren't going to try it, we'd almost forgotten what we were doing. We were waiting and waiting and the referee was urging us to get on with the game and take the free-kick. I eventually ran over the ball, followed by Shez, Batts and Snod but nobody hit it! It was ridiculous and when we went in at half time, Wilko was raging. He kicked a treatment table but unfortunately for him, it was bolted to the floor and he nearly broke his foot.
"Thankfully big John Pearson came on and grabbed an equaliser but that free kick routine was never mentioned again."
There were many occasions where Vince received the wrath of his manager due to his jovial nature:
"We were playing away in the midlands and I was rooming with Bairdy. The hotel we stayed in was first class and the towels and robes were of the highest quality. We both agreed that we would take some home and hatched a plan so that nobody knew that the missing ones were from our room.
"Bairdy would stand at the door and keep an eye out for the maid with the trolley full of clean towels and robes as she carried out her duties. As she went into a room, I would sprint down the corridor, grab a few and nobody would know.
"It worked a treat, I grabbed a few of each, ran back to the room to find that Bairdy had closed the door. I stood there holding the towels and robes, banging on the door and pleading with him to open it.
"Eventually the door opened and there stood Howard Wilkinson! I had been knocking on the door of the wrong room and Bairdy was left pissing himself laughing!"
In the summer of 1989, Leeds United were transformed and there was no place in Wilkinson's new look side for several of the previous seasons regulars and Vince was one of them.
"Training was enjoyable although we were away from the first team and almost left to do our own thing.
"We were preparing for the annual photo day and I emerged from the tunnel wearing white decorator's overalls, carrying a tin of paint and a brush thinking I need to earn my wages somehow.
"It was a very frustrating time but deep down I knew there was no chance of getting a game. I had to keep smiling and I was up to all sorts of mischief.
"The only time that Wilkinson would speak to the ones who were out of his plans was when he deemed it appropriate to give us a bollocking and one day whilst out in Leeds City centre I came across a shop selling those dancing plants that reacted to noise. I bought one knowing that I could have some fun with it.
"Soon after, we had a reserve game at Elland Road. Above the door of the dressing room was a little shelf and I put the plant up there. We came in at half time a goal or two down and Wilkinson, who had been watching from the stands, came bursting into the dressing room shouting and bawling at us. This plant was going ballistic above his head and all the lads were sniggering watching that rather than listen to anything he had to say."
Vince only made two substitute appearances during the 1989-90 season and had loan spells at Stoke City and Charlton Athletic before eventually moving to Stoke in a permanent deal in November 1990.
"I do appreciate Wilkinson for some of the things he did. He was ahead of his time and the way we prepared, the food we ate and the liquid we took in, was completely different to anything I had experienced before.
"Overall, my time at Leeds didn't work out but when I came on at Elland Road, for the final time, in the 4-3 win over Hull, I will never forget the reception that the fans gave me."
Thank you to Vince Hilaire for giving me his time and the opportunity to write this article.