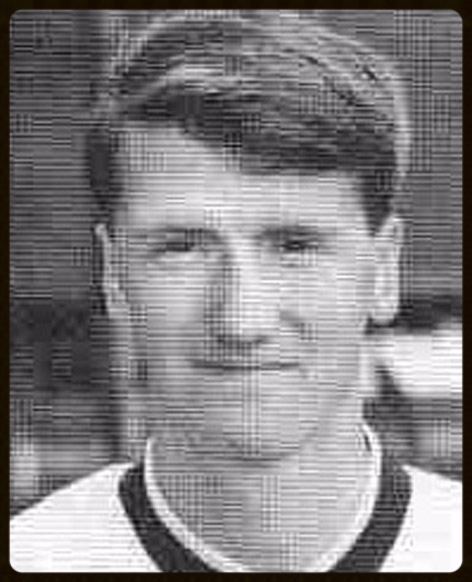 Vincent Brockie was spotted by Leeds United scout John Barr whilst playing for his school team in Greenock at the age of 13. Despite him signing schoolboy forms at Morton, there was talk of him joining Leeds United and sure enough, it eventually happened when his local club agreed to release him:
"Eddie Gray and Jimmy Lumsden wanted me at Leeds and due to the fact that I had never shown much interest in most subjects, the school agreed that I could leave six months early and try to grasp the opportunity I had been offered south of the border."
It was January 1985 when the 15 year old Scot arrived in West Yorkshire and he openly admits that it was big step to take at such a young age:
"I have young kids now and to think that they would leave home and move hundreds of miles away frightens the life out of me!
"It was a massive thing for me and I did everything I could to settle in quickly and focus on the football and improve as a player. I was put in digs with Kath and Trevor Parkinson, the couple looked after many of the young Leeds lads and they were fantastic with me. Unfortunately, they have both passed away but I will be forever grateful for how they looked after me.
"The digs were in Barwick-in-Elmet, such a nice area and I was in the company of lads like John Sheridan, his brother Darren, Lyndon Simmonds, Simon Grayson, Scott Sellars, Denis Irwin and Tommy Wright.
"I was lucky that there were a few other Scots at the club and Eddie and Jimmy were superb with me, as they were with all the lads."
Like the majority of the players at the club, Vincent was devastated when he heard the news that in October 1985, Eddie Gray was sacked as manager of Leeds United.
"Eddie is a wonderful man and I can't speak highly enough of him. In my opinion, that decision was a terrible one. The Chairman and the board of directors got it wrong. Eddie needed a few quid to spend and a striker to play alongside Bairdy and he would have taken his young side on to great things – I am sure of that.
"When Billy Bremner came in to replace Eddie, he changed the dynamics of the club and a lot of the young lads such as Denis Irwin, Andy Linighan, Terry Phelan, Tommy Wright and Scott Sellars were moved on and Billy brought in lads that had served him well at Doncaster. Also, like Eddie, he was hamstrung by the fact that the club could not provide him with real funds in the transfer market.
"I got on well with Billy and it was under his management that I made my two first team appearances."
Before making his league debut, Vincent had the honour of playing in a testimonial game for John Charles and Bobby Collins, against Everton, on the 12th of April 1988. Several famous names turned out for Leeds that night, Michel Platini, Ian Rush and Gaetano Scirea but it was the name of Kenny Dalglish, Vince's hero, that he remembers the most:
"I had featured for the reserves the previous night at Coventry City on a pitch that resembled a sand pit and afterwards Billy praised me for the way I had played and told me to report to Elland Road the following day for the testimonial game.
"I played the 90 minutes and it was an experience I will never forget. It was an absolute privilege to play in a game arranged on behalf of two of the biggest Leeds United legends and also to be on the same field as some world class players, especially Dalglish."
For the record, Leeds won the game 3-2 thanks to an Ian Rush hat-trick in front of 13,671 spectators.
Little did Vincent know that night that he would make his competitive debut just a few weeks later:
"The end of season was fast approaching and after a Saturday morning youth team game, Billy spoke to me and again told me how well he thought I had played. On the Sunday, I got a phone call to tell me to report to Elland Road at noon on the following day as I was in the first team squad for the Bank Holiday Monday fixture against Crystal Palace.
"I didn't really feel nervous as I never expected to be named in the final 14 on the day. Billy wasn't present, he was on a scouting mission and as the clock ticked down towards kick-off, Norman Hunter told me I was in the starting line-up, wearing the number two shirt.
"To be honest, I soon settled into the game and it passed by quickly. It was a typical end of season affair which we won 1-0 thanks to a John Sheridan penalty and I must have done well as I retained my place in the side for the final game of the season at Birmingham City which was played on the Friday night.
"As an apprentice I had often traveled to watch the first team away from home and I stood on the terraces among the supporters but this was obviously a completely different experience which I thoroughly enjoyed."
The game finished in a 0-0 draw and Vincent went away for the summer looking forward to pushing on during the new campaign:
"My feet were firmly on the ground as I had Neil Aspin and Gary Williams ahead of me in the pecking order but all I could do was work hard and hope for a chance."
It was a blow to Vincent when Billy was sacked after Leeds made a bad start to the new season and his prospect s soon changed under Howard Wilkinson:
"Wilko transformed the club. His training methods were different and although I liked the man I didn't really have any sort of relationship with him like I had with Eddie and Billy.
"Not long after he arrived, Howard signed two lads, Michael Whitlow and Neil Parsley, from Witton Albion and that made things difficult for me. I was training hard but I was struggling to get a game in the reserves and I was soon on the move.
"There was a character called Herbert Warner who was often around the club whilst Billy was manager and one day when I bumped into him he told me that there was a chance that Billy would be back at Doncaster Rovers and I wasn't to leave Leeds United for anywhere else.
"Strangely enough, two weeks later, Doncaster managed by Dave Mackay, signed me on a one month loan deal and it was good to play regular first team football even though it was a massive culture shock."
That one month deal turned into a three months and eventually led to a permanent move when Doncaster agreed to pay a fee of £15,000 for Vincent's services.
"Howard called me in and told me that I was being sold to Doncaster. I was bitterly disappointed to leave Leeds United but I wanted to play first team football. Looking back, it was the wrong decision. I had no parental guidance and no agent. I was out of contract of the end of that season and could have possibly had a choice of where I ended up. Saying that, Billy did return to Doncaster soon after and I was delighted to be paying for him again.
In his second season at Belle Vue Vincent suffered a knee injury and when a routine operation went badly wrong he was advised to retire from professional football and take an insurance pay out.
"My knee had fallen apart and I went into non-league football playing for Goole Town, managed by Terry Curran and then on to Guiseley where I teamed up with some ex Leeds apprentices and played at Wembley.
Vincent Brockie lived the dream during his time at Leeds United and although he was restricted to two first team appearances, he looks back on those times with a great sense of pride:
"Those days, apart from the times when my kids were born, were the best days of my life. We had some good laughs and I retain some great memories.
"I will never forget when Billy signed Bob Taylor from non-league Horden Colliery Welfare and Bob came to live with us in the digs at Barwick.
"He was a great lad was Bob but a bit out of touch, especially in the fashion stakes. He was unknown when he signed for Leeds but was soon thrust into the first team. After making his debut, he bought a car, a little Fiat 128 which resembled a Lada and he would give us a lift into training."
"One afternoon, Bob told us that he had to go into Leeds but would come back to Elland Road to pick us up and take us home. Before he left, Peter Swan, unbeknown to Bob, got a piece of cardboard and wrote on it – "BOB TAYLOR OF LEEDS UNITED - SPONSORED CAR' and he hung it on the back of the motor.
"When Bob returned he was all excited, telling us how everyone had recognised him whilst he was driving in and around Leeds and other motorists were beeping their horns and pedestrians were waving at him. He was ecstatic and couldn't wait to get back to Barwick to tell Kath, the landlady. He wasn't too impressed when he eventually realised that the sign had been put on the car.
"Another great incident happened when Shez had got himself into a bit of hot water and wasn't in Wilko's good books. We were on Fullerton Park and Vince Hilaire picked up a wooden sign which instructed people to keep off the grass. Vince was never really in favour with Wilkinson and he pulled the sign above his head and started jumping up and down with it, chanting at the top of his voice, 'SHERIDAN IN – WILKINSON OUT'. We were in hysterics and even more so when Mick Hennigan started chasing Vince around the pitch. Vince still had hold of the sign and was still chanting with Hennigan in hot pursuit."
"Great days, great times and I'm extremely proud to say I played for Leeds United."
Thank you to Vincent Brockie for his time and giving me the opportunity to write this article.